Savory Crepe Recipe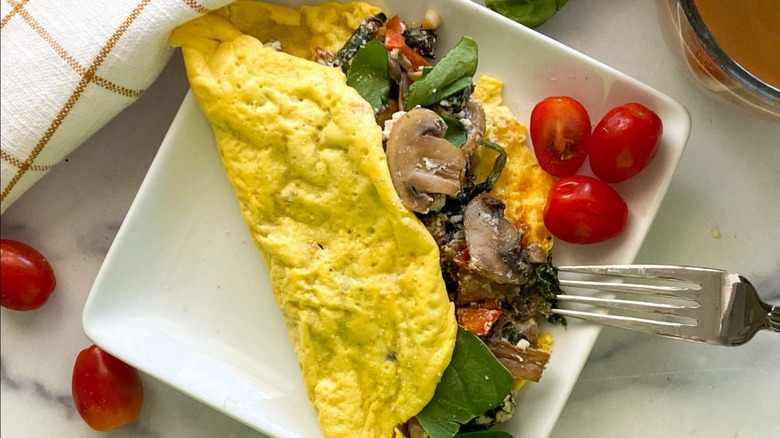 Miriam Hahn/Mashed
If you need a way to dress up your breakfast and think outside the box, these savory crepes are the perfect option. These low-carb crepes are filled with a ton of veggies, and they provide a fun and healthy twist on the regular crepes that you often see at breakfast joints because these crepes are made entirely of eggs rather than a flour mixture. Another great part about this recipe is that the crepes are easy to make. There's no doubt that this dish will be a hit for kids and adults alike. 
Wellness coach and recipe developer Miriam Hahn is the brains behind this delightful recipe that will make your tummy happy. "I love that it uses a lot of veggies for breakfast and is so warm and savory. For those that prefer savory over sweet for breakfast, this is a great option," Hahn raves. "I also like that if you have someone in your house that has an egg allergy, you can use JUST Egg, which is made from plants. You honestly can't tell the difference."
Keep reading to find out how to make these savory crepes. Trust us, they will be a new staple in your breakfast rotation. 
Gather the ingredients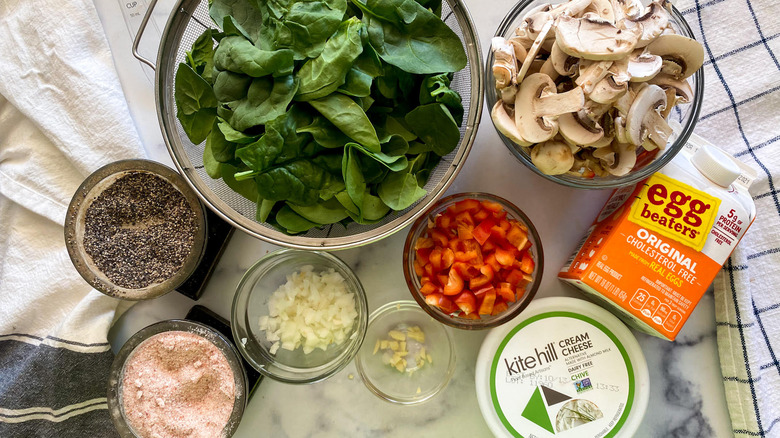 Miriam Hahn/Mashed
You'll need to gather all of the necessary ingredients to throw this dish together to start. You will need a few teaspoons of oil and either liquid eggs (such as Egg Beaters), plant-based liquid eggs (such as JUST Egg), or 6 fresh eggs to start. Make a stop in the produce section and add onion, garlic, red bell pepper, mushrooms, and baby spinach. All of these items provide a healthy filling for the crepe. Last but not least, add chive cream cheese (Hahn uses a dairy-free kind), salt, and pepper. The recipe also calls for one optional ingredient — fresh tomatoes.
"You can change up the veggies also based on what you have. Sometimes I add fresh tomatoes and kalamata olives to the frying pan (as opposed to serving with fresh tomatoes [on top])," Hahn shares. "For the meat and dairy lovers, you can also add cooked ham and cheese!"
Before you begin, be sure to dice the onion and bell pepper, mince the garlic, and slice the mushrooms.
Heat the frying pan and cook the eggs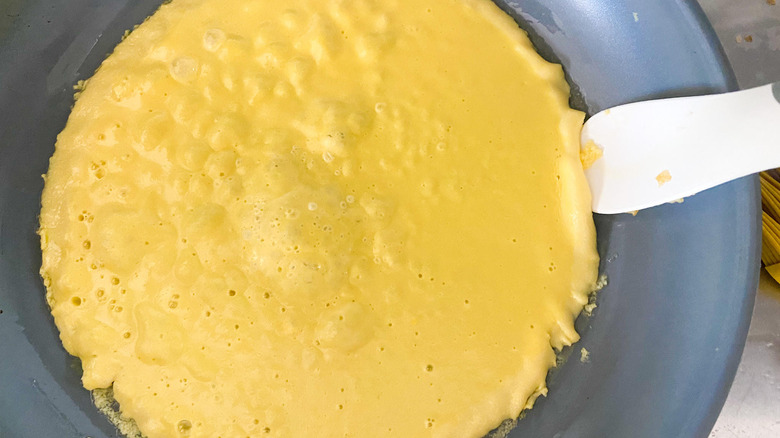 Miriam Hahn/Mashed
Take out a nonstick frying pan and place it on your stove. "The only other thing to note is if you don't have a good nonstick pan, you might have trouble," Hahn shares. "Because you are working with a thin layer, it can be tricky to flip if there is any sticking. You can also use a crepe maker if you have one."
Turn the heat to medium and add a teaspoon of olive oil. Then, add ½ cup of the eggs to the hot pan. If you use fresh eggs instead of liquid eggs, make sure you beat them ahead of time.
Let the eggs cook for 5 minutes. After 2 minutes or so, take the spatula and run it around the edge of the pan to loosen the crepe. Please note that the crepe should start to bubble.
Flip the crepe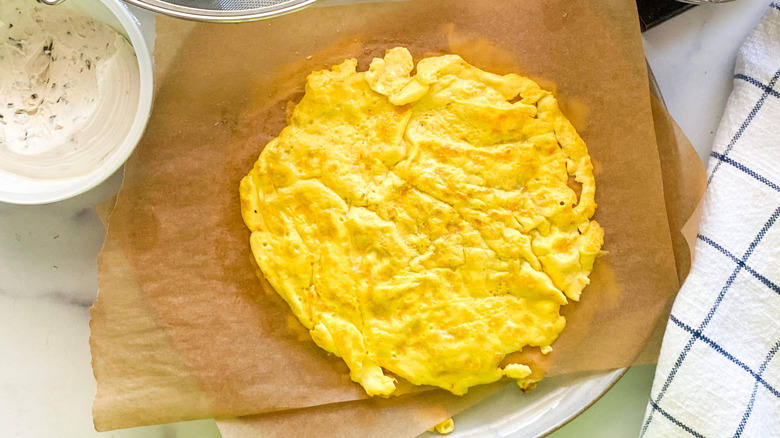 Miriam Hahn/Mashed
After 5 minutes, flip the crepe over and let it cook on the other side for about 2 to 3 minutes. When you finish, lay the finished crepe on parchment paper and add another teaspoon of oil to the pan to start the next crepe. Follow the exact same instructions as you did for the first one to make two more crepes (adding 1 teaspoon of olive oil to the pan before you make each one). Hahn says that she uses parchment paper to separate the crepes as she removes them from the pan. The parchment paper is an excellent option because it ensures the crepes will not stick together. 
Cook the veggies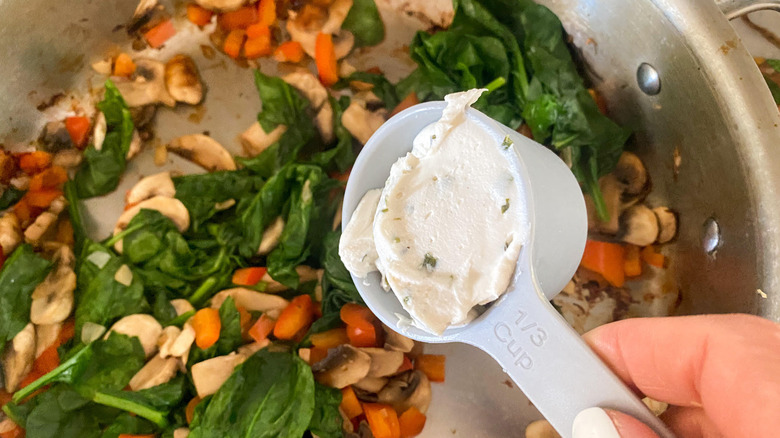 Miriam Hahn/Mashed
While your crepes are cooking, you can take out another frying pan and add to it 2 teaspoons of olive oil. Then, add in the onion, garlic, red bell pepper, and mushrooms. Sauté everything for 5 minutes and then reduce the heat to low. Then, toss in the spinach and continue stirring, so it begins to wilt.
Next, add in the cream cheese and continue to stir it until it melts. Put a lid on the pan for 5 minutes and reduce the heat to low, and let the veggies heat all the way through. "Cream cheese makes the insides creamy without being too heavy," Hahn shares. "I love using Kite Hill because it is made with almonds and the chive variety adds great flavor."
Fill the crepes and serve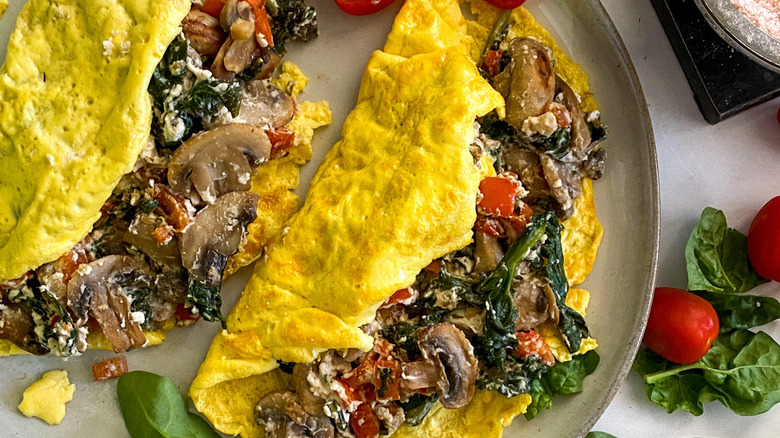 Miriam Hahn/Mashed
Once you finish cooking the veggies, take them off of the heat. Then, fill the crepes with the spinach mixture and sprinkle salt and pepper on top. If you'd like, you can also add fresh tomatoes to the top of the finished crepes. 
There are plenty of great breakfast items that can accompany this main dish. "It is great served with breakfast potatoes or some maple tofu, but it is perfectly filling on its own," Hahn shares. We also think that it would be great paired with a tall glass of orange juice. 
Hopefully you enjoyed this recipe as much as we do! 
Savory Crepe Recipe
These low-carb, flourless crepes are delicious and teeming with fresh veggies. You'll want to make this healthy recipe for breakfast every morning!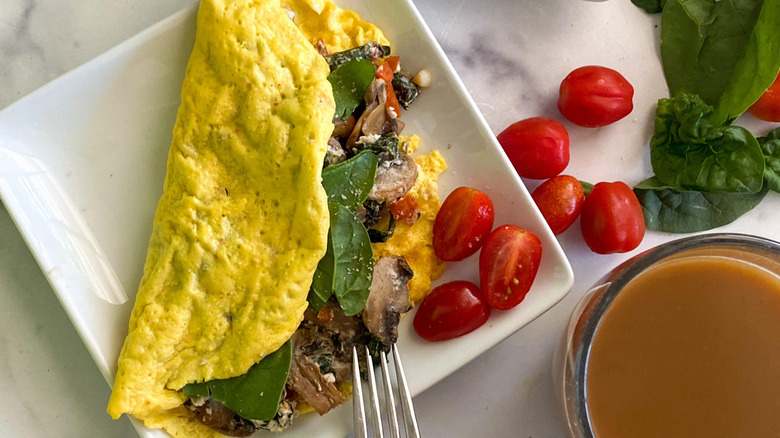 Ingredients
5 teaspoons oil, divided
1 ½ cups liquid eggs, or 6 fresh eggs, beaten
¼ cup onion, diced
1 clove garlic, minced
1 small red pepper, diced
1 (8-ounce) carton mushrooms, sliced
3 cups baby spinach
⅓ cup chive cream cheese (or dairy-free cream cheese)
Salt and pepper, to taste
Optional Ingredients
fresh tomatoes, for serving
Directions
Heat a nonstick frying pan to medium heat and add 1 teaspoon of oil.
Add ½ cup of the eggs to the hot pan. Let it cook for 5 minutes, running a spatula around the edge after about 2 minutes.
Gently flip the crepe over and let it cook on this side for 2 to 3 minutes.
When it is done, lay it on parchment paper. Repeat the entire process to make 2 more crepes, separating them with parchment paper.
While the crepes are cooking, add 2 teaspoons of oil to another frying pan and add the onion, garlic, red pepper, and mushrooms. Sauté for 5 minutes.
Reduce heat to low and add the spinach, stirring until it wilts.
Add the cream cheese and stir to melt. Put a lid on the pan for 5 minutes on low to heat through.
Fill each crepe with the vegetable mixture, topping with salt and pepper.
Serve hot with fresh tomatoes if desired.
Nutrition
| | |
| --- | --- |
| Calories per Serving | 364 |
| Total Fat | 28.3 g |
| Saturated Fat | 9.4 g |
| Trans Fat | 0.1 g |
| Cholesterol | 480.3 mg |
| | |
| --- | --- |
| Total Carbohydrates | 8.4 g |
| Dietary Fiber | 2.0 g |
| Total Sugars | 4.4 g |
| Sodium | 651.6 mg |
| Protein | 20.0 g |