Reddit Is Surprised By This Not-So-Grilled Cheese Taco Bell Burrito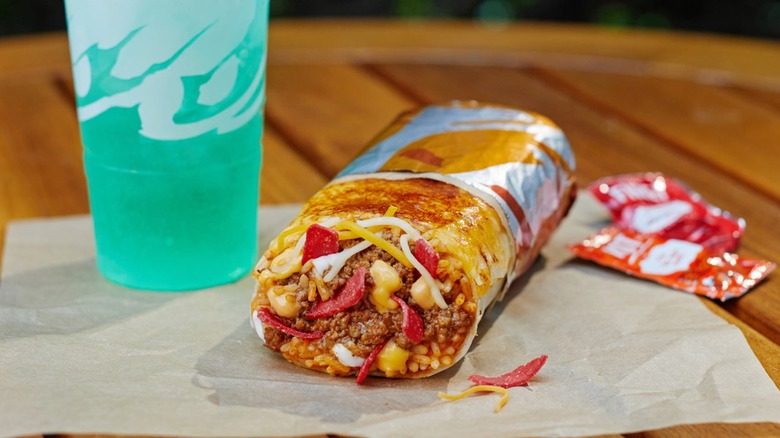 Taco Bell
You can find plenty of tried-and-true classics on the menu at Taco Bell, from soft tacos to quesadillas to nachos. However, it's the new releases that always garner a lot of buzz from fans of the Mexican fast food chain. There was the Flamin' Hot Doritos Locos, which was the perfect marriage of Flamin' Hot chips, Doritos, and Taco Bell tacos. There was the Mexican Pizza, which has been a crowd-favorite for years. And, of course, who could forget Nacho Fries? People went crazy over the French fries seasoned with Mexican spices.
One of the more recent additions to the Taco Bell menu was the Grilled Cheese Burrito. It's rumored to be exactly what the name implies: a cross between your favorite Taco Bell burrito and a nostalgic grilled cheese. However, one Redditor was very disappointed when they ordered the item expecting cheesy, melty deliciousness — only to receive something else entirely. Other people on Reddit were not so impressed either, and one was so not impressed with the Grilled Cheese Burrito that they replied, "My oh my, that is most unfortunate."
The grilled cheese burrito doesn't look grilled at all
Here's what the Grilled Cheese Burrito is supposed to be, according to Taco Bell's website: a beef and rice-stuffed burrito inside a flour tortilla "with even more three-cheese blend grilled on the top." But that's not what one Redditor got when they ordered it at a Taco Bell recently. The displeased customer posted a photo of their Grilled Cheese Burrito — which doesn't look like it was heated up at all. What should've been crispy melted cheese on the exterior is simply crisp-less shreds of cheese, scattered haphazardly over the burrito. "Grilled cheese burrito? More like cold cheese uselessly on the outside burrito," the original poster wrote.
People chimed in to agree, with one person saying, "That is a crime!" A second critic sounded less likely to call the burrito police but still remarked, "This is kind of a big mistake. Not life-threatening or anything, just a really big mistake to not grill a product that has the word grill in the name of product." Some commenters, however, actually liked what they saw. Regardless of how folks feel about this particular order, the Grilled Cheese Burrito definitely has its fans. A reviewer at Insider dubbed it the best dish that Taco Bell has put out in years. "It easily surpassed my expectations and proved that there's a place in the world for really cheesy burritos," they explained.