Arby's Returning Limited-Time Shake Flavor Has Twitter Excited
With the return of summer comes the return of summer desserts and the people who flock to them. Citing a 2016 report by Technomic, Mondelēz International (the name behind such brands as Oreo, Chips Ahoy, and Honey Maid) claimed that close to half of consumers (43%) respond to hotter weather by opting for frozen beverages (via Let's Chat Snacks). If so, that could help explain why so many fast-food spots shake up their shakes when Mother Nature cranks up the thermostat.
Whether it's by bringing back seasonal faves or trying something new, fast-food chains are trying to win over fans and beat the heat with frozen bevs. Chick-fil-A has announced the return of its popular peach milkshake, which it only offers at limited times of the year. And in 2021, Whataburger rolled out a similar shake flavor, Peaches & Cream, which it exclusively offered during the summer. Meanwhile, Smashburger is breaking the mold by offering plant-based shakes nationally. 
Now, Arby's, is bringing back a citrusy twist on the milkshake, and it's gotten positive attention on social media.
Arby's Orange Cream milkshake has returned
Arby's doesn't just want people to know it has "the meats." It's letting people know that it once again has a beverage that seems tailor-made to appeal to creamsicle fans, too. The brand has brought back the Orange Cream milkshake to its menu "for a limited time," and Twitter users sound as happy as can be. 
According to Brand Eating, the beverage debuted on the Arby's menu in 2012, so it's had about a decade to gather momentum and a fandom. The drink combines orange cream syrup and a vanilla milkshake, and excited commenters sound more than eager to combine that pairing with their taste buds.
While some people took the announcement as an opportunity to call for the return of the discontinued potato cake, others were content with talking about how "amazing" they think the drink looks or exclaiming, "Oh I soooo have to get this!!" and "This is my favorite!!" Those who saw the post on Instagram were also excited. Some showered the comment section with heart emojis, while others praised the shake outright. (And, yes, the potato cakes came up again.)
Arby's keeps expanding its offerings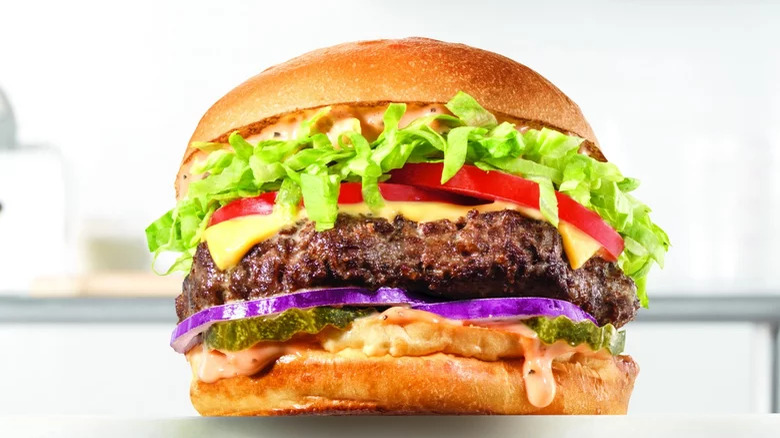 Arby's
While Arby's is best known for its roast beef sandwiches, the Orange Cream milkshake isn't the only item shaking up the fast-food chain's menu. In May, Arby's launched a Wagyu burger, after decades of not offering burgers. In a press release, the chain billed the limited-time burger as "the highest-quality burger the market has seen yet."
The same month, Arby's also added three new lemonade flavors to its drink menu, just in time for the start of the summer. Between the new lemonades and the returning milkshake, fans who've been looking for citrusy drinks to help wash down their roast beef sandwiches are in luck.
And in addition to fruity shakes and luxe burgers, Arby's has also expanded into a market completely separate from fast food. In June, Arby's teamed up with Old Spice to create a limited-time "Meat Sweat Defense Kit" filled with deodorant and an Arby's-branded sweatsuit.