A Fan-Favorite Summer Treat Is Officially Back At Chick-Fil-A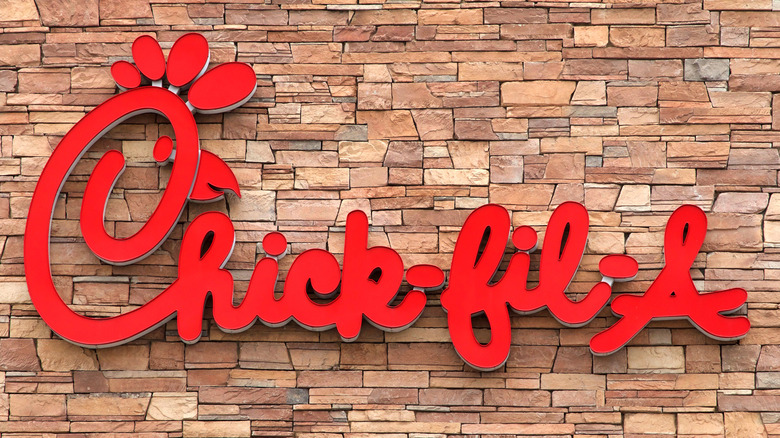 Sheila Fitzgerald/Shutterstock
It's no secret that Chick-fil-A has stolen the hearts (and, well, stomachs) of millions of Americans. Sure, the chain has its chicken sandwich and the specialty fries you can't get anywhere else, but we would be remiss to not mention Chick-fil-A's milkshakes.
According to Spoon University, Chick-fil-A offers a number of milkshakes, from classics like chocolate, vanilla, strawberry, and cookies n' cream to originals like frosted coffee and frosted lemonade and even seasonal flavors like peppermint chocolate chip and peach.
Although the peach flavor is arguably the chain's best, there is, in fact, a reason Chick-fil-A's peach milkshake isn't served all year — and that's to build anticipation. Okay, and it's kinda hard to make a great peach shake when the fruit isn't in season.
Anyway, now that summer weather is upon us, Chick-fil-A is bringing back the peach milkshake, and fans couldn't be more excited to get their hands on this creamy sweet treat.
Chick-fil-A fans are peachy keen to order a peach shake
Starting June 13, the peach shake will be back on Chick-fil-A menus. The peach flavor was first introduced in 2009, with fresh peaches mixed into vanilla ice cream and adorned with whipped topping and a cherry (via Chick-fil-A's website). The shake can be ordered for dine-in, takeout, or delivery; just keep in mind that you won't get that whipped cream or cherry on top if you have your shake delivered.
In previous years, fans swarmed Chick-fil-A's peach milkshake announcements on Facebook, with one person claiming they "dream about peach shakes all year." Others said they wished the chain offered the peach shake year-round. Another fan commented that they would be driving two hours to get a peach shake from Chick-fil-A.
However, not everyone has been impressed with the peach shake. One person wrote, "So we gonna act like the peach can take the place of the banana pudding?" Banana pudding and the south have a mysterious connection, but that doesn't make the dessert any less appetizing. Other fans of the banana pudding shake said they just didn't understand what "all the hype" was about. The peach milkshake isn't for everyone, but it's clearly loved by many — and they're in luck!