Starbucks' New Menu Remixes Your Favorite Drinks — Literally
We may receive a commission on purchases made from links.
Correction 8/3/22: An earlier version of this story stated that Starbucks released a Valentine's Day Frappuccino in 2022. It was a secret menu item and was not on Starbucks' official menu.
Starbucks's seasonal flavors are legendary. Every holiday season, coffee fans get excited to get cozy as stores crank out colorful new holiday cups and peppermint mochas. It's almost hard to imagine there was a time before pumpkin spice was everywhere. But before you could buy pumpkin spice Twinkies and pumpkin spice toilet spray, it was just a seasonal flavor at Starbucks. It even has a nickname: the PSL. Even though it's been around since 2003, the seasonal flavor is so popular that people still want to know the exact date the PSL returns in 2022. (FYI, the PSL turns 19 this year — let's hope Starbucks has something up its sleeve for the 2023 milestone.)
But not all seasonal flavors can spawn legions of fans. And this summer, Starbucks' seasonal menu gave fans a pineapple-heavy lineup that includes a Pineapple Passionfruit Refresher, a Paradise Drink — which appears to be the Pineapple Passionfruit Refresher with coconut milk added — as well as the Chocolate Cream Cold Brew, the Vanilla Sweet Cream Cold Brew, the Mocha Cookie Crumble Frappuccino, and the Caramel Ribbon Crunch Frappuccino. But apparently, that wasn't quite enough.
Mixes and remixes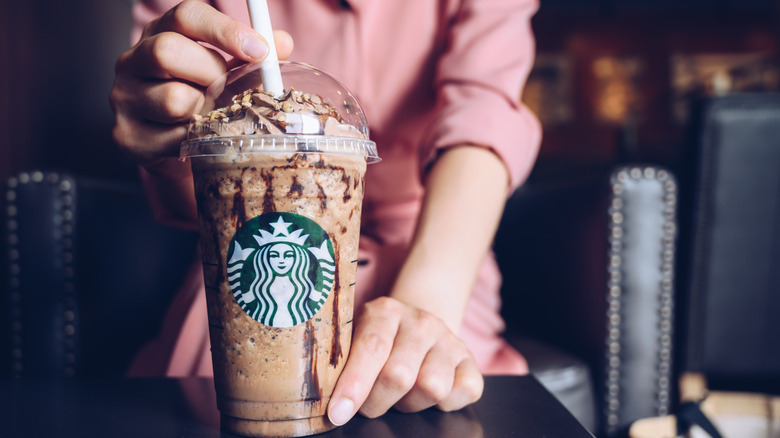 Boyloso/Shutterstock
On August 1, Starbucks launched a new summer menu. Dubbed the Summer Menu Remix, it isn't a whole new crop of items like usual. Rather, it provides new ways for customers to enjoy their favorite drinks. This menu is a series of customizations, or remixes, of some of the coffee chain's most popular options. The remixes dropping this August include the pink drink topped with vanilla sweet cream cold foam, black tea lemonade blended with ice, and salted caramel cream cold brew in a caramel-lined cup.
The best part? These remixes can be used on any beverage when ordering through the Starbucks app. For all of these remixes, you'll want to start by clicking "customize" after you've picked out your drink. Then, to add cold foam, just select "add cold foam" under toppings. To make anything blended (the way Frappuccinos are prepared), select "add blended" under the Preparation heading. To have the cup of any drink heavily drizzled with caramel or mocha syrup, go to the "Add-ins" section and select "add line the cup." (And now you finally know what that's called, so really, it's a two-for-one.)
Unlike the Starbucks summer menu that left Reddit unhappy, the customizable nature of this menu means it's sure to be a hit with anyone. Maybe even those picky Redditors.