Starbucks' Colorful New Holiday Cups Are Fit For A Queen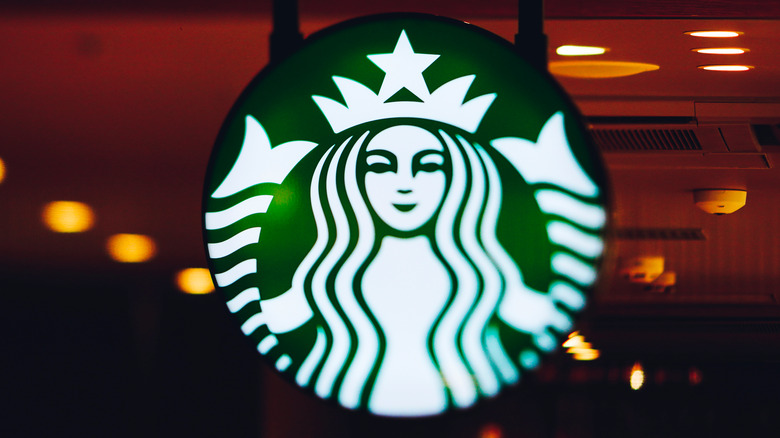 beeboys/Shutterstock
With every season comes a whole new line-up of Starbucks specialty drinks. In 2021, spring brought pistachio lattes and brown sugar oatmilk espresso. Summer meant strawberry funnel cake Frappuccinos and mango dragonfruit refreshers. Fall saw the cult-favorite pumpkin spice lattes and apple crisp macchiatos. And, last but not least, winter will bring peppermint mochas and caramel brûlée lattes. But the beverages aren't the only seasonal specialties that Starbucks' fans look forward to — they also wait all year for the new merchandise releases.
This time of year, people are specifically excited for the 2021 Starbucks holiday cups. Last year, the national coffee chain came out with its cheery red and green seasonal cups in early November, along with glittery cold cups and collectible Christmas cups. But what's in store this year? Starbucks recently released a preview of its line-up for the upcoming holiday season. And there's one cup design in particular that has customers very excited.
Starbucks is releasing three colors of jeweled holiday cups
While Starbucks remains fairly tight-lipped about the exact release date of the 2021 holiday cups, it has given a sneak peek (on its company website) of what's to come. One of the highlights is this year's stunningly gorgeous jeweled cold cups, which feature a raised diamond texture and come in shimmery gold, bright red, and icy blue. Each cup will cost $19.95 and will only be available for a limited time — or while supplies last — at Starbucks company-operated and licensed stores. If they're anything like previous seasonal cup releases, they're likely to sell out fast, so don't hesitate to scoop one up for yourself when you have the chance.
Looking for even more spirited Starbucks cups? The company revealed it will also drop color-changing hot cups in a rainbow of colors along with a cold cup with a color-changing straw. Not only that, but the highly sought-after "Bling Cold Cups" will be returning in two colors: ice and black.