The Cake Boss' Reign Of Terror On Beat Bobby Flay Has Finally Ended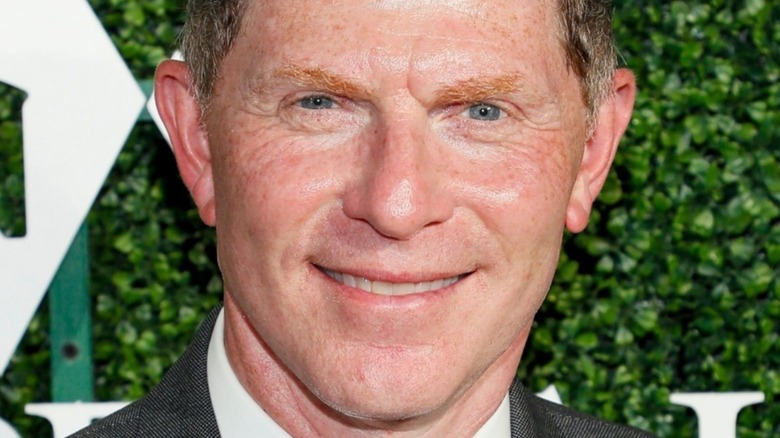 Paul Morigi/Getty
Chef Bobby Flay could not have imagined a career centered around friends exploiting his strengths and weaknesses when he graduated from The French Culinary Institute in 1984. Or does a job in the fast-paced culinary world just do that? The James Beard Foundation's "Rising Star Chef of 1993" has had an impressive run, both inside and outside of the kitchen, penning 16 cookbooks, launching several restaurants, and hosting 16 different cooking shows, per Flay's website. Beginning with his first show, "Grillin' & Chillin'," Flay has continuously hosted a program on the Food Network since 1994.
In 1999, the network began airing "Iron Chef" — a food competition from Japan — which quickly outperformed top-viewed shows like Emeril Lagasse's "Emeril Live" (according to The Atlantic) and forever changed the landscape of food television by opting for more competitions over cooking shows. 
Following that template, Flay launched "Beat Bobby Flay" in 2013. During the show, two chefs compete for a chance to go head-to-head with Bobby Flay. Judged by fellow chefs and friends Alex Guarnaschelli and Jeff Mauro, the two ultimately pick the chef that has the best chance to beat Flay.
Although most of the chefs competing for the right to say "I beat Bobby Flay" are unknown talents, occasionally, celebrities team up with Food Network personalities to bring him down. Enter "Cake Boss" Buddy Valastro. The rivalry between Flay and Valastro began in 2019, with the latter registering wins in their first four contests. With an unblemished record against Flay, Valastro went into their next competition with a lot on the line, namely his streak. 
Flay finally beats Valastro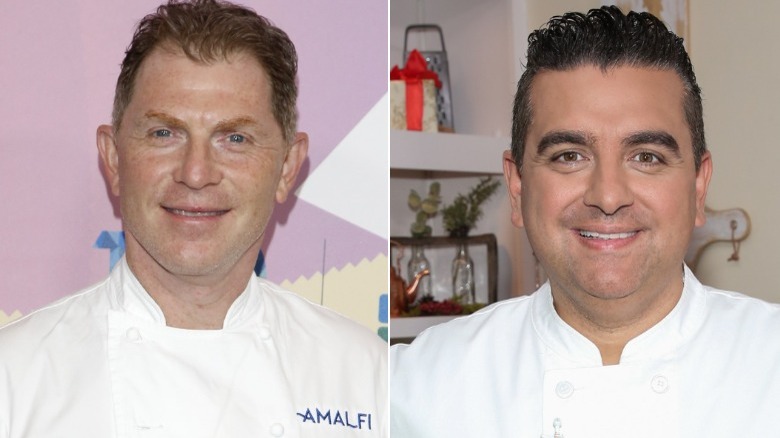 Gabe Ginsberg & Paul Archuleta/Getty & Dimitrios Kambouris/Getty Images
Leading up to the airing of the episode entitled "Smack Talk City," Food Network tweeted a clip from "Beat Bobby Flay" teasing the results. Joined by retired NFL star Eddie Jackson, Valastro enjoys reminding Flay of his epic cake decorating failure during a previous encounter, prompting a quick-witted Jackson to ask, "Is this for your new show 'Disaster Cakes?'" Always good-natured, Flay laughs at himself but quickly adds that he was going for a Jackson Pollock-style cake, which he nailed.
Competing in almost 400 showdowns on his show, Flay has an impressive winning average, notching victories in nearly two-thirds of them, causing some to speculate that the show is rigged. But Food Network has graciously put together a highlight reel of some of Flay's historic losses over the years. Competitors are thrilled when they win, but more striking is how important it is for Flay, a chef they admire, to state that he's proud of them.
With no sign of ending, chefs have started offering up advice on how to defeat Flay. Giada De Laurentiis suggests making a dish Flay's not comfortable preparing, like pasta or desserts. Alex Guarnaschelli adds that competitors should cook what they know and stay true to themselves. Valastro's cake-decorating skills fall into both of those categories. 
SPOILER ALERT: The fifth competition between Flay and Valastro saw the former finally ending "The Cake Boss'" reign of terror. We smell a rematch!