How Many Cookbooks Does Bobby Flay Have?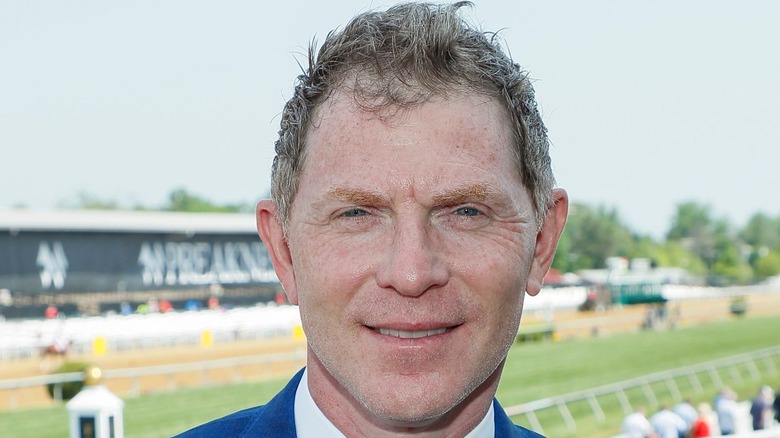 Paul Morigi/Getty Images
Do you aspire to be a master chef of the highest caliber? Is Bobby Flay one of your leading culinary inspirations? There's no denying that Bobby Flay is a gastronomical genius who seems to have been born with a spatula in his hand. He graduated from the elite French Culinary Institute, operates a number of successful restaurants, stars on several Food Network TV shows, and shares a podcast with his daughter, Sophie (per his website). He can be seen regularly squashing opponents on "Beat Bobby Flay" and "Iron Chef." He became a head chef at the tender age of 20 and owned his first restaurant by the time he was 26 (via Insider). And his cat, Nacho, is an Instagram celebrity. 
Yes, Bobby Flay is a rock star in the foodie universe. But did you know that he is also a prolific writer of cookbooks? It's true. In between televised contests, being a busy restaurateur, and romancing girlfriend, Christina Perez, Flay manages to find the time to pen and compile recipes for what has become an impressive list of published books. Just how many culinary guides has he managed to create?    
Bobby Flay has published 16 cookbooks to date
If you said "16" (via Insider), you would likely take top prize in a Bobby Flay trivia contest. But can you name them all? Here they are — Fit; Burgers, Fries, and Shakes; Mesa Grill Cookbook; Barbecue Addiction; Bar Americain Cookbook; Grill It!; Throwdown!; Boy Gets Grill; Brunch at Bobby's; Bobby at Home; Beat Bobby Flay; Cooks American; From My Kitchen To Your Table; Bold American Food; Grilling For Life; and Conquer The Kitchen (via Thriftbooks). If you said 17, you may also receive top points. Bobby and his daughter, Sophie, have a joint release coming out this October called Sunday's With Sophie. 
Anyone who wants to cook just like Bobby Flay may choose to begin by nailing some of the recipes found in one of his many books. Thankfully, he has a wide variety of styles to choose from including barbecuing, healthy cooking, casual dining, and dishes straight from Beat Bobby Flay. After all, mastering Flay's favorite dishes is a logical way to learn his style and techniques and tap into your inner culinary superstar. And, maybe, you will even learn how to beat Bobby Flay.