The Ultimate Trick To Beating Bobby Flay, According To Reddit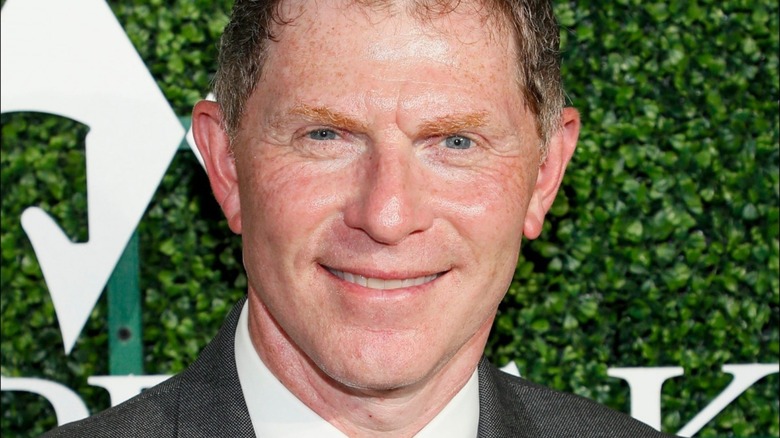 Paul Morigi/Getty
Throughout the years, Bobby Flay has solidified himself as the king of competition shows on Food Network. According to The Recipe, the celebrity chef has competed in and won more battles than any other Iron Chef, with an impressive win percentage of 72.1%. It all started way back in 1999, when Flay battled against Masaharu Morimoto in a special episode of "Iron Chef," before the American version of the show even existed (via Variety). The "Beat Bobby Flay" star caught flack from his competitor for standing on his cutting board at the end of the battle and raising his hands in victory (via YouTube). It was even more embarrassing when the judges declared Morimoto the winner.
Since then, Flay has been a bit more humble, and even admitted on the Drew Barrymore show that he enjoys losing on "Beat Bobby Flay." "I mean this wholeheartedly, I actually love [when I lose] because I created this show for two reasons: to hang out with friends and to cook," Flay said on the show (via YouTube). If you've watched a few episodes of the show in quick succession, it feels like the celebrity chef wins more often than not, but according to him, he loses 60% to 70% of the time. When he does lose, fans of the show take detailed notes about what the competitor did to edge out the seasoned chef, and they have compiled them on Reddit.
Don't get caught up in authenticity, just make it taste amazing
A month ago, u/porcia915 posted in the r/foodnetwork thread on Reddit that they did not think the blind taste test on "Beat Bobby Flay" was truly blind, because judges can pick out Bobby Flay's dish based on ingredients he often uses like chili peppers and pomegranate. This is not the first time that Reddit has accused "Beat Bobby Flay" of being rigged, but this time commenters provided tips for competitors to take down this culinary titan.
"What I do not get is how the contestants don't yet know that you do not make traditional dishes on this show," replied one Redditor. "It doesn't have to be authentic, it doesn't have to be true to its roots, it has to taste good amazing. Bobby will make something that doesn't get close to an authentic dish, and he'll win on flavor." Another Reddit user echoed this commenter's sentiment and replied: "I (heart emoji) Bobby! I think that chefs who come at him with his flavors and seasonings are wayyyy more ballsy than those that come at him with some obscure dish." Fellow Food Network star Giada De Laurentiis gave a similar tip, advising competitors to use bold flavors and to hit his weak spots, which are pasta and desserts.