The Elaborate Frittata Rachael Ray Makes For Overnight Guests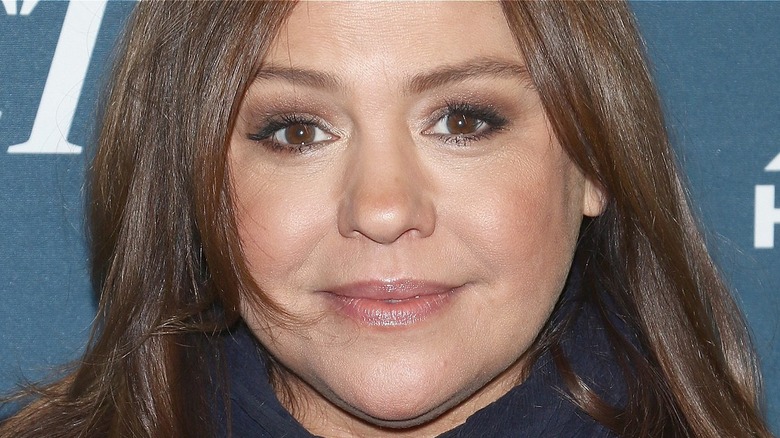 Jim Spellman/Getty
When Rachael Ray and her husband John, bought their home in Tuscany Italy, in 2018, the daytime host was fulfilling a lifelong goal. "All of my life, all I ever wanted was to live in Italy," Ray reminisced on the Rachael Ray Show. Ray fell in love immediately with the land, which contained olive trees and a vineyard but lacked running water and suitable living space. During the two-day Season 17 premiere, Ray unveiled the newly renovated home, designed with entertaining in mind.
Referred to as the "reception area," Ray created a space for overnight guests reminiscent of a show's green room. Containing everything one could need after a long flight, guests can help themselves to local wine, coffee, and snacks making her home way too comfortable for anyone to want to leave.
Known for her lifestyle brand, Ray's show, website, and magazine connect Ray to her fans with simple recipes, tips, ideas, and everyone's favorite segment, makeovers. When a viewer asks Ray what she would prepare overnight guests for breakfast, Ray "serves the world," including a morning frittata.
Ham crusted frittata
Elenglush/Shutterstock
During the segment "Q & Ray" on the Rachael Ray Show, via Yahoo, Ray and John elaborate on the regional meals she prepares for guests' breakfast, brunch, lunch, and dinner. The traditional farmer's dish, scafata, is mentioned by Ray first. Derived from the Italian word for fava beans, the recipe's star — favas — are sautéed with vegetables and topped with poached eggs. Similarly, Ray will choose veggies from their l'orto or kitchen garden; add beaten eggs to the sautéed them, and hey presto: a simple frittata. This slow-cooked Italian omelet can be served hot or cold, making it ideal for entertaining.
Considered a guaranteed crowd-pleaser, this elaborate frittata uses quality ham like the Italian Proscuitto di Parma. Regulated by the Consorzio, Prosciutto di Parma can only be produced in the Emilia Romagna region of Italy in Parma from heritage breed pigs. Speck, smoked prosciutto, would also be a suitable ham.
To make the frittata, Ray lines a skillet with prosciutto, draping the ham up the sides of the pan to eventually cover the top. Sautéing leeks, cabbage, or Brussel sprouts, Ray whisks in eggs, milk, and cheese to make the filling, then folds the prosciutto over the mixture to encase everything. Once the frittata begins to set on the stove, it is placed in the oven until cooked. The result is a ham-crusted frittata that Ray proclaims "everybody loves."