Rachael Ray's Pro Tip For Your Morning Frittata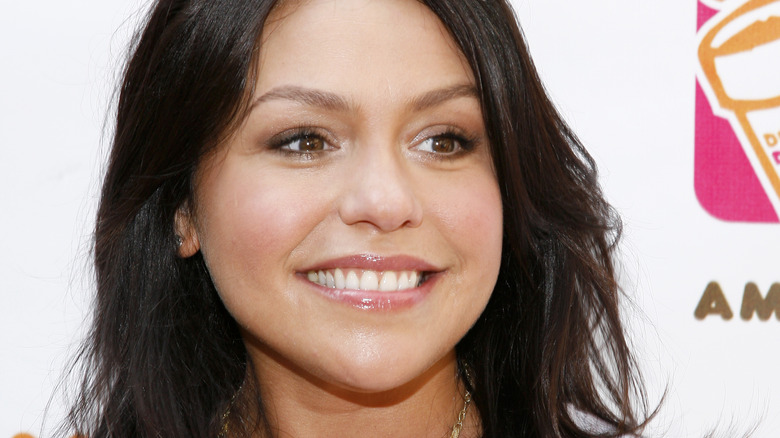 stocklight/Shutterstock
Frittatas that are light and fluffy — and are great for serving up during a weekend brunch – can be tough to master, but Rachael Ray has a pro tip to help make yours perfect. Ray definitely knows her way around an egg, and now he celebrity cook has shared a Goldilocks of a trick to take the guess work out of how many eggs you need to crack to ensure you get the right-sized frittata that's not too thin, not too thick, but is just right.
The meal can best be described, per Delighted Cooking, as an Italian dish that is similar to an omelet, but is definitely not an omelet. Frittatas begin by cooking on the stove, but there is no folding involved. Instead, your whipped up egg mixture cooks until the bottom layer has "solidified." Then the pan is moved to the oven where it cooks for about 30 minutes. Sounds easy enough, right? But it can be complicated when you have to figure out how many eggs you need to crack so you have just enough of the egg pie, sans crust, that can feed everyone gathered around the table.
How many eggs depends on your skillet size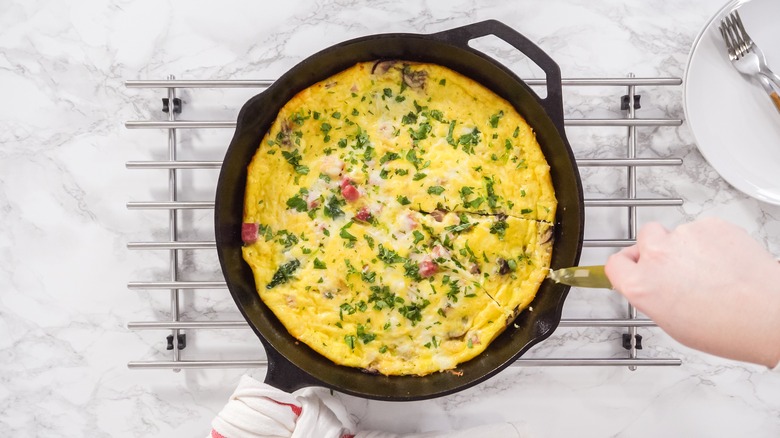 Arina P Habich/Shutterstock
Rachael Ray took to TikTok to share a video that has since racked up over 18,500 likes. It's aptly captioned, "Hakuna Frittata. It means no worries with my no-fail formula." Ray had us at no-fail. So, what is the magic to her trick? The "30-Minute Meals" host explains that "for every inch of skillet" that's how many eggs you are going to want to crack, meaning the width of the pan is going to equal the number of eggs. Ray added, "Say you're making a frittata for two people. You'd use a 6-inch skillet. For every inch of skillet, crack one egg. That's the math." Ray explains that if you follow this simple rule, your frittatas won't come out paper thin and you will have enough to feed yourself and your crew.  
Her followers seemed happy to have this mystery solved. One wrote, "Thank you for that tip on eggs vs. inch of skillet." And another offered an emoji-filled reply, and added, "Very good information! Love you Rachel." Still others debated her use of a nonstick pan over a cast iron pan. We will leave that debate for another day. For now, we are going to enjoy this egg-cellent frittata hack.