Rachael Ray And Her Husband John Cusimano Renamed A Cocktail For Mother's Day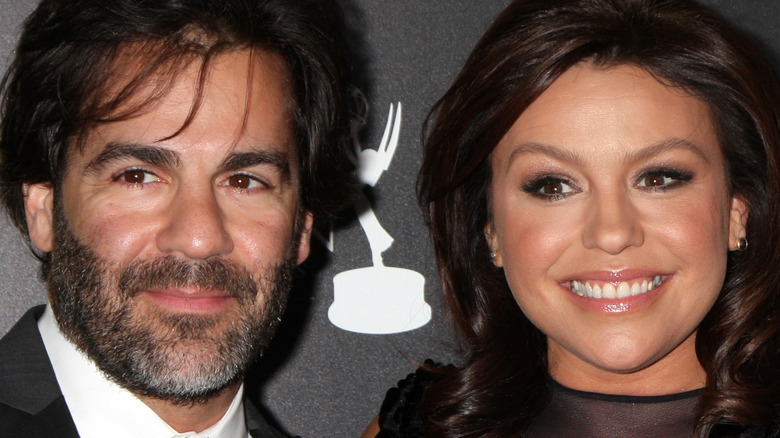 Joe Seer/Shutterstock
If being known primarily as "Rachael Ray's husband" bums John Cusimano out, he doesn't show it. Cusimano is a lawyer-slash-musician and — while perhaps not as eternally bubbly as the Ray of sunshine herself — certainly has been a steady, positive presence since they married over 16 years ago, according to an interview Ray gave to People magazine last year. "We're very good with giving each other space to work on our passions," the chef said then, of the couple's dynamic and their sense of optimism after the pandemic dealt them one harsh blow after another. Having to figure out the work-from-home dynamic was only the first of many challenges for Ray and Cusimano, who both value their private home life; they also lost their beloved dog, and then their own home to a fire. Add to that the fact that Cusimano was never interested in being on television, and due to Covid-19 Ray was forced to bring her film set home with her each day, and you couldn't blame the pair for being a bit grumpy.
Nay, dear reader, nay. Recently, Cusimano has been sort of a mixologist-on-retainer for "The Rachael Ray Show," where the hesitation that he once had about being on camera seems to have melted away like ice in a cocktail glass. And this Mother's Day, Cusimano is bringing his A-game (and his simple syrup secret, and a whole lot of brandy) to "The Rachael Ray Show."
If your cocktail is sad, spritzer up a bit
The winter cocktail that Instagram watched John Cusimano make in January has been given a May makeover by its creator. Refreshed and renamed the "Mama Knows Best," Cusimano's cocktail is the red wine spritzer for moms and non-moms alike. "Think of it like prosecco or champagne, but red wine instead of white wine," Cusimano says of Lambrusco, the cocktail's main ingredient. He was on Ray's show to make a "Mama Knows Best" for his wife and the studio audience present, but thankfully the three-minute mixology tutorial was posted on the Rachael Ray Show Instagram page for all the world to enjoy, too.
Like a good summery cocktail, the "Mama Knows Best" is served in a wine glass with lots of ice, and a sprig of rosemary that balances some of the drink's more citrusy components (like orange liquor and orange bitters). In fact, Cusimano compares it to an orange-flavored spritz. It also has "a bit of a sparkling sangria vibe to it," Cusimano says, dropping even more of our favorite keywords into his spiel. And in a subtle but important sidebar, Ray reveals that the squeeze-bottle Cusimano uses in his bartending showcase is a staple in their house — Cusimano always keeps one handy in the fridge, for quicker cocktails. If Mama knows best, Cusimano and Ray come in a close second for their tips, tricks, and tasty tidbits.