Subway UK's Leaked New Menu Will Give You Serious FOMO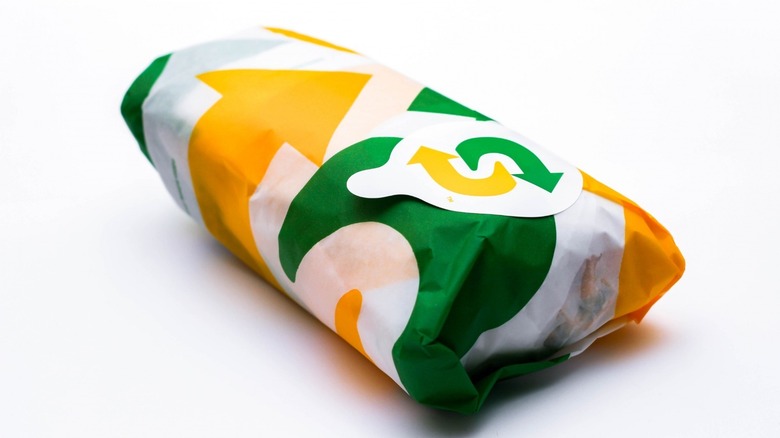 Birch Photographer/Shutterstock
Although food brands and chains are constantly bringing out new products in the United States, international locations often have their own unique menu items that turn Americans' heads. For example, Wendys' new caramel apple Frosty flavor is only available in Canada, and Korean Costco stores have jealousy-inducing trays of sushi. There are also plenty of international Subway sandwiches you can't get in the U.S., like New Zealand's habanero chili tuna wrap or South Africa's peri peri chicken sub. Now it looks like Subways in the United Kingdom are getting more new menu options, and customers across the pond are wishing they could get a bite.
In a Reddit post on r/subway, u/EarthPhl leaked a photo of menu items that will allegedly be arriving in U.K. stores soon. New sandwiches include a "Festive Turkey Stack" and a panini with brie and bacon, but non-sandwich items have actually caught people's attention even more: Customers will also be able to buy gravy to dip sandwiches in, as well as pigs in a blanket, a sticky toffee pudding cookie, and a gooey side dish called Cheesy Bites. If you're jealous of these leaked menu items, you're not alone.
Here's what Reddit is saying about Subway UK's leaked menu
In the comments section of the Reddit post, Subway fans shared hopes that these items would one day debut in the U.S. The top comment reads, "Cheesy bites :0 are those coming to the US you think?" Unfortunately for them, Redditors don't think U.S. customers will see these items anytime soon, although one person responded saying that they thought the Cheesy Bites would be a sure hit in Wisconsin.
It's clear that the Cheesy Bites caught people's attention. Another person commented, "Cheesy bites and pigs in a blanket?? I need to move to the UK lol." Fortunately, cheese lovers in the States aren't limited to Subway for a fix: A Mashed survey revealed that the best restaurant cheese curds are from Buffalo Wild Wings, with Culver's coming in second. Alternatively, mozzarella sticks take just half an hour to make at home.
Still, non-U.K. customers are suddenly wishing that their local Subway had some of these offerings, like one commenter who said, "​​I've never been so jealous of a subway menu b4." Although this person may not get to try the chain's sticky toffee pudding cookie or brie and bacon melt, there's still good news for Subway customers in the U.S., as the fan-favorite Subway pizza might be on its way back to stores.