A Subway Favorite Might Just Be On Its Way Back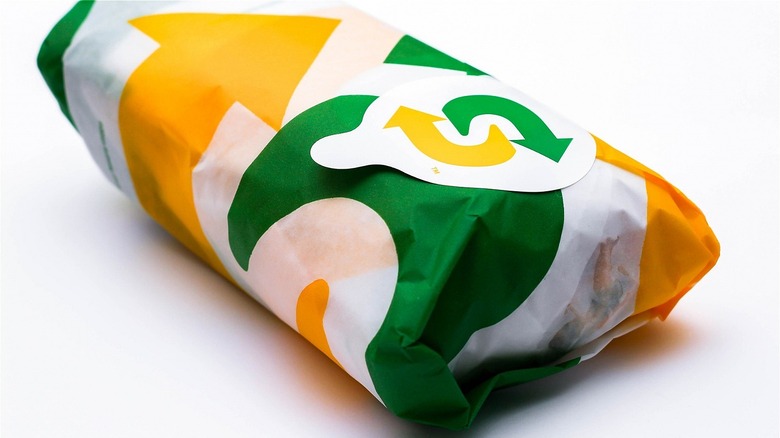 Birch Photographer/Shutterstock
Over 50 years ago when Peter Buck and Fred DeLuca started their first Subway restaurant, they put some core values and principles in place. These included providing exceptional service, providing the highest-quality menu items at affordable prices, and continuing to improve (via Subway History). Following these core values has ensured the restaurant's success over the years. Now with over 40,000 restaurants in the world and an ever-expanding menu, those core values still seem to be in place.
Subway is best known for its made-to-order sandwiches on bread baked in-house. Their slogan "Eat Fresh" eludes to the fact that you can add any fresh salad ingredients or proteins to your sandwich and it's made in front of your eyes — if you're in the store, of course!
It's now being rumored that Subway could be bringing back a favorite menu item that's not a sub: pizza. While there is the elusive Subway pizza sub, which was on the menu at one point in Subway's history, you can now only order it via the so-called "secret menu," according to Business Insider. However, this new item is said to be an actual pizza, according to Reddit users.
Could Subway pizza be coming back to stores?
A user on the r/subway subreddit who says they work in Subway posted a picture of a box of frozen pizza bases labeled "Subway – Round Cheese Pizza" on August 24, 2022 writing, "Yay, my location got these back!"
People on the site had mixed responses to the post saying, "My location hasn't sold them in 5 years and we still get people asking for them." Another said, "Subway pizzas secretly slap, ask for a dusting of parmesan cheese when it comes out of toaster. Game changer!" Other employees lamented the length of time the pizza would take in the toaster oven and thought they could see equipment issues in the future.
Reddit users say you can ask for any combination of toppings from the salad bar on the pizza. One person said they put "rotisserie chicken, spinach, tomatoes, banana pep, onion, chipotle southwest, and mozzarella" on it.
Because the product is so different from the usual sub and it's been sold irregularly with some locations appearing not to have it, many people are speculating whether it's an actual menu item. However, it does appear to be real.
A Twitter user called TheDerpyKat posted, "Guys. The fabled Subway pizza. It's real!" alongside a photo of a cheese pizza in a Subway box. "I was just at a Subway and I saw it and I had to get it (it was 6 dollars)." They rated it 7/10 for a pizza from a sandwich shop.