The Super Bowl 2023 Drink Commercials You Need To Watch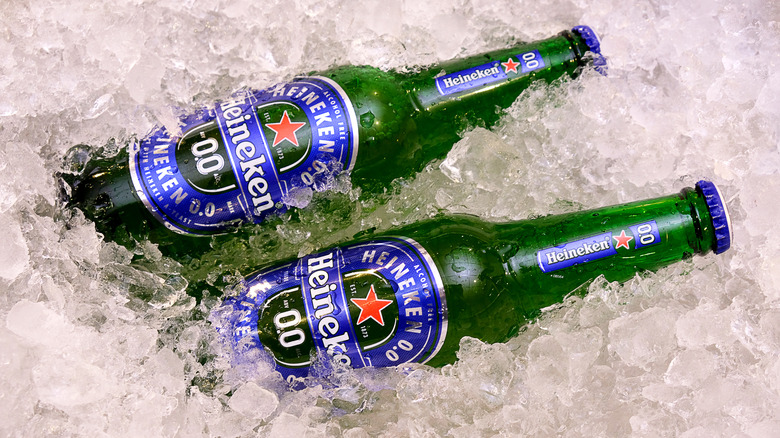 BORIMAT PRAOKAEW/Shutterstock
Most of the Super Bowl 2023 drink commercials draw heavily from pop culture references. However, this year, some drink companies are reaching all the way back to the 1980s and 1990s, so a little reference might help younger generations and those of us with selective pop culture illiteracy make sense of some of the ads. After all, ads are more enjoyable and often funnier if you understand the references and inside jokes.
For this year's pre-Super Bowl homework, you'll need to watch the "Caddyshack" movie, know about the Six Degrees of Kevin Bacon game, learn to cast your bets on DraftKings, and review Sarah McLachlan's 2007 ASPCA ad for animals at the very least. However, there are some other ads that you can slip into easily without any extra knowledge necessary.
There will probably be other drink commercials on Super Bowl Sunday from brands that aren't willing to share their secrets just yet. For example, French spirits group Rémy Cointreau has a 60-second ad planned, but it's not spilling any beans (via PR Newswire). Still, we have more than enough to wet our whistles before the big game on Feb. 12. Here are all the 2023 Super Bowl drink commercials that are already available in their entirety or that have tantalizing preview teasers.
Michelob ULTRA featuring Serena Williams, Brian Cox, and other sports faves
Among the most talked about Super Bowl 2023 ads are the Michelob ULTRA commercials. Watching them is like stepping into the 1980 movie "Caddyshack." Younger viewers may not pick up on all the references, but they should recognize some of their favorite celebrities in this spoof that includes the movie's theme song from Kenny Loggins.
This 60-second commercial opens with a Michelob ULTRA golf cart entering the Bushwood Country Club on New Member's Day and ends with a Michelob ULTRA celebration. Clearly, everyone on the golf course likes light beer. Among the celebrities are tennis player Serena Williams and "Succession" actor Brian Cox. According to Esquire, Cox didn't even know what a Super Bowl commercial was when Michelob asked him to join. After all, he's Scottish, so why should he? Actor Michael O'Keefe from the original "Caddyshack" serves as Williams' caddy. Sports commentator Tony Romo plays the infamous groundskeeper. Other stars include Mexican professional boxer Canelo Alvarez, pro basketball players Jimmy Butler and Nneka Ogwumike, and pro soccer player Alex Morgan. Some of these athletes also appear in other "Caddyshack"-themed Michelob ULTRA Super Bowl ads (yes, there are multiple).
According to an announcement sent to Mashed, Michelob's launch of a Caddyshack-themed ad is gearing up for the company's venture with Netflix on a new golf docuseries called "Full Swing." Now it makes a little more sense why Michelob ULTRA is reaching back to the early 1980s for its references.
Michelob ULTRA featuring Tony Romo
"This February," the ad narrator says, "Michelob ULTRA is taking over the big game." And, indeed, it is. You will see more than one commercial for Michelob's famous lite beer during this Super Bowl. At a reported $7 million per 30-second spot, per Sportsnaut, Michelob ULTRA's multiple ads with so many celebrity guest appearances must have cost a small fortune. However, with parent company Anheuser-Busch's billions of dollars in profits in 2022, it can surely afford them (via Macrotrends).
One 15-second Michelob ULTRA Super Bowl ad is called "Cinderella Story." It features sports commentator and former Dallas Cowboys quarterback Tony Romo playing the role of groundskeeper that actor Bill Murray made so famous in the original "Caddyshack" film (here's the original scene via YouTube). Interestingly enough, one commenter thought he was channeling Adam Sandler in the golf-themed 1996 movie "Happy Gilmore" more than Murray.
This Super Bowl 2023 drink commercial features Romo hitting the heads off mums with his golf club, as Murray does in the iconic "Caddyshack" scene he improvised. If you're a fast-enough draw with your phone, you can scan the QR code on the screen that will take you to an Instacart website to order Michelob ULTRA that will be delivered to you as you watch the game.
Michelob ULTRA featuring Alex Morgan, Tony Romo, and Rickie Fowler
Michelob ULTRA's 30-second ad stars pro soccer player Alex Morgan, sports commentator Tony Romo, and pro golfer Rickie Fowler. This ad still has a few callbacks to "Caddyshack" (via YouTube). However, it's mainly a hard-hitting ad for the "Full Swing" golf docuseries coming to Netflix on February 15 (sponsored by Michelob ULTRA). The commercial says you can get a sneak peek at "Full Swing" by scanning the QR code on your pack of Michelob ULTRA. You can also visit the Michelob ULTRA website to unlock the first episode (assuming you're over 21).
Romo's underdog comment is double-edged. While it somewhat mirrors Bill Murray's underdog monologue in the film, it's also likely a reference to Romo's early football career with the Dallas Cowboys when fans didn't expect too much from him.
Morgan is among the stars in what many considered the best Super Bowl ad of 2022 (via YouTube), so it's only fitting that Michelob ULTRA asked her back for several of its 2023 ads. This year, she's also in a 6-second ad, which we assume will punctuate the game for a small burst of Michelob awareness.
Michelob ULTRA featuring Canelo Alvarez
This 15-second Michelob ULTRA teaser ad for Super Bowl 2023 features Mexican professional boxer Canelo Alvarez. He whips around the golf course with his Michelob ULTRA golf cart to the faint sounds of "I'm Alright" by Kenny Loggins. This catchy theme song from the original "Caddyshack" soundtrack permeates all of the Michelob ULTRA Super Bowl ads in 2023, including the extended 3-minute version.
An early watcher of the Alvarez Beer Run ad on YouTube commented that the golf cart's horn sounds just like the one from "Caddyshack" when the character played by Rodney Dangerfield pulls up onto the golf course in his red Rolls Royce Silver Cloud convertible (via YouTube). 
If you missed the QR code in one of the other Michelob ULTRA commercials, you can grab the one in this ad to order Michelob ULTRA and have it delivered by Instacart for your Super Bowl party.
Budweiser featuring Kevin Bacon and Metro Boomin
While you won't see actor Kevin Bacon in Budweiser's 2023 Super Bowl ad, you will hear his voice as narrator. The idea behind the ad is clever. "It wasn't until I actually saw the spot that I said to myself, 'Oh, that's right. A six-pack is six degrees of connection,'" Bacon tells People. The distribution of beer bottles from a six-pack is reminiscent of the famous six-degrees-of-separation-from-Kevin-Bacon game. The idea got its start in 1994 at an Albright College dorm in Pennsylvania when three bored students watched the movie "Footloose" and decided they could link any actor to Bacon in six roles or less (via NZ Herald).
The Six Degrees of Kevin Bacon Budweiser commercial is specially created to give you the feels by showing how interconnected people can be as a six-pack of Budweiser migrates from location to location, connecting strangers. Bacon told People, "I've always felt that the actual idea [of six degrees of separation] ... is a beautiful concept. If you take me out of the game, we are all connected."
Rapper Metro Boomin was featured in an early teaser and has a cameo appearance in the ad. According to Digital Music, he is the person who takes the fourth beer from the six-pack as it passes through his music studio. The final beer is offered to the viewer because "this Bud's for you." Thus, the old tagline is back. Plus, there are Clydesdales, which makes everyone happy.
Samuel Adams featuring Lenny Clarke and Kevin Garnett
Now here's a Super Bowl 2023 drink commercial that will make you smile. Samuel Adams has remastered its Boston lager to be brighter in color, and the brewing company uses its 2023 Super Bowl commercial to reimagine Boston itself as being brighter and friendlier. The commercial features Sam Adams, "Your Cousin From Boston," a character who has lately been showing up in Samuel Adams commercials (via Hey McNulty).
According to Boston.com, the commercial was filmed around the city in Massachusetts and features a local crew and actors who use the familiar vowel-dropping Boston accent to give it a more authentic feel. When Your Cousin From Boston imagines a brighter Boston, everyone he sees during his day is doing good deeds rather than acting rudely during their various encounters. The people from his imaginary brighter day include Boston comedian and actor Lenny Clarke and Boston Celtics pro basketball player Kevin Garnett. Every potentially brusque and rude encounter turns into a situation where people are kind to each other. To say more would be to spoil the experience of the ad and the smile it's likely to put on your face.
Bud Light featuring Miles Teller and Keleigh Sperry
Being on hold with customer service and enduring the on-hold music is something probably all of us have experienced at some time or the other. So, there's no cultural pre-knowledge necessary to understand this cute Bud Light Super Bowl commercial –- unless you've been living under a phoneless rock. Sometimes, the best commercials are the simplest, with the humor coming from a shared experience.
This Super Bowl 2023 drink commercial features "Top Gun: Maverick" actor Miles Teller at home with his wife, actress Keleigh Sperry, and their adorable French bulldog, Bugsy. Next time you're on hold with customer service, Bud Light wants you to think about grabbing a can from the fridge and reenacting this commercial. We think this will be among your favorite Super Bowl commercials. It's the type of ad you're even likely to share with a non-Super Bowl watcher (yes, they exist).
According to Variety, the idea for the commercial came to Alissa Heinerscheid, Bud Light's vice president of marketing, when she discovered that early ads focused on the beer's easy-to-drink qualities. So, this new ad focuses on enjoying the little moments in life and making Bud Light a part of them because it's "easy to drink" and "easy to enjoy."
DraftKings featuring Miller Lite and Coors Light
Molson Coors hasn't participated in Super Bowl ads for 33 years because of a contract clause (via CNBC). But, now it's back with a 30-second teaser ad out in advance of the Super Bowl. The High Stakes Beer Ad promises a face-off between Miller Lite and Coors Light (both owned by Molson Coors). We also know that the ad will involve a bar, people, and a dog. Oh, and Molson Coors is making this "the first ad you can play on DraftKings."
DraftKings is a fantasy sports platform that usually works by creating a player roster and then earning points based on how those players do in the game. Rather than allowing you to watch the Miller Lite Super Bowl commercial ahead of the big game, Miller Lite wants you to use DraftKings to predict what you might see. Which beer will it mention first? Which beer slogan will appear first? What type of floor does the bar have? What type of dog is behind the bar? How many people in the bar have a beard or mustache? And, ultimately, who wins?
According to CNBC, there's a $500,000 prize pot for those who guess everything correctly about this Super Bowl 2023 drink commercial. If you want to get in on the action, you'll have until 3:30 p.m. ET on Super Bowl Sunday to log your guesses, with winners announced on Monday morning, February 13.
Crown Royal featuring Dave Grohl
Crown Royal's Super Bowl ad sneak preview is a complete tease. Musician Dave Grohl (of Nirvana and Foo Fighters fame) sits in his music studio reading a list of random items out loud. What do peanut butter, paint rollers, batteries, trash bags, the replay, egg cartons, electric wheelchairs, and Hawaiian pizza have in common? YouTube commenters think they're all things invented in Canada or by Canadians. After all, the distillery for Crown Royal is in Gimli, Manitoba, Canada (via Crown Royal). So, it makes sense for a Canadian whisky company to insert a little Canadian pride into its American Super Bowl ad.
Crown Royal has also released a 30-second Grohl "thank-you" teaser. It's simply 30 seconds of Grohl being thankful for everything in his music studio. Crown Royal says its big thank-you is coming during the Super Bowl. Perhaps it's a thanks for continuing to buy Canadian whisky when we have our own bourbons.
Busch Light featuring Sarah McLachlan
Busch Light's 2023 Super Bowl commercial will leave you simultaneously shaking your head and chuckling. Lighthearted silliness is always appreciated in a Super Bowl ad because it appeals to all ages and backgrounds. There's no need for a lot of previous knowledge about anything to enjoy this commercial, but it might help to review Sarah McLachlan's 2007 ad for the ASPCA to get the inside joke. McLachlan's heartstrings-tugging ad from 16 years ago featured her song "Angel" and a heartfelt plea to "be an angel for a helpless [shelter] animal."
The Busch Light commercial takes place in a mountainous wooded area beside a stream, with a nod to the iconic mountains in the Busch logo. A plaid-clad bearded man introduces us to The Busch Guide and tells us about three things that are necessary to survive when we're in the "great outdoors." Only McLachlan outrageously misunderstands one of them in a parody of her ASPCA commercial.
Heineken 0.0 featuring Paul Rudd
Alcohol-free beer has been making a big splash during the last couple of years. With so many people going alcohol-free these days, Heineken is betting on finding more interested consumers for its zero-alcohol Heineken 0.0 on Super Bowl Sunday. In fact, according to Ad Age, it's the first alcohol-free beer to be featured in a Super Bowl ad. Heineken 0.0's 15-second teaser features Paul Rudd as Ant-Man. Marvel Studios and Heineken are teaming up in this commercial to promote the "Ant-Man and the Wasp: Quantumania" movie coming to theaters on February 17 (the Friday after the Super Bowl).
As the teaser to the Super Bowl 2023 drink commercial opens, Ant-Man tells his ant friend Anton not to judge him because his beer is alcohol-free. But the ant wasn't judging Ant-Man for his beer; he was trying to get him to pay attention to the message on his computer screen, hinting at some type of trouble that Ant-Man will need to help solve in the longer version of the commercial we'll see during the Super Bowl.
According to VinePair, this isn't the first time Rudd has been in a Heineken 0.0 commercial. Earlier in the year, he appeared in one for Dry January. Rudd told People that part of his preparation for the Ant-Man franchise involved abstaining from alcohol for a year in order to stay in shape for the part. So, non-alcoholic beer and Ant-Man do have a small connection already.
Pepsi Zero Sugar featuring Ben Stiller and Steve Martin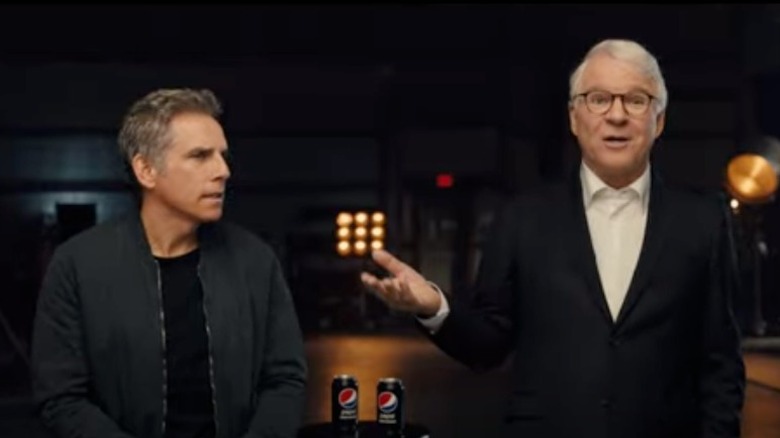 YouTube
When you hear that actors Ben Stiller and Steve Martin are going to be in a Super Bowl commercial, you assume that it's going to be epically hilarious. So, Pepsi Zero Sugar has given us not one, but two teasers for the Super Bowl commercial to promote its new drink formula. During both teaser ads, the two actors give zero sugar to each other, instead engaging in a barrage of rapid-fire pot shots.
In the second teaser, Stiller roasts Martin for being a "banjo player." Martin's immediate comeback is to call Stiller a "nepo baby" since he rode into the entertainment business on the coattails of his famous actor parents, Jerry Stiller and Anne Meara (via Daily Mail).
According to Beverage Digest, Pepsi Zero Sugar relies on aspartame and acesulfame potassium (ace-K) as its sweeteners. The new formula just came out in mid-January and is supposed to have a taste closer to regular Pepsi. So the company is on a mission to make the new formula better known with a Super Bowl 2023 drink commercial that we hope is amazing.