14 Food Items That Have Arrived And Disappeared At Taco Bell So Far In 2023
What Taco Bell giveth, Taco Bell taketh away. Every year, fans of the fast food restaurant are treated to a dizzying array of innovative new menu items. But most of those debuts end up getting taken away just a few months or even weeks later. While some popular items seem to return fairly regularly — we're looking at you, nacho fries — others disappear without a trace. Either way, it seems like an almost impossible feat for any item to earn its spot as a permanent feature on Taco Bell's menu. Even when it does, that's no guarantee it won't get ripped away from fans again a few years later — we're looking at you now, quesarito.
For fans, it keeps the menu fresh and exciting, but also frustratingly unpredictable, especially when your new favorite order is suddenly gone. Whether it's the tragic end to the reign of the quesarito or the triumphant return of the beefy crunch burrito, 2023 is proving to be just as much of a rollercoaster of emotions for Taco Bell fans as in past years. Here are some of the most notable arrivals and disappearances on the fast food restaurant's menu so far.
Quesarito
The loss of the quesarito is probably the most painful change to the menu for Taco Bell fans. Instead of a plain old tortilla to wrap the chipotle beef-stuffed burrito, the quesarito used a nacho cheese-filled quesadilla as its wrapper. It was cheesy, beefy, and such a fan favorite that it survived on Taco Bell's menu for nine years after its 2014 debut. For a fast food chain that's notorious for discontinuing some of its most popular menu items, nine years is an impressive run. But on April 19, that impressive run came to an end when the fast food chain axed the quesarito from its menu.
For fans who don't know how to exist in a world without the quesarito, you're not completely out of luck. Chipotle's secret menu still includes a quesarito that's about twice the size of the discontinued Taco Bell version. Employees won't exactly be thrilled if you try to order it during a lunch rush, but if you head to your nearest Chipotle during a slow time, you can get your quesarito fix.
For the more ambitious quesarito fans, you can also try making your own at home. Just make a quesadilla, top it with your favorite burrito filling, and roll it up.
Bacon Club Chalupa
The bacon club chalupa first appeared back in 2008 but has never been a permanent resident of the chain's menu. As of March 9, it came back again for yet another limited-time release after a two-year absence. But it looks like this chalupa has left again.
This menu item was a mashup of a classic club sandwich and a chalupa — sort of. Instead of the thinner masa-based flatbread used for a traditional chalupa, Taco Bell uses a thicker base that's closer to American Indian-style frybread. That was folded around grilled chicken, bacon, lettuce, tomato, shredded cheese, and an avocado ranch sauce.
While the bacon club version might be gone, fans can still get the chalupa supreme and the black bean chalupa supreme if you're craving the thick frybread-like shell. But if it absolutely has to be the bacon club version, you'll need to put on your chef hat and make your own copycat bacon club chalupa — or else wait until Taco Bell decides to offer another limited release.
Double Steak Grilled Cheese Burrito
The double steak grilled cheese burrito also returned on March 9th, alongside the bacon club chalupa, but this one still seems to be on the menu. The burrito is stuffed with twice as much marinated grilled steak as a steak quesadilla, along with seasoned rice, Fiesta strips, a three-cheese blend, nacho cheese sauce, and creamy chipotle sauce. All of that is wrapped in a tortilla and then topped with even more cheese before being grilled.
Even when the limited double steak grilled cheese burrito disappears, you'll still be able to get the steak grilled cheese burrito which became a permanent fixture on the menu in 2023. Try asking for an extra helping of steak to recreate the double steak version. That and a version made with ground beef rather than steak round out the latest grilled cheese burrito additions to the menu.
Regional testing of other variations is still ongoing, however. Ohio Taco Bell fans can try the California steak grilled cheese burrito or the bacon grilled cheese burrito, for example. Here, steak is paired with nacho fries, guacamole, Fiesta strips, sour cream, tomatoes, and nacho cheese sauce. In the bacon grilled cheese burrito, you'll find steak, crispy bacon, chipotle sauce, nacho cheese sauce, and sour cream.
Cheesy Chicken Crispanada
Taco Bell fans in Knoxville got to be the first to try the new cheesy chicken crispanada in March. As the name suggests, the menu item is inspired by the empanada, a savory folded pastry found throughout Latin America as well as Spain and southern Europe.
Like a traditional empanada, Taco Bell's new crispanada consists of a folded pastry shell filled with savory ingredients like shredded chicken and cheese. The whole thing is then fried and served with a spicy ranch dipping sauce.
Assuming the limited release in Knoxville is a success, fans outside of Tennessee might see the new twist on an empanada pop up on menus nationwide. Until then, you'll have to either make a trip to Knoxville or attempt to craft your own cheesy chicken crispanada at home. To do that, pick up or make empanada dough, form it, stuff it with shredded cheese and chicken, and finally fry it in a pan. For the dipping sauce, mix your favorite ranch dressing with some of the Taco Bell hot sauce packets we know you have stashed in a drawer somewhere.
Nacho Fries
Taco Bell's nacho fries pair a creamy nacho cheese dipping sauce with crisp, thick-cut French fries seasoned with a signature Tex-Mex blend of spices. They've come and gone from the fast food chain's menu at least eight times since they first debuted in 2018. The appearance of nacho fries on the menu in April marks the menu item's ninth return.
While this fan favorite is staying on the menu for a while longer than some of Taco Bell's other new releases, it's still not a permanent addition. If they run out before you have a chance to get your hands on an order of the limited-release fries, you'll have to get crafty and try making some of your own. If you don't want to make the fries from scratch, just pick up a bag of your favorite frozen French fries and use some of your favorite Mexican-style seasonings.
Limited Edition Yellowbird Nacho Fries
Alongside the original nacho fries, Taco Bell came out with an even more limited release of Yellowbird nacho fries. This is the latest loaded version of the menu item, featuring original nacho fries topped with marinated steak, nacho cheese sauce, and a signature spicy habanero ranch made in collaboration with Yellowbird Hot Sauce.
The Austin-based hot sauce brand is famous for its line of thick hot sauces with creative flavor profiles thanks to the addition of ingredients like caramelized onions or blue agave. You might also remember the brand's Bliss & Vinegar sauce from season 16 of "Hot Ones," where it was the second wing sauce in the lineup.
The specialty loaded fries are only going to be on the menu for a short time, so you'll need to order a plate soon if you want the chance to try it at all. So long as the Yellowbird nacho fries are on the menu, you'll also be able to add the signature spicy habanero ranch sauce to any other Taco Bell item for an added fee.
Crispy chicken wings
One of Taco Bell's most limited releases yet was the Ultimate Gameday Box which debuted on January 23rd and left on February 9th. The box came with the chain's famous Mexican Pizza, four crunchy tacos, and eight of Taco Bell's ever-elusive crispy chicken wings. Chicken wings are a somewhat unusual choice for the Mexican-adjacent restaurant, but the addition of a Mexican Queso seasoning to the crispy coating gives the menu item a distinct Taco Bell twist.
The fast food restaurant did a trial run of these crispy chicken wings back in August 2020. While they were an instant hit, fans didn't see a nationwide launch until January 2022 and that release was just as limited as this year's game day launch. In 2023, the wings also came with two servings of Taco Bell's popular spicy ranch dipping sauce.
If you missed your chance this year, you might be able to snag some crispy chicken year if Taco Bell launches another game day box in January 2024. Just make sure to do your research first because, if the limited release is anything like this year's, the wings will only be available at select locations.
Salsa Verde Grilled Chicken Burrito
If the fleeting nature of Taco Bell's many limited releases is wearing on your soul, don't despair. The new salsa verde grilled chicken burrito is proof that, sometimes, Taco Bell debuts a menu item that actually is here to stay. This burrito is the latest addition to the restaurant's selection of $2 burritos and it features marinated grilled chicken, seasoned rice, and a three-cheese blend topped with sour cream and salsa verde.
The sauce is the same recipe as the Salsa Verde packets, though those green packets were controversially pulled from stores back in 2016. Fans who were heartbroken when the green packets disappeared could enjoy the beloved sauce via this new burrito — and maybe even hope for a return of the Verde sauce, too. However, Taco Bell still hasn't officially announced the return of the beloved Verde packets, so fans will have to keep hoping.
Breakfast California Crunchwrap
On April 13, Taco Bell debuted the California breakfast crunchwrap. The new menu item stuffs the classic crunch wrap with fluffy scrambled eggs, hash browns, crispy bacon, diced tomato, and guacamole. Although the California breakfast crunchwrap is a limited release, it's part of Taco Bell's latest push to refresh its breakfast menu. The refreshed morning menu comes with a similarly refreshed ad campaign featuring Pete Davidson as a morning talk show host on "Breakfast with Peter."
The fast food chain has tried and failed in the past to create a successful breakfast menu, with many of the restaurant's biggest flops being efforts to bring its "Live Más" attitude to breakfast staples. It even apologized last year for overcomplicating the most important meal of the day with eccentric offerings like the waffle taco and the naked egg taco, which featured an oddly solid fried egg as a shell. 
The California breakfast crunchwrap may be a limited release but its decidedly simpler and more familiar approach to breakfast food looks like it's here to stay.
Cheesy chipotle chicken burrito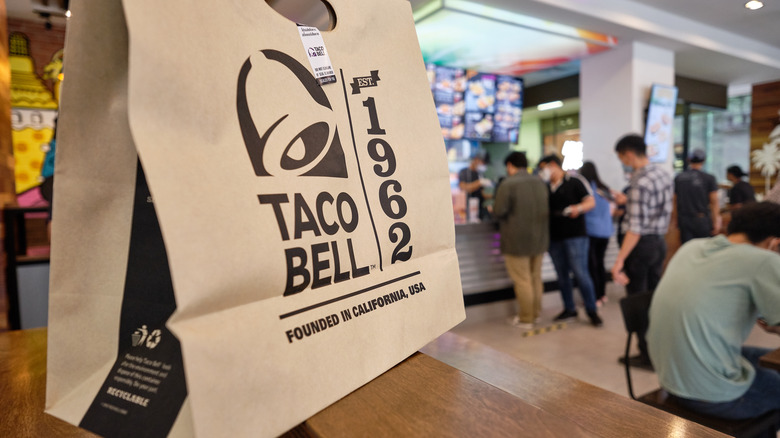 KULLAPONG PARCHERAT/Shutterstock
Taco Bell fans in Charlotte, North Carolina are already missing the $2 cheesy chipotle chicken burrito that debuted in 2022. The limited release appeared on the Cravings Value Menu in December and featured grilled chicken, seasoned rice, and shredded cheese drenched in creamy chipotle sauce and topped with sour cream. The burrito was axed just a couple of weeks later on January 4th, along with two other $2 burritos launched exclusively in Charlotte: the chicken enchilada burrito and the chicken poblano Caesar burrito.
While there's no word on whether any of these limited-release burritos will make a comeback, fans can be optimistic that at least one could get a nationwide launch if the test release in Charlotte was deemed a success. If you had a chance to try the cheesy chipotle chicken burrito or either of the other new $2 burritos while they were being tested, make your demand for their return known. After all, listening to fans' demands is part of the restaurant's brand.
Crispy Melt Tacos
In February 2023, a new launch of a previously discontinued fan favorite came back to Taco Bell locations across the country: the crispy melt taco. But, once again, it was a limited release and the cheesy, crunchy taco disappeared just a month later. The crispy melt taco first appeared on the menu in 2021 as the cantina crispy melt taco. It featured a crisp white corn shell stuffed with nacho cheese, seasoned ground beef, shredded cheese, tomatoes, lettuce, and sour cream. Customers also had the option to swap the ground beef with black beans.
It sounds simple: an ordinary crunchy taco with nacho cheese. But the standard yellow shell was swapped with a more crisp fried white corn shell. Meanwhile, the creamy nacho cheese sauce added a contrasting texture that played off the crisp shell to turn an ordinary taco into a flavor and texture experience.
Though it was a simple menu item, the crispy melt taco was certainly popular. Fans might see it return in the future or even become a permanent feature on the menu. There's no word from Taco Bell on the future of this beloved menu item yet, though.
Double stacked tacos
The $2 double stacked tacos feature a classic hard shell taco wrapped in a soft shell tortilla with a layer of melted cheese in between. It's sort of like a taco version of the sorely-missed quesarito. After facing off in a round of voting against the enchirito in 2022 and losing, the discontinued taco was quietly tested at a few select locations starting in March 2023. This could mean a nationwide release is on the horizon, as something similar happened with the salsa verde grilled chicken burrito.
The test run is happening in Birmingham, Alabama and includes three variations: the sweet scorpion double stacked taco, the cheesy chipotle double stacked taco, and the nacho crunch double stacked taco. The sweet scorpion variety is filled with beef, cheddar, lettuce, and sweet scorpion sauce. The cheesy chipotle swaps the sweet scorpion sauce for a chipotle one. Meanwhile, the nacho crunch skips the sauce and adds Fiesta strips.
Beefy Crunch Burrito
Although many menu items have already come and gone, fans haven't missed their chance to enjoy the beefy crunch burrito which is set to return to Taco Bell in August 2023. The beefy crunch burrito is loaded with seasoned ground beef, rice, sour cream, nacho cheese sauce, and, to add the crunch, Fritos Flamin' Hot-Flavored Corn Chips. It first showed up at Taco Bell restaurants back in 2010 but had already been discontinued by 2011.
While it reappeared for a few limited releases since then, it hadn't been seen at all since 2018. That is, until Taco Bell invited fans to vote on whether to bring back the beefy crunch burrito or another discontinued Taco Bell menu item, the Cool Ranch Doritos Locos Tacos. Fans voted and the Frito-filled burrito won.
Come August 2023, you'll likely need to act fast if you want to try the beefy crunch burrito. When the enchirito won last year's discontinued menu item showdown, it disappeared again by the end of November. The beefy crunch burrito will likely be a limited release, though no fixed end date has been set as of this writing.
Volcano menu
Maybe one of the most hotly-anticipated returns of 2023, Taco Bell's Volcano Menu is set to come back on June 29th. It first appeared back in 1995, giving Taco Bell fans the choice of a volcano burrito, a volcano taco, or the option to add the signature lava sauce (a spicy nacho cheese sauce) to any other menu item.
The ingredients of this latest version of the volcano burrito have not been released yet, but the taco will likely feature the same distinctive crunchy red shell as before. Inside, you'll probably find all the fixings you'd find in a standard crunchy taco, but with that spicy lava sauce poured on top. The new menu might add some new twists to the classic lineup, but Taco Bell is currently keeping the details under wraps.
Fans have been campaigning for its return ever since the limited-release menu disappeared in the '90s. The June return is slated to be another limited release, so if you're determined to try the extra spicy throwback menu, you'll need to act fast.