Who, Exactly, Is Taco Bell's Peter Davidson?
Though none of us have forgotten Taco Bell's odd 2022 partnership with comedian Pete Davidson, let alone the Taco Bell breakfast menu Davidson was apologizing for, the pair seem to be putting all of that behind them.
Taco Bell and "Peter" Davidson, on the other hand? Well, that's a whole different story. As opposed to some of last year's cringe and chaotic Davidson Taco Bell ads, the new Peter marketing strategy mimics a morning talk show, calming, straightforward, and easy to digest on your morning commute. Per PR Newswire, he even streams his show from a Taco Bell restaurant.
To further make up for previous failed attempts at Taco Bell breakfast, the chain released a new Crunchwrap on April 13 at select locations. The California Breakfast Crunchwrap includes a hashbrown, scrambled eggs, and bacon in a tortilla, as well as guacamole, cheese, and tomatoes, for a grand total of about $3.79.
Taco Bell breakfast needed Pete(r) Davidson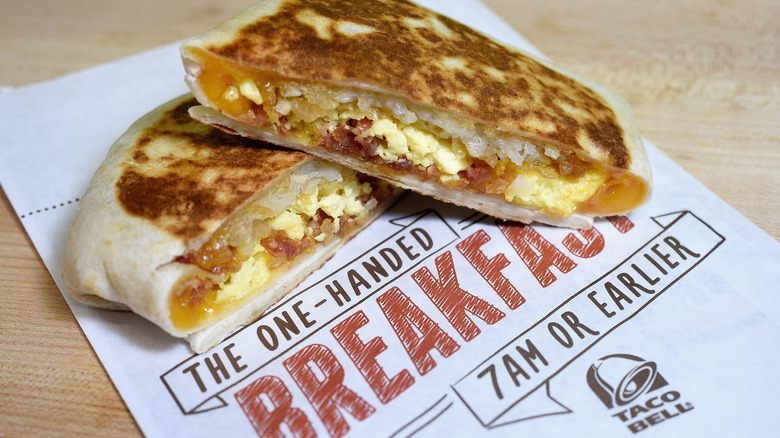 Joshua Blanchard/Getty Images
As you might recall, earlier attempts at Taco Bell breakfast included the Naked Egg Taco and the Waffle Taco, neither of which stuck around on menus for long. In fact, some people disliked these particular items so much that MyRecipes referred to the Naked Egg Taco as "the worst fast food breakfast of 2017." Ouch.
By 2022, the chain had found some success with its breakfast burritos and Crunchwrap, but Taco Bell had Pete Davidson to thank for its early-morning surge. Taco Bell's sales increased by more than 14% after partnering with Davidson, even as all of social media complained about how annoying the pair's ads were.
Needless to say, Taco Bell's breakfast is definitely on better footing now that the chain has promised to keep it simple. Moving forward, we wouldn't be too surprised if Peter's morning talk show continues, if only to bring in new customers and boost sales.