Best Summer Cocktails And Where To Get Them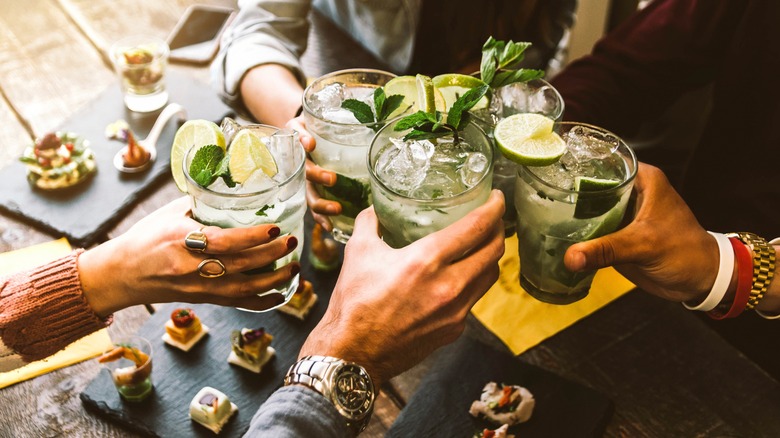 DavideAngelini/Shutterstock
The onset of summer brings with it ample changes; warmer weather, a shift in wardrobe, and an upgrade in mood as you fully shake off those winter blues. But did you ever consider that a change in taste comes along with the season swap, as well? It's true. Your palate changes in hot temperatures, and you can suddenly find yourself craving cold treats such as popsicles or icy, replenishing beverages as your body searches for some instant repose when it is feeling uncomfortably balmy. 
Perhaps this is why in the summertime, instead of going for a spiked hot apple cider or a hot toddy when it comes time to order at the bar, adults often opt for a cold, fruity, poured-over-ice cocktail. And if you're going to be ordering chilled mixed drinks all season long, you may as well go for the good ones. Here are some of the best summer cocktails of the year and where to get them.
Picante
Calling for tequila, agave nectar, a chili pepper and about 10 coriander leaves, this sizzling cocktail inspired by a classic summer favorite, the margarita, is sure to hit big with those looking for a drink to match their spicy summer mood. The Picante De La Casa can be found exclusively in Soho Houses everywhere, the members-only club where it was originally invented in 2012. Although the drink sold well in the United States from the start, it took longer to rise to popularity in the club's European locations, where tequila was a far less popular liquor selection. Eventually, however, even members attending the clubs in the U.K. began catching on to the brilliance of the tangy little beverage. The Picante has since become Soho House's best-selling cocktail, and an especially refreshing option for summertime.
Not a member? Never fear. Soho House has generously shared the recipe for its spicy stunner with the world on its official website. So whether you're sitting patio-side at one of its worldwide locations such as in London, Toronto, or Los Angeles, or just mixing at your in-home bar as that hot summer sun shines in through your kitchen window, you can enjoy a refreshing Picante this season.
The Rosa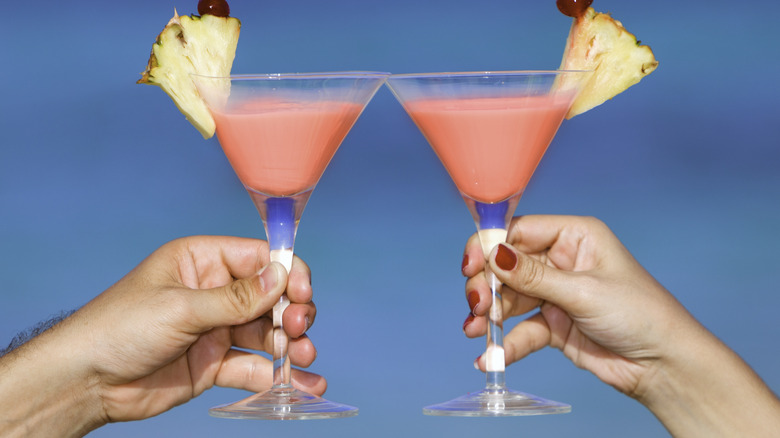 Apomares/Getty Images
There is something about tequila and summer that just ... works. Perhaps, smooth agave-like flavor aside, it has something to do with the fact that the distilled liquor has been highlighted positively for having no added sugars or carbohydrates, and a relatively low calorie content — all of which are attractive notions in the heat of swimsuit season.
Whether you simply love the taste of the smooth spirit or are opting for it as a way to cut down on calories, here's a tequila-based drink to add to your summer waiting list. A refreshing cocktail named The Rosa, available at Matteo's Ristorante Italiano at The Venetian in Las Vegas, brings in some full-bodied fruity flavors alongside the popular Mexican liquor. Olmeca Altos Plata tequila is mixed with hydrating, sweet prickly pear. This blend is then poured into a glass and finished off with a pineapple chip, a fancy gold lollipop, and a pleasant sugar rim for an extra hint of granulated sweetness in every sip. Sounds like our cup of tea — or should we say, our cup of spirit — for a hot summer day. 
Limoncello Spritz
Limoncello, the immensely popular and immensely sweet Italian liqueur, can be a refreshing summer drink in and of itself. However, for some, this thick, concentrated lemony vodka concoction served over ice can feel just a bit too heavy to match with the carefree air of the summertime months. Well, that is where the Limoncello Spritz comes in to provide a great-tasting solution.
A hint of pure limoncello mixed with prosecco and club soda lightens things up to make for an invigorating, fun drink worthy of being enjoyed while lounging on the Italian coast ... or, lounging in your very own backyard. A version that is delicious, convenient, and ready-to-drink is out this season in a visually stunning bright yellow can through Loverboy. Place your order online through its official site or stop by a store like Total Wines to stock up and fill your cooler before you head out to your next cookout or beach day. Your friends will love you for bringing all that wonderful, bubbly, and citrusy summer flavor to the party.
Cold Pizza Margarita
With sweeter beverages like hard seltzers, moscato wines, and fruity ciders generally ruling the summer drink popularity contest, sometimes it's nice to take a step back from sugar and slide your palate into the savory zone. A nice tomato-based Bloody Mary or an olive-briny dirty martini are always good reliable go-to drinks, but this summer, there's a deliciously bizarre newcomer on the salty-drink scene if you're feeling a bit more adventurous.
Straight out of Double Chicken Please in New York City, comes a pizza cocktail. Named the Cold Pizza Margarita (a clever pun when you consider the mozzarella and basil masterpiece that is a margherita pizza), the drink combines ingredients such as cheese and burnt toast tequila, honey, egg white, tomato, and lime-basil cordial to create a mind boggling, savory concoction that will totally mess with your mind — but in a good way. Drinking a chilled, liquefied pizza while simultaneously dining on some baked cheesy deep dish? Sounds very in the spirit of summer. 
Zombie Punch
If you're spending a summer in Portland, there are some things you simply have to experience. Check out the famous Portland Farmers Market, take a walk through the celebrated Oregon Zoo ... and end the day by stopping in at the city's most epic tiki bar, Hale Pele, for a splendid drink that brings with it all the beach vibes.
Named one of the city's top beverages to sample, the Zombie Punch is a blend of different killer rums, strong tingling spices like cloves, and freshly squeezed juices from pomegranates, grapefruits, and limes. Finished off by a coconut splash, it's bound to be a flavor-filled tropical party in your mouth when you place an order for this eccentric spiked cocktail. Combined with the delightfully bizarre and unforgettable ambiance of the restaurant itself — developed by bold, brightly colored lights, red flaming torches, burning volcano bowls, statues with exotic flowers growing out of their heads, and puffer fish displayed proudly on the walls — the drinker cannot help but be transported to a Pacific Island paradise.
Rocco Margarita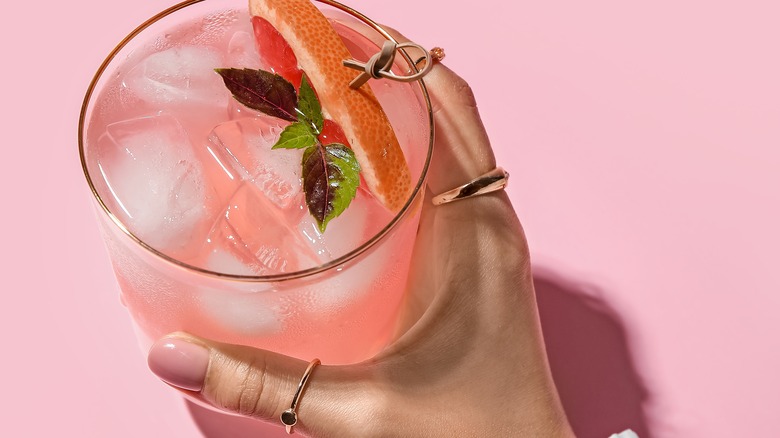 Pixel-Shot/Shutterstock
Continually ranking as America's favorite cocktail, the margarita remains a summer beverage that consumers just can't get enough of. Invented in 1942 in a bar in Juárez, Mexico by total accident when a bartender named Francisco "Pancho" Morales could not remember his customer's original order, the tequila-and-citrus-based drink exploded rapidly in popularity, quickly turning into a worldwide hit.
While there have been hundreds, if not thousands, of different takes on this boozy classic ever since its clunky yet genius introduction, the summer 2023 version at Torrisi in New York City is the one to try. Mandarine Napoleon liqueur meets tequila, followed up by fresh squeezed lime juice, drizzled honey, and grapefruit bitters. After being shaken and poured, the Rocco is finished off with an elegant, sliced grapefruit wedge and a sprinkle of everyone's favorite fat-burning spice ... cinnamon. Nothing wrong with improving metabolism and targeting stubborn belly fat this summer while you get your drink on, now, is there?
The Hugo
At the Italian restaurant and bar Ciao Roma (formerly known as Ciao Bella) in Boston, a bubbly, sophisticated take on a wine-based spritz cocktail has been developed which brings with it the light, airy feeling that should go hand in hand with those summer months.
A twist on a classic spritz, which is an Italian drink generally calling for prosecco, bitters, and soda, Ciao Roma's variation is touted as being lighter on the alcohol than the original, allowing for one (or two) to be enjoyed during a meal of Chicken Parmesan or Pappardelle Bolognese without the drinker feeling like they need to lay down and sleep afterward. The concoction consists of sparkling white wine, fizzy water ... and a third stunning ingredient which we saved for last: St. Germain Elderflower Liqueur. Nothing says summer like booze made from fresh elderflowers, but just as an extra seasonal finishing touch, fragrant sprigs of mint and freshly sliced lime wedges are added for garnish.
Spicy Paloma
Tequila and grapefruit will make you a standard paloma cocktail — but what if you threw some smoky mezcal and jalapeños in there, as well? Cue the Ellis Motel in Round Top, Texas, that went and did just that. Now, it is proud to introduce the world to its Spicy Paloma, an original take on the typical version but with an amplified kick.
Huge fresh grapefruits which grow in the Rio Grande Valley are brought in and juiced as the base for the beverage. Meanwhile, glasses with tajin rims are prepared. Limes are sliced while equal parts blanco tequila and mezcal are poured and shaken with simple syrup and sparkling mineral water. If it sounds downright refreshing, that's because it is. The restaurant has commented that the Spicy Paloma has quickly become a popular drink for dining customers, and considering that locals are often battling with the scorching Texas summer heat, we can certainly understand why. After all, is there anything that sounds as reviving as a cold drink filled with locally acquired freshly-squeezed grapefruit juice in the summertime? We think not.
Espresso Martini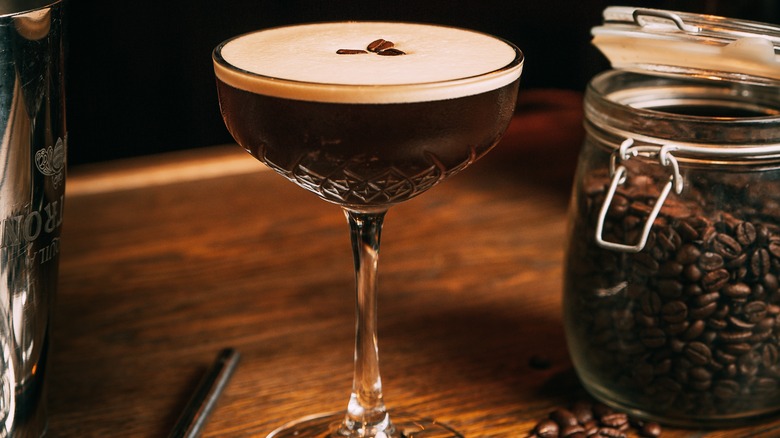 Khandie Photography/Shutterstock
There are those who eagerly anticipate the coming of summer simply for the coffee ... that is, turning their daily Starbucks order into a cold brew. Many embrace this chilly caffeine trend by making the switch to iced during the heated months, even applying it to their alcohol selection in the form of an espresso martini whenever and wherever they can.
An espresso martini is a drink which usually includes fresh cold brew coffee, some sort of java-flavored liqueur (often Kahlua), and standard vodka. A popular drink during the warmer months, it has been done up different ways over different seasons over the years, but this summer an especially scrumptious version is being brewed in Brooklyn. The Springs Patio & Cocktail Bar includes an espresso martini on its menu, but what makes it unique is that it uses Crop Meyer Lemon Vodka alongside Mr. Black Coffee Liqueur and fresh iced brew. This gives the martini a touch of lemon which very distinctly says summer. Think iced coffee lemonade vibes. Yum.
Yet another plus? You'll be sitting outside enjoying it, since The Springs is known for its lovely patio seating. Beautiful scenery in summertime can only enhance an already fabulous flavor, after all.
Strawberry Crush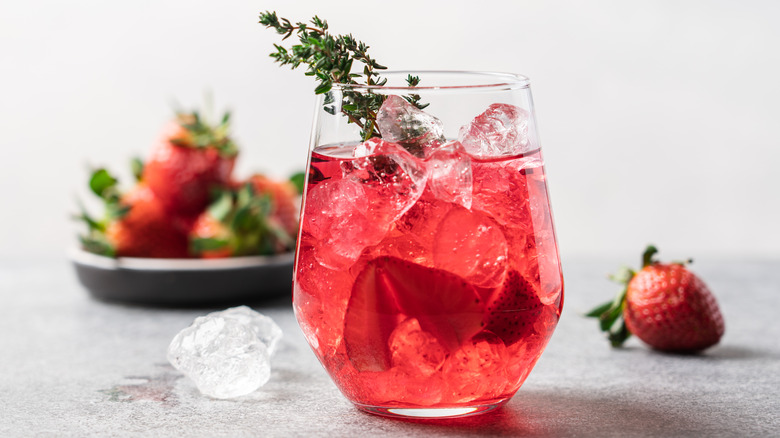 Anna Puzatykh/Shutterstock
As far as summer breakfasts go, some chilled, fresh strawberry jam spread on top of a slice of warm baked sourdough fits right in. Given that June is the peak month for ripe strawberries in most of the United States, it makes sense that the bright red, sweet berry carries with it such a strong connection to summer recipes like jellies, breads, cakes, ice creams, pies ... and yes, even drinks. A nice strawberry lemonade comes to mind, but for those preferring something stronger, there is always the strawberry crush cocktail. A varied drink in that it can utilize vodka, rum, tequila — or really anything else — as its liquor component, the one consistent addition every version seems to call for is fresh strawberries. However, this season, there is a restaurant in Washington state with a new take on the berry-forward drink ripe for the picking. 
The Strawberry Crush at Rally Pizza in Vancouver, Washington is unique in that its recipe calls for that same, good-quality strawberry jam you used on your morning toast instead of blended fresh berries. Throw in some vodka, sour mix, and rhubarb bitters, and you've got a quirkier, sweeter take on the original, making it a perfectly delightful fruity summer cocktail for those who prefer sipping a more saccharine mixed beverage. 
Prickly Peter
Something about the image of sprouting, spiky cacti in the hot crackling desert feels quintessentially summer-like ... so by extension, a cactus-inspired cocktail does, too. At Cooper's Daughter Spirits in Claverack, New York, you can meet the Prickly Peter head on. The prickly pear cactus, deemed a very healthy edible plant by the Mayo Clinic due to its anti-inflammatory properties which (ironically or not) can help to reduce the effects of a hangover, is at the heart of this drink. Desert Forager prickly pear & pomegranate shrub syrup mixes with fruit-infused Buddha's Hand vodka, freshly squeezed lime, and bubbling seltzer. All of the ingredients are shaken, ice included, into a glass and topped with an edible flower, a lemon wheel, or a lime wedge for what will surely be an energizing, hydrating drink experience for the consumer.
To sweeten the deal even more, Cooper's Daughter is not your typical indoor bar. It is a cocktail barn and garden absolutely perfect for spending a warm summer evening. When you stop in to sample your Prickly Peter and order from one of the many food trucks which pay visits from time to time on the grassy lawn, you will be seated in a beautiful outdoor venue complete with a covered wooden awning. Even if it's a hot, humid day which results in a storm, raindrops won't be falling on your head at Cooper's, and the positive summer vibes will just keep on rolling your way.
Greenmarket Spritz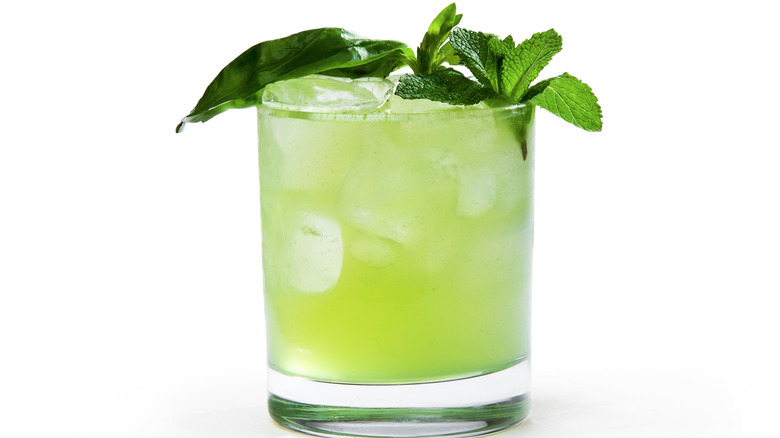 Catmiser/Getty Images
Summer activities get heated, so being mindful about replenishing lost fluids and electrolytes is important. Drinking some rejuvenating, antioxidant-filled green juice can certainly get the job done ... but what about acquiring some of those needed vitamins in the form of a green cocktail? The answer is yes when it comes to the Greenmarket Spritz. Available at Bocce in Union Square, this unique, fresh, fun beverage brings a mouthful of herbs, cucumber, celery, and elderflower with every swig. The drink calls for both vermouth and tequila ... which is what really makes the cocktail pop. Because it is not simply a standard tequila that is used in the Greenmarket Spritz — it is an herb-infused one.
A tablespoon of ground oregano, multiple rosemary sprigs, and a few bursts of thyme are steeped within a bottle of Espolon Blanco tequila for 24 hours in preparation for green spritz-making. This herbaceous spirit becomes the flavor-blasted base of an earthy, organic cocktail perfectly suited not only for the consumer's enjoyment, but for the blast of vitamins, antioxidants, and hydration they are needing after a morning, afternoon, or evening spent in the heat.
Summer Gin Tonic
A gin and tonic is one of those classic cocktails which remains a popular summertime sippable year after year. It is brilliant and succulent in its simplistic makeup of gin, effervescent tonic water, and citrus — usually lime. This little burst of vitamin C on the palette is what keeps the drink feeling fresh and so perfectly suited for warm weather, but this year, a slew of different fruity bursts are sliding in with every taste at Boqueria. At its handfuls of locations around the country, a Summer Gin Tonic is being offered which applies numerous twists to the standard recipe. What makes the drink extra fun is that this twist will vary slightly at every restaurant location.
If you're stopping in at Boqueria Soho in NYC, you will get a concoction including gin, rose, thistle tonic and lemon. Alternatively, at the location in Dupont, Washington, D.C., your gin and tonic will be flavored with Fever Tree sparkling grapefruit and lime. Yet another take can be found at its Nashville location, where a Rosemary and pink peppercorn infused gin will be the base, and the supporting flavors, Mediterranean tonic and cucumber. Something about this delightful individualization varying from location to location feels very exciting, very free ... and very summer.