Restaurant Chains That Are Actually Celebrity-Owned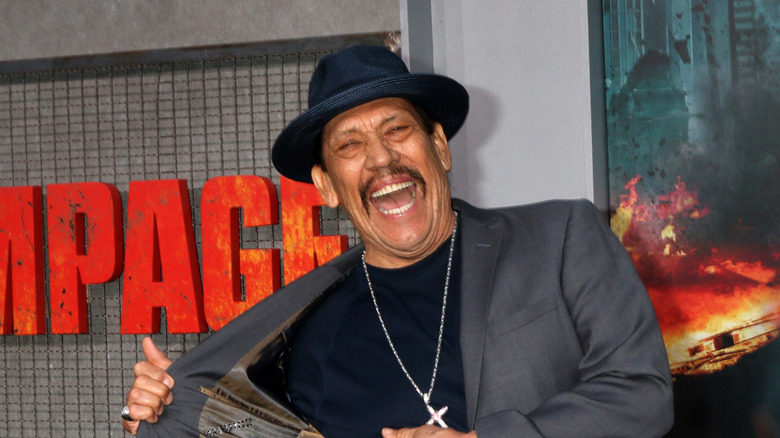 Kathy Hutchins/Shutterstock
If you play your cards right, you might make more money outside your line of work than within it, especially if everyone knows your name. Celebrities make great investors, as their pockets are often deep and their faces are recognizable. Ashton Kutcher, who gravitates towards silly characters on TV but started an investment firm in real life, says it's a good idea to invest in what you know. And what do celebrities know better than what it takes to be an A-lister? 
Maybe that's why so many celebrities gravitate toward the restaurant business. Sometimes they lean into their star power to sell their concepts, while other times they pull the strings from behind the curtains. Sometimes it works; other times it crashes. Either way, we can't help but go "Wait, who owns that!?" Anytime a famous person gets involved. 
These restaurant chains are all currently open and at least partially owned by a star. We left off celebrity chefs and anyone who owns a restaurant that only has one location — sorry, Toby Keith.  From places dishing up comfort food classics to high-end dining, it's time for the stars to show us what they've got. 
Margaritaville - Jimmy Buffett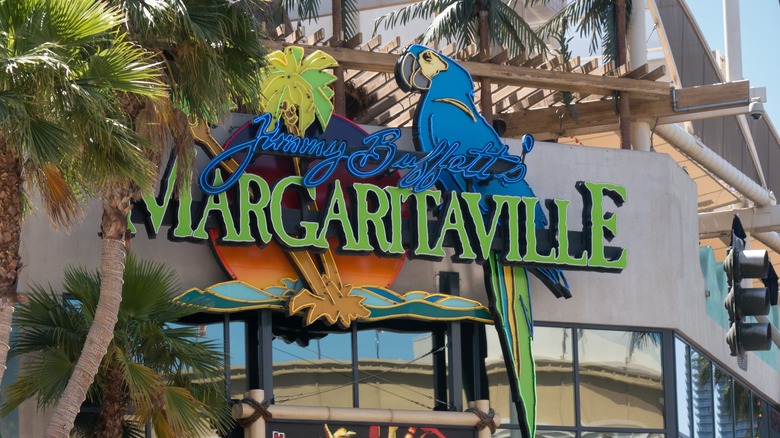 Chris Lawrence Travel/Shutterstock
The lyrics to "Margaritaville" might leave you thinking Jimmy Buffett is just another beach bum, but underneath that button-down Hawaiian shirt is the heart of a mogul. After Buffett successfully sued Chi-Chi's, a now-defunct Mexican restaurant that tried to trademark the Margaritaville name, he fully embraced the moniker and opened up a Margaritaville restaurant in Key West.
One blown-out flip-flop and a cafe have developed into 29 supersized restaurants featuring classic bar food and souped-up decor, like the active volcano replica inside the Orlando location. And that's just the tip of the frozen margarita. In the decades since the first Margaritaville, Buffett has done nothing but churn out the hits. His restaurant portfolio now includes the LandShark Bar & Grill, Air Margaritaville, and the 5 o'Clock Somewhere bar. 
Buffett has successfully turned Margaritaville into more than just a dining experience, creating resorts, casinos, and retirement communities under the Margaritaville Holdings LLC umbrella.
Planet Hollywood - Bruce Willis and Sylvester Stallone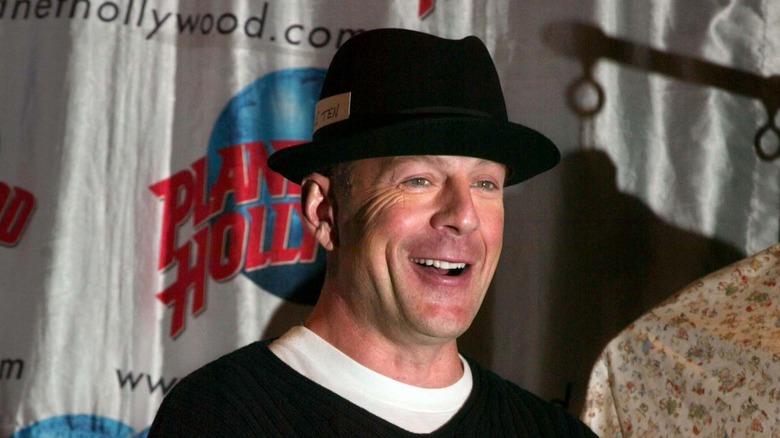 Jim Spellman/Getty Images
In the '90s, Bruce Willis, Sylvester Stallone, and Arnold Schwarzenegger were the era's biggest stars. Their involvement in Planet Hollywood drummed up enthusiasm and turned opening nights for this restaurant chain into massive events. They even left their mark on the menu, like an apple strudel based on Schwarzenegger's mother's recipe.
The star-studded background was fitting, as the chain pitched itself as a series of movie museums inside restaurants. Unfortunately, Planet Hollywood has shown us that you need more than star power to maintain success. The brand's lack of emphasis on food has led to some rough times over the years. Schwarzenegger eventually sold his Planet Hollywood shares and the chain went from 60 locations in its heyday down to four locations today.
It's been a long fall from grace for the restaurant that Oprah Winfrey once described as "like the Oscars, only better," (via Esquire) but the brand hasn't given up yet. Willis and Stallone remain involved and even enlisted the help of Guy Fieri to rev up the menu offerings in hopes of a McConaughey-esque career resurgence.
SPiN - Susan Sarandon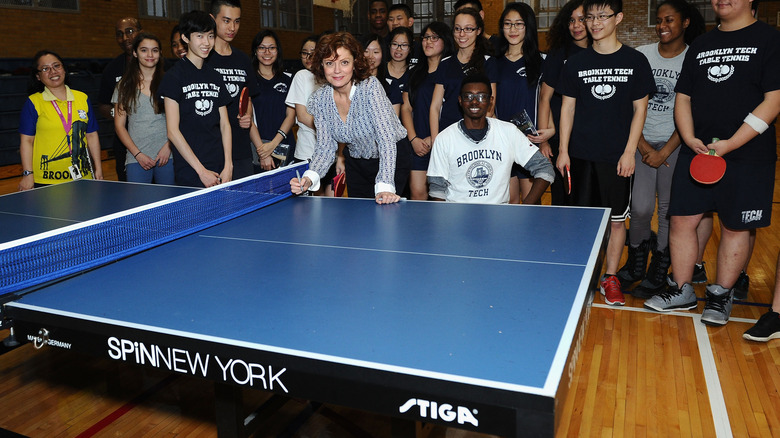 Andrew Toth/Getty Images
Susan Sarandon controls the paddles of SPiN, a bar, cafe, and ping pong club chain that has spread to eight locations nationwide. She's not a professional ping pong player, although she does play one onscreen. Sarandon appeared in the 2014 '80s-set flick "Ping Pong Summer" as Randi, a former ping pong champion turned flawed mentor. The role was personal for Sarandon, who loves ping pong.
Sarandon has leaned into ping pong because she believes it's a lifelong sport that transcends the gender gap. In addition to developing massively popular ping pong clubs and restaurants, Sarandon has donated $75,000 to develop table tennis programs in New York City's public school system.
The next generation of table tennis players will undoubtedly enjoy Sarandon's hip places to play. At SPiN's expansive River North location in Chicago, players can enjoy an 18,000 square-foot ping pong paradise boasting 20 tables and a full bar. The location even features a center court with bleacher-style seating. 
Sweet Chick - Nas
The aroma of fried chicken and waffles mingles with the essence of hip-hop greatness to create a pleasant aroma wafting through Sweet Chick. While there's no Wordup magazine to flip through, "It was all a dream" is written on the receipts and hip-hop royalty Nas is helping this restaurant keep the syrup flowing.
Nas got behind the establishment in 2022 and has stayed as a major player supporting Sweet Chick's growth. He sometimes narrates advertisements that invite you to feel at home while downing fried chicken and dousing waffles in syrup. Sweet Chick has done grassroots work to lend credibility to Nas' message, donating 10,000 meals to New Yorkers during the peak of COVID and transforming its Lower East Side location into a PowaMekka Cafe in honor of Tupac's induction into the Rock and Roll Hall of Fame. In addition to a commitment to service, Nas' spot has proven a serious dedication to the art of fried chicken.
The restaurant recently pivoted towards simplicity, focusing on its signature chicken and waffles. Sweet Chick plans to take its streamlined menu national, hoping to soon host feasts filled with beats and bites in Los Angeles, Miami, and Chicago.
Rock & Brews - Gene Simmons and Paul Stanley
First, they saved Santa. Now, KISS is on a mission to combine casual dining with a rock and roll shrine. Rock & Brews is a hard rock hotspot founded by two members of KISS: Gene Simmons and Paul Stanley. These Hall of Famers know that rocking and rolling all night pairs perfectly with a few cold ones, so they put their heads together and turned casual dining into a head-banger.
At every Rock & Brews location, you're greeted by the imposing Great Wall of Rock—a collage in testament to the legends that have shaped music history. The chain has also teamed up with other rock legends, like Alice Cooper and Jon Bon Jovi, to create special drinks, sauces, and eats. From options like a "purple raindrop" dessert to a "two tickets to paradise" breakfast special, these rock stars have left no stone unrolled in the process of turning their tavern into a tabernacle in honor of rock music.
Each location has its own style that pays homage to local legends with plenty of memorabilia. Some locations even feature a stage where the legends of tomorrow can meet their people, find their crowd and enjoy some crazy nights.
Trejo's Tacos - Danny Trejo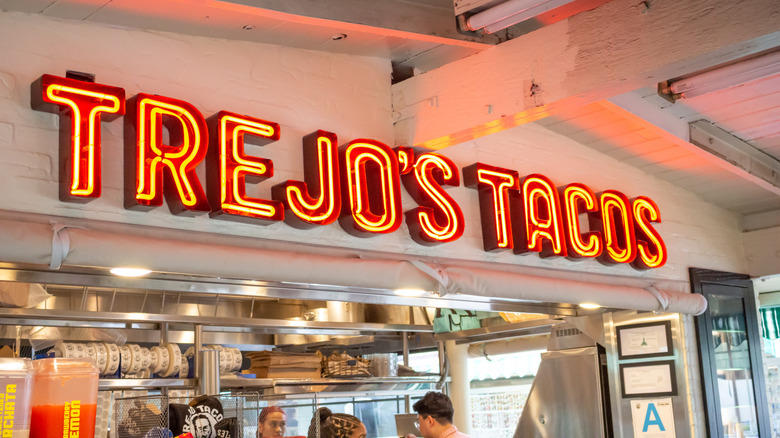 The Image Party/Shutterstock
Danny Trejo has already proven that he can handle the heat on screen, so naturally, he headed to the kitchen. Trejo's Tacos opened in 2016, soon turning into a multi-million dollar foray into the world of L.A. street food. Trejo isn't just in this for the glitz and glam, however. He's also all about giving back to the community he loves. As he told Food & Wine, "Let's be real, big business don't give a [expletive] about our kids," and he's here to change that with more thoughtful business.
Trejo's passion has turned into a culinary empire that stretches further than his handlebar mustache. The action star's face adorns taco merch, coffee and donut shops, beer labels, and even a line of non-alcoholic tequila, amongst a host of other Trejo ventures.
Trejo tries to show up at his restaurants a few times a week and popped up on a 2023 episode of "Hell's Kitchen" as a judge, where he was greeted as a taco connoisseur. 
Blaze Pizza - LeBron James
The king took his talents off the court and into the boardroom, making several sound decisions on his way to becoming the first active NBA player to reach billionaire status. Among his wall of trophies, one standout play was LeBron James' acquisition of a 10% stake in Blaze Pizza around the time he won his first title.
His slice of the pie sold for around $1 million at the time, and his investment has skyrocketed in value as he's stuck with the franchise. James even once showed up to work under the alias "Ron" and walked away from a lucrative McDonald's endorsement deal to take a more pivotal role in the pizza chain.
In less than a decade, his company stake (combining both ownership and endorsement returns) surged to a $35 to 40 million value. He currently owns 19 different Blaze Pizza locations and isn't afraid to let his fans know Blaze is his favorite place to eat.
Papa John's - Shaquille O'Neal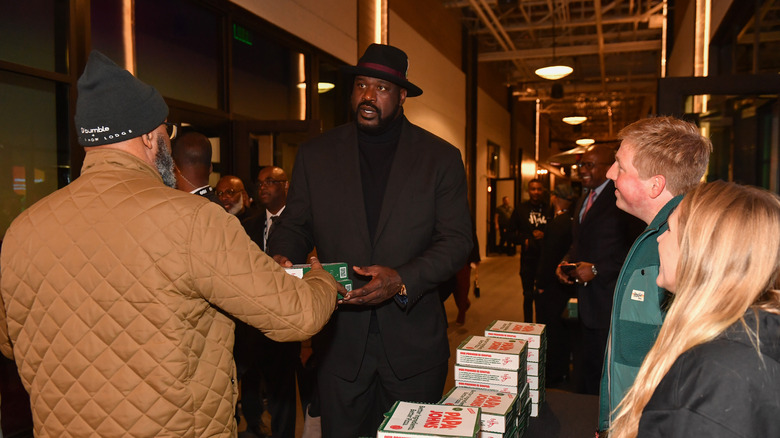 Paras Griffin/Getty Images
Papa John's went through a few rough years in the late 2010s. The brand's stock was freefalling. Amid the crash, the face of the pizza giant, John Schattner (Papa John himself), dropped the n-word during a conference call. Better ingredients and better pizza alone weren't solving this mess. This was a job for The Diesel. 
Shaq only agreed to buy into the pizza giant if "old boy" Papa John wasn't involved. Once that demand was met, the former NBA giant took on the herculean task of overhauling the brand's tarnished image. O'Neal embraced the challenge and was rewarded with an $11 million endorsement deal in addition to a spot on the Papa John's board of directors and several of his own franchise locations. He even put his stamp on the menu with the Shaq-a-Roni, an extra-large pizza with profits going towards fighting racial injustice.
The Shaq effect proved to be as potent off the court as on, as Papa John's stock has nearly doubled in value since the Big Aristotle took his seat at the table.
Big Chicken - Shaquille O'Neal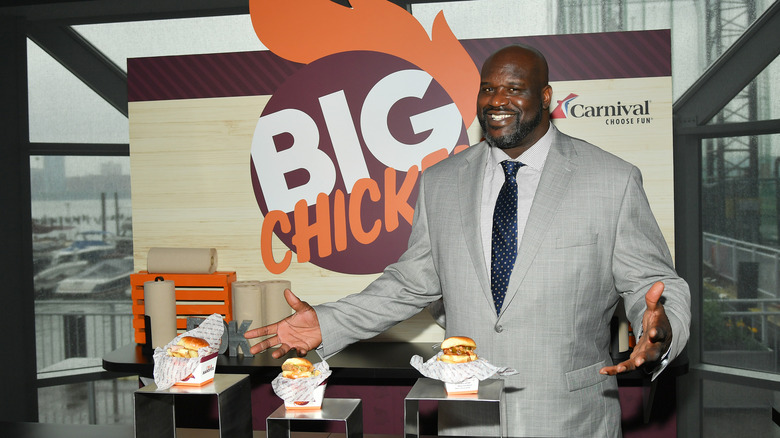 Mike Coppola/Getty Images
Papa John's wasn't Shaq's first foray into the restaurant world, and it wouldn't be the last, either. Shaquille O'Neal has one of the most impressive restaurant chain portfolios of any former professional athlete, making significant investments into Five Guys, Auntie Anne's, Papa John's, and Krispy Kreme. Naturally, Diesel's next move was to strike out on his own.
In 2018, Shaq added a founder's hat to his extensive closet, opening up Big Chicken. The restaurant features a menu inspired by his mom's recipes and cookies as big as a basketball. Most chicken sandwiches on the menu are named for Shaq and his entourage, like a sandwich named after Shaq's uncle, or "The Chicago," referencing Shaq's lifelong friend and "Blue Chips" co-star, Chicago. Some even come doused in the restaurant's signature Shaq sauce. Unfortunately, there is no story behind the Big & Sloppy. 
Currently, Shaq's Big Chicken empire has broadcast his legacy onto menus in 14 states and even onto the high seas with a Carnival Cruise Line partnership.
True Food Kitchen - Oprah Winfrey
You get edamame! You get edamame! Everybody gets edamame at True Food Kitchen. Media mastermind and wellness champion Oprah dove back into the world of healthy dining by joining the board of this burgeoning health food chain that has sprouted in 44 locations. 
Oprah was looking for a healthy place to eat, so her trainer pointed her toward True Food Kitchen's Palo Alto location. Oprah was so impressed with her meal that she invited the brand's CEO to lunch at Casa Winfrey,  where the seeds were sown for Oprah to take part in the True Food Kitchen brand.
Coming on the heels of investments in WeightWatchers and an attempt at her own line of frozen food, Oprah has shown immense interest in supporting healthy choices at the dinner table. You couldn't dream of a better fit for her talents than True Food Kitchen. Aligned with an anti-inflammatory food pyramid endorsed by founder Dr. Andrew Weil, the restaurant refers to itself as the only restaurant fundamentally based on science. The kitchen presents a thoughtfully-crafted seasonal menu, while its scratch bar blends fresh juices daily and sustainably-sourced ingredients.
Hart House - Kevin Hart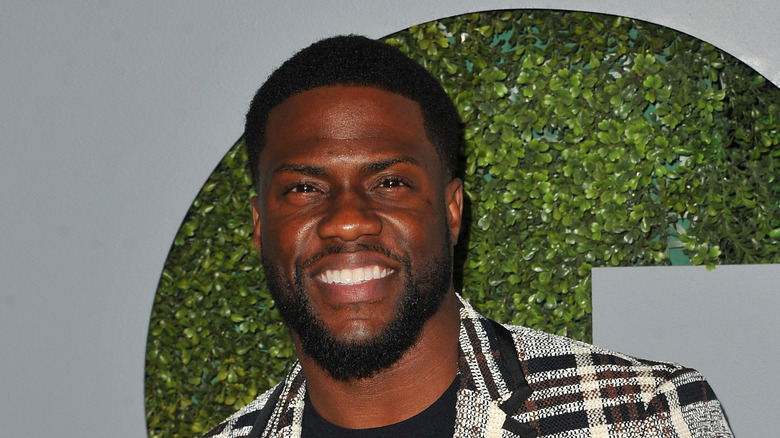 Allen Berezovsky/Getty Images
Kevin Hart's Hart House, born in August 2022, is a heart-healthy fast food chain powered by plants and which has high hopes of a nationwide presence. First, Hart's out to conquer Los Angeles. Hart House opened three Los Angeles-based locations in its first year, including a drive-thru location inside an old McDonald's on Sunset Boulevard. Serving up a 100% plant-based spot with such coveted real estate is a major play to rewrite the future of fast food.
At first glance, the Hart House menu looks a lot like what's served at most fast food joints, with burgers, nuggets, fries, and shakes. But beneath the surface, it's a revolution in every bite. Beyond the plant-based ingredients, Hart House boasts an impressive list of absentees: no antibiotics, hormones, corn syrup, or artificial colors are on the menu. As a self-proclaimed "flexitarian," Kevin Hart is leaning on his celebrity to bring a plant-based power player into the world of fast food.
Nobu - Robert De Niro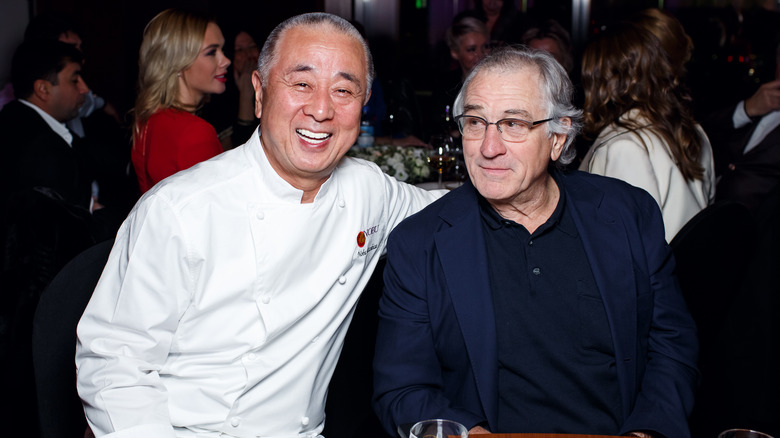 DenisShumov/Shutterstock
Robert De Niro is one of the founders of Nobu, a luxurious restaurant chain that's entered into a realm of opulent hotels, lavish resorts, and towering 45-story condominium complexes.  The brand takes its name from chef Nobu Matsuhisa, a celebrity in his own right. Back in 1988, Matsuhisa was crafting some of the world's finest sushi in Beverly Hills when De Niro walked through the door and ordered black cod with miso. The rest is history.
De Niro waited five years for Matsuhisa to get his Los Angeles restaurant rolling before the two started a joint venture in New York City. From Nobu's Michelin-starred reign in London to ambitious plans of raking in a billion in annual revenue, De Niro and Matsuhisa have turned their collaboration into a new standard of celebrity restaurant success.
The secret ingredient: heaps of trust. De Niro's willingness to wait signaled to Matsuhisa that he could be trusted, and their friendship has grown as steadily as the empire. You can catch the two cracking jokes with each other in interviews, and when chef Matsuhisa sat down with us for an exclusive, he affectionately referred to De Niro as "Bob." The power couple's patience has flourished into 56 restaurants on every continent but Antarctica.
Dave's Hot Chicken - Drake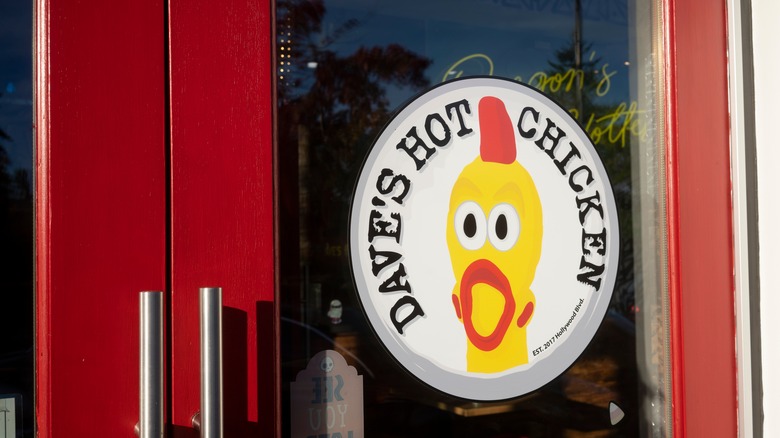 Tada Images/Shutterstock
What started as a modest $900 venture in an East Hollywood parking lot has blossomed into an international chain of fiery chicken delights that catered Drake's Artist of the Decade award party. After the event, Drake had such a good evening that he hopped on board, joining forces with Samuel L. Jackson as a celebrity investor in this Nashville-style hot chicken haven, which witnessed a staggering 156% surge in sales from 2021 to 2022.
The massive growth and celebrity buzz have helped the chicken chain make its way to well over 100 locations across the U.S. and eight international stores, including four in Drake's home city of Toronto. Drake doesn't appear to own any specific locations, but his investment in the chain is more than an endorsement deal. The details of his ownership stake have been kept under wraps, but Dave's Hot Chicken is quick to emphasize that Drake holds a significant piece of this hot chicken sensation.