Plant-Based Fans Will Want To Know About These New Chicken Cutlets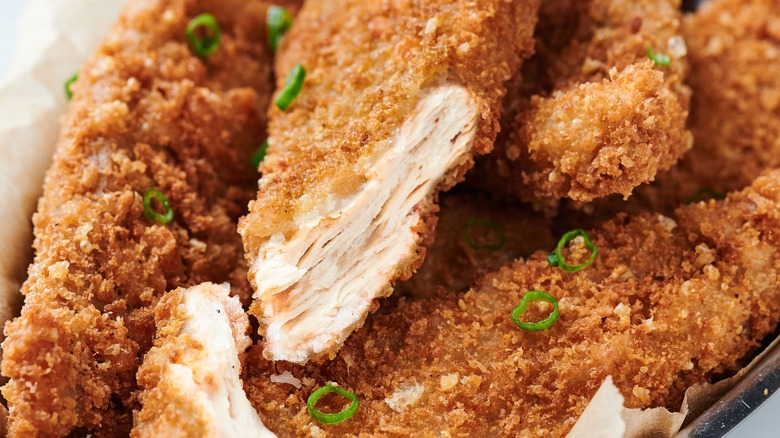 Courtesy of OXO
It's no secret that plant-based meat replacements are having a serious moment. From meatless burgers that "bleed" like real beef to plant-based seafood, there is now a vegan alternative for just about every variety of animal protein out there. Now, a newcomer to the meat-free market is hoping to win over alternative protein fans with a healthier twist on vegan chicken.
In a press release, the plant-based protein brand OZO announced the debut of a new lineup of non-breaded meatless chicken alternatives that aim to offer a more healthy faux chicken compared to many of the fried plant-based chicken products currently on the market. "These first-of-their-kind chicken alternatives have the look, taste, and feel true chicken lovers want while being a plant-based option that is packed with flavor, protein, and fiber," the brand said. According to OZO, their vegan chicken products also contain less fat, more fiber, and more protein than traditional chicken.
"What makes our OZO plant-based chicken unlike anything else on the market is the multi-sensorial experience comparable to that of their meat-based counterparts," said Darcey Macken, CEO of Planterra Foods. OZO's "chicken" products are the latest addition to the rapidly growing alternative chicken market, which includes major fast-food chains and plant-based chicken pioneers. 
The new plant-based products will include shredded chicken and flavored cutlets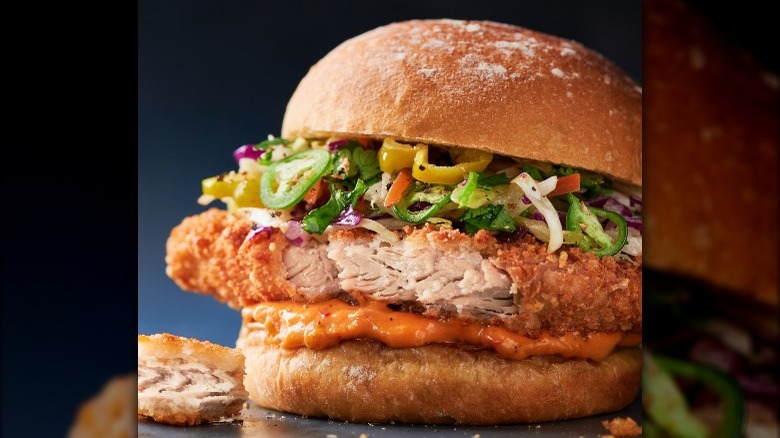 Late last year, KFC announced the debut of plant-based fried chicken — in the form of chicken nugget-like Beyond Fried Chicken bites developed in partnership with Beyond Meat — which was such a hit that the nationwide chain solidified the faux chicken as part of their permanent menu.
Burger King also hopped on the meat-free chicken trend last fall, adding plant-based nuggets to its nationwide menus, which were developed by another major player in the plant-based food game, Impossible Foods. The plant-based chicken market has also been expanded by companies like leading vegan fried chicken maker/Shark Tank contestant Atlas Monroe, which has received awards and acclaim for its deep-fried faux chicken products, including white meat crispy "chicken" strips and spicy dark meat deep-fried "chicken" breasts and thighs (via Atlas Monroe).
Now, OZO is hoping to become the next big name in vegan chicken products with a more healthy, non-breaded option that aims to offer a tasty animal- and eco-friendly meat alternative to reformed chicken eaters. OZO's meat-free chicken options — which are available to purchase now at select retailers and via the company's website — include garlic and herb chicken cutlets, salt and pepper chicken cutlets, BBQ shredded chicken, and rotisserie-style shredded chicken. The suggested retail price of these vegan and non-GMO products is $6.99.