The Whiskey Brand Drake Chose When Treating Fans To A Shot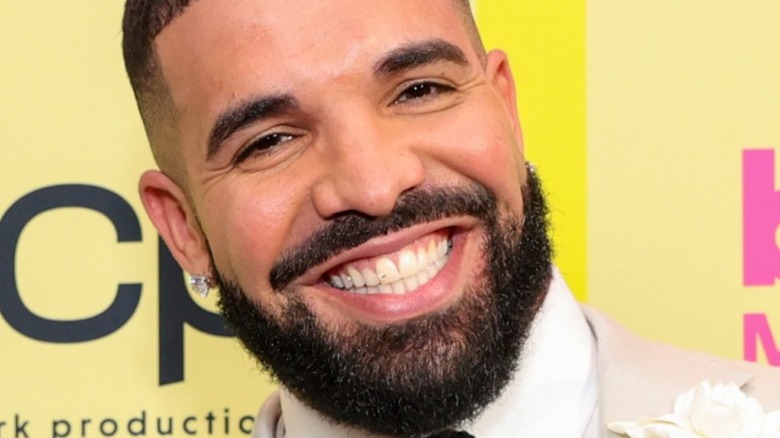 Rich Fury/Getty Images
Celebrities like music rapper Drake know their alcohol. Drizzy even has his own brand of whiskey, Virginia Black, and champagne — Mod Réserve Champagne and Mod Rosé Champagne, per Food and Wine. Drake can definitely count himself among a long list of celeb branded spirits. Of course, he isn't the first, and he certainly won't be the last. George Clooney really put the dominos in motion for the celebrity set with his Casamigos tequila, even if T-Pain doesn't drink it. 
Per Business Insider, when Clooney sold his alcohol brand for a whopping $1 billion in 2017, the "E.R." alum really opened the floodgates and everyone from "Deadpool's" Ryan Reynolds and his Aviation Gin to "Keeping up with the Kardashians" reality television star Kendall Jenner and her 818 Tequila to Adam Levine and Behati Prinsloo's Calirosa Tequila were compelled to take up the gauntlet thrown down by Clooney.
But do celebrities actually drink the alcohol they promote? It's a question many of us ponder as we sheepishly reach for those star-studded bottles of bourbon, vodka, tequila, gin and the likes. Inquiring minds just want to know. Well, per TMZ, when Drake recently popped into a bar in Detroit, Michigan to kill some time before a flight, he wound up joining a couple of ladies for a shot of whiskey. However, it might surprise you to learn what brand of this drink Drake actually ordered.
Drake chose shots of J.W.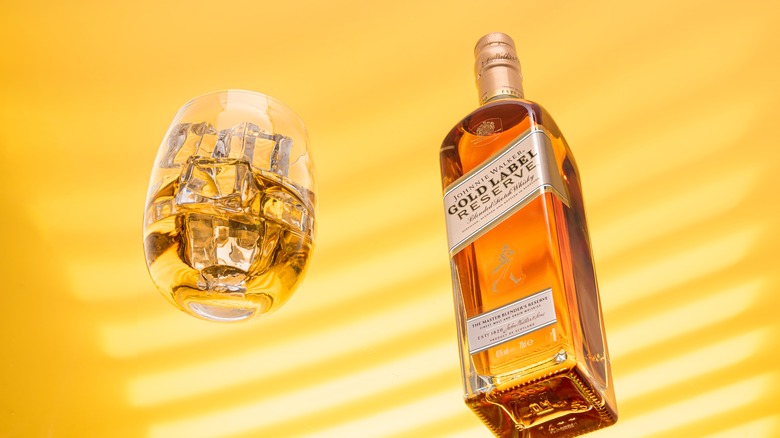 Billy Watkins/Shutterstock
According to TMZ's report from early June, Drake initially turned down the offer to throw back a swig of whiskey with those lovely ladies, but then reconsidered. And when he did change his mind, the "Hotline Bling" artist did not order up glasses of his Virginia Black. Instead, Drake upgraded the ladies and their shot glasses from Jack Daniels to shots of Johnny Walker, and even joined them for a couple of gulps, along with some polite conversation.
If you are a fan of all things Drake, then this may not surprise you. Per Vice, Drake has been known to partake in a wine spritzer or a glass of Santa Margherita Pinot Grigio, as reported by Refinery29. But that doesn't mean he doesn't clink his glass filled with his own whiskey brand from time to time. Drake happily raised his glass with Jimmy Fallon and inhaled his whiskey tumbler full of his bourbon during an appearance on the "Tonight Show" (via YouTube). What put the artist in such a jovial mood to kick-back with fans in Detroit? We really aren't certain. TMZ revealed Drake was in the Motor City for business, but that's all we know.