The Truth About Adam Levine's New Tequila Brand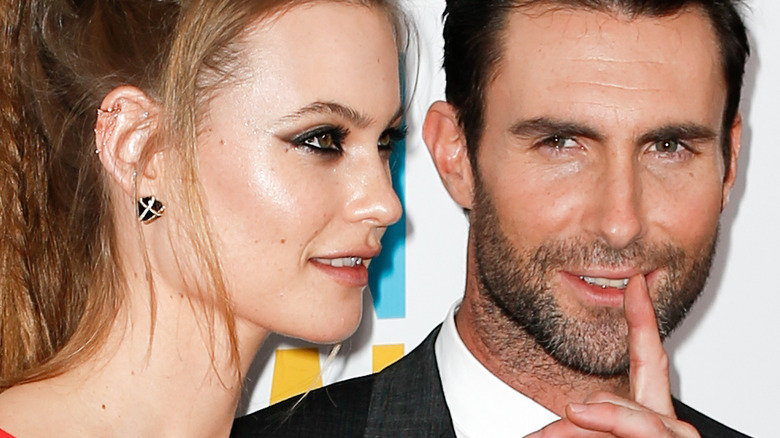 Debby Wong/Shutterstock
Celebrities have long been partnering with distilleries to put their names behind alcohol brands as a solid means of side hustle. From Ryan Reynolds' Aviation Gin to Kate Hudson's gluten-free King St Vodka, you'll be surprised to find just how many spirits that you like to drink are actually connected to a celeb (via Insider). Amongst all the spirits that celebs can get behind, tequila happens to be one of the most popular choices. Tequila experts told Insider that tequila is a particularly lucrative industry that saw a 46% spike in 2020. Besides, compared to other spirits like scotch whiskey, tequila can be relatively quick to produce.
This is probably why Kendal Jenner, Dwayne 'The Rock' Johnson, and Nick Jonas all have their own tequila brands. And the latest celebs to jump on the tequila train are Adam Levine and his wife Behati Prinsloo.
The Maroon 5 lead singer and Victoria's Secret Angel announced on July 21 (via Instagram) that their tequila brand, Calirosa ("Cali" being short for California and "rosa" meaning pink in Spanish), was ready to hit the U.S. market. According to People magazine, the duo launched Calirosa with two tequilas on offer, the pink Rosa Blanco aged for 30 days and Añejo which is aged for 18 months. While these two are currently available at select liquor stores or via Calirosa's website, Levine and Prinsloo are aging another tequila called Extra Añejo for future release.
Calirosa is Behati Prinsloo's 'third baby'
In an interview with People, Prinsloo told the magazine that although the couple got married back in 2014, Calirosa is the first project that they will be working on together. Considering Levine was busy shooting "The Voice" and Prinsloo had runway commitments for Victoria's Secret, all while taking care of two young kids, the two finally have the time to focus on Calirosa which, she described as her 'third baby'. This is why the two have been involved in each stage of the tequila-making process — from the design of the bottle to many tequila tastings, they didn't want to miss a beat.
Levine and Prinsloo first tried a pink tequila on a trip to Mexico and were amazed to find that tequila can be aged in a red wine barrel (as opposed to the usual whiskey and bourbon barrel). Since then, the two have partnered up with Tequila Selecto de Amatitán, a distillery run by the Real family over 80 years, to age tequilas in red wine barrels.
It matters for the young entrepreneurs to make sure that people know about the Real family and the craftsmanship that goes behind Calirosa. "We never wanted to come out of the gates with this and say, 'Oh this is me and Adam's tequila' and we just slap our names onto it," she said, adding that they really want the tequila brand to grow and last for the long run.