Johnnie Walker Made Company History With Its New Master Blender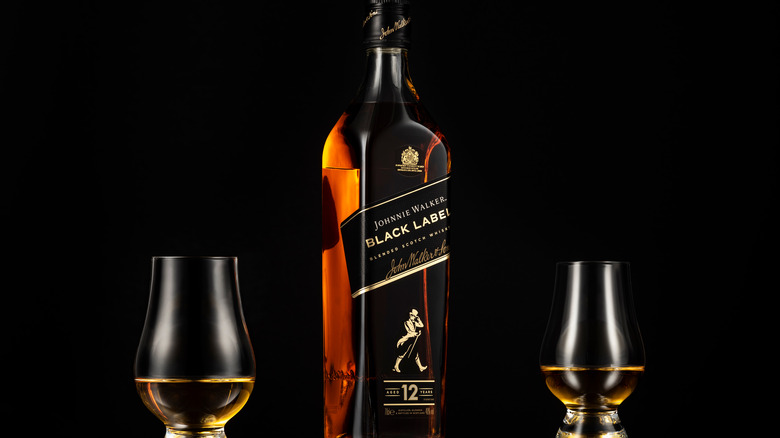 Billy Watkins/Shutterstock
Unless you are a whiskey afficionado, it might surprise you to know that nearly all whiskies are blended, even "single-malt" varieties (via The Whiskey Wash). Only whiskies whose labels indicate that they are bottled from a single cask are not. This is a good thing, as whiskey blends, like wine blends, can be more complex and interesting to drink. 
For this reason, the role of the master blender is critical when it comes to whiskey making. These professionals are tasked with the art and science of choosing whiskies from different barrels to combine and create a marketable product. They also monitor the development of each barrel, deciding when they are ready for blending and bottling. In short, the success of a whiskey brand rides on the shoulders of the master blender.
In an exciting announcement, Scotland-based Johnnie Walker, a 200-year old whisky brand that is sold in more than 180 countries (per parent company Diageo), says it has just appointed its first female Master Blender.
Dr. Emma Walker (no relation to the Walker on the label) will assume the role on January 1, 2022, replacing Dr. Jim Beveridge, who held the Master Blender position at Johnnie Walker for more than 40 years, according to Diageo. Dr. Emma Walker joined the company in 2008 and has worked for the Jane Walker by Johnnie Walker blend as well as the brand's Blue Label Ghost and Rare series. In her new role, she will oversee a 12-person team.
Walker joins other female whiskey leaders
According to Diageo, Johnnie Walker Whiskey's newly appointed and first female Master Blender Dr. Emma Walker said "I am honoured to take on the title of Master Blender of Johnnie Walker ... I love experimenting and innovating with flavour and we'll be working hard to not only continue to deliver the unrivalled quality that we are renowned for but also introducing blends to appeal to a new generation of Scotch Whisky fans."
Her predecessor, Dr. Jim Beveridge, describes Walker as a "wonderfully infectious personality" and predicts she will "bring something exciting and different to the team and, indeed, to the wider Scotch industry."
Walker joins a small but growing number of women master blenders. According to Food & Wine, Rachel Barrie was named to the Master Blender position for The GlenDronach, BenRiach and Glenglassaugh distilleries in 2017, and Kirsteen Campbell held the title for The Famous Grouse before taking the position of Master Whisky Maker for The Macallan in 2019. In Tennessee, Victoria Eady Butler became the first-known Black female Master Blender in North America when she took on the role at Uncle Nearest Distillery in 2019. And in Venezuela, rum maker Ron Santa Teresa appointed its first-ever female Master Blender, Nancy Duarte, last September.
Cheers to all the women breaking down barriers in the spirits business and to the companies that recognize their talents and leadership.