Here's Which Non-Dairy Pumpkin Spice Creamer An RD Would Reach For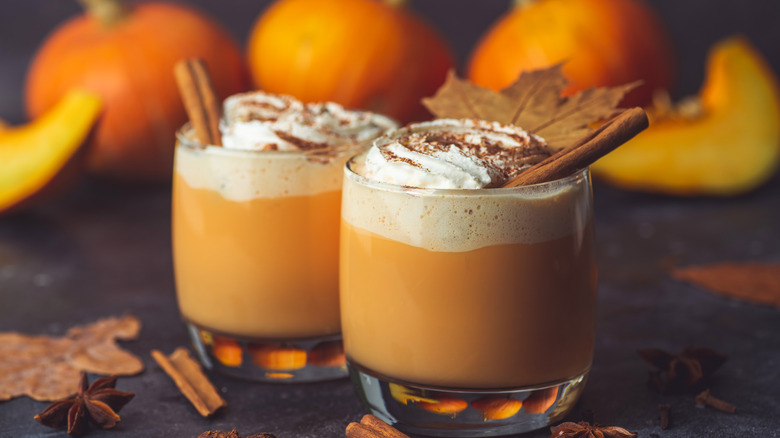 vovidzha/Shutterstock
While there are a ton of ways to get your pumpkin fix this fall — from pumpkin spice Oreos to Goldfish pumpkin spice grahams — one of the most popular methods of enjoying the fall flavor is in a cup of coffee. There's the cult-favorite Starbucks Pumpkin Spice Latte (which is already back on the menu for 2022, by the way). There's the line-up of seasonal drinks that just dropped at Dunkin', including the Pumpkin Cream Cold Brew and the Pumpkin Spice Signature Latte. Even Krispy Kreme has hopped on the trend, offering a version of the popular latte.
Of course, you can also whip up festive fall beverages at home. Plenty of brands have come out with pumpkin spice-flavored coffee grounds or pumpkin spice coffee creamer. You'll find a lot of options of the latter, whether you prefer a traditional dairy creamer or a non-dairy alternative, such as almond or soy milk. 
But of all the fall-flavored coffee creamers out there, which one is the healthiest? Mashed spoke with registered dietitian Trista Best, MPH, RD, LD, to find out which one she'd choose.
This non-dairy creamer is the healthiest choice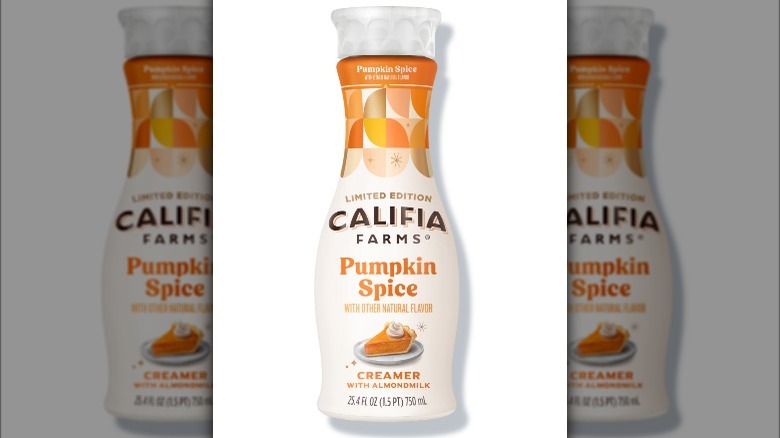 If you're debating between some of the most popular pumpkin spice coffee creamers out there, your best choice, nutritionally speaking, may be the Califia Farms Pumpkin Spice Almond Creamer, says Trista Best, MPH, RD, LD. 
"This pumpkin spice creamer is the most exceptional from a nutrient standpoint at just 20 calories per serving and 3 grams of added sugar," she says. "It goes above just nutrient concerns and takes health from a holistic standpoint seriously," she adds, citing the BPA-free container and Kosher certification. Best also notes that plant-based creamers, including the one from Califia Farms, tend to contain fewer calories in addition to being free of dairy, which can be inflammatory and wreak havoc with digestion.
As for how the Califia Farms Pumpkin Spice Almond Creamer actually tastes, it's received fairly positive reviews from many shoppers, although some caution it isn't very strong. "It is creamy and has the right flavor and balance of spices and pumpkin," one Target reviewer says. It's available at major retailers across the country, including Target, Kroger, and Amazon.