All The Ways You Can Make Leftover Hamburgers Sparkle, Ranked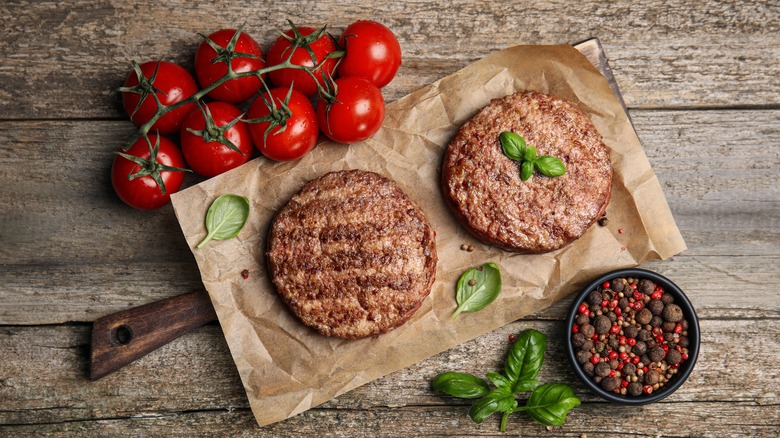 New Africa/Shutterstock
Calculating how many burgers you'll need for a large gathering is daunting and, dare we say, futile. No matter how many times you run the numbers, someone will show up with an unannounced plus-one or reveal they're dabbling in vegetarianism, and your calculations will be out the window. Therefore, the question isn't how you avoid having leftover hamburgers but what to do with them when the inevitable happens. Luckily, you can repurpose burger patties in many ways without getting out the ketchup and mustard again.
According to the USDA, cooked beef can be refrigerated for up to four days if it doesn't sit at room temperature for over two hours (one hour if the ambient temperature is above 90 degrees Fahrenheit). When reheating cooked burgers, make sure they reach an internal temperature of at least 165 degrees Fahrenheit to kill any bacteria that might be lurking. However, while you're thinking about repurposing burger meat, why not pull out your other leftovers and make a whole meal? We've rounded up a few clever ways to use food leftovers that you probably haven't considered before. And, with a little extra creativity, those leftover burger patties can find new life as numerous other sides and entrées. 
14. Beef up your salads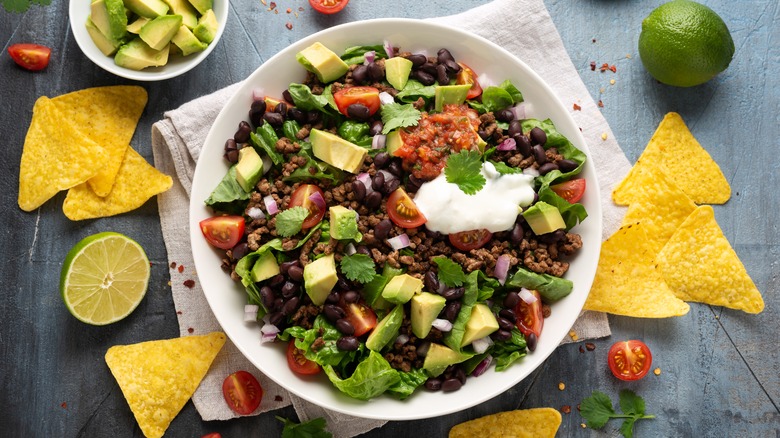 DronG/Shutterstock
Eating salad in the wake of an all-you-can-eat summer barbecue might hit the spot, and your leftover hamburgers can make a great addition. However, of all the ways to leftover burger meat, salad isn't at the top of the list simply because no amount of ranch dressing or balsamic vinaigrette can resurrect the juiciness of yesterday's meat. If you try to keep the meat tender by adding it to the salad while it's still warm, the greens may wilt. If you let the meat cool, it will be chewier.
However, you can still make a delicious salad. Pile your plate with greens, carrots, bell pepper, cucumber, and chopped hamburger, and drizzle it with your favorite ginger vinaigrette for a light, nutrient-rich meal. If you're still pining for cheeseburgers, go all-in with iceberg lettuce, shredded cheese, tomatoes, onion, dill pickle, and plenty of leftover burger meat for a cheeseburger salad. Or, split the difference with the best taco salad you've ever tasted. Our recipe has plenty of veggies to qualify as nutritious but also includes plenty of cheese, some crispy tortilla slices, and a spicy dressing that will liven up even the toughest burger patties. 
13. Add burger meat to twice-baked potatoes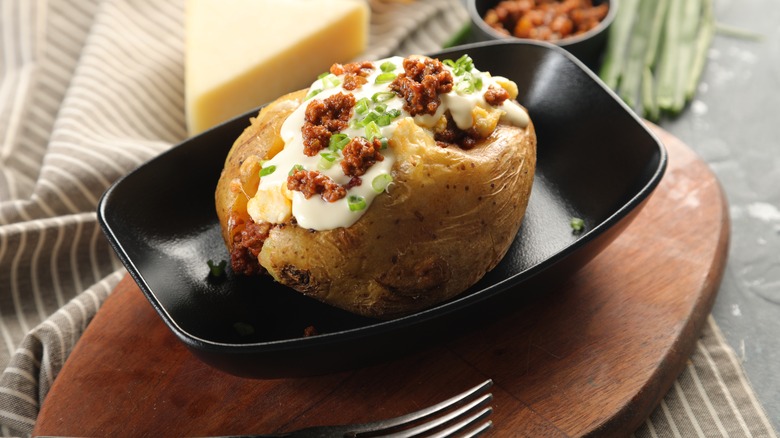 Hashem Issam Alshanableh/Shutterstock
Bacon may be many people's go-to meat topping for twice-baked potatoes, but leftover hamburger is almost as tasty. You can tailor the filling to suit your preferences, whether you are looking for a deluxe alternative to mashed potatoes or a show-stopping main course to impress dinner party guests. Bake the potatoes, then scoop the insides out and mash them with cream, finely chopped hamburger meat, salt, and pepper. If you want to feel fancier, throw in some minced garlic and even a pinch of nutmeg for extra flavor. 
The only downside to using leftover hamburgers is that, as with salads, there isn't always enough moisture in twice-baked potatoes to soften the meat. You can remedy this by adding more cream or melted butter to the mash or drizzling it with a homemade sauce. For a unique sauce option, try this brandy-peppercorn steak sauce recipe to give this comfort food a dash of refinement, or opt for a classic béchamel sauce to double down on the indulgence.
12. Go for a low-carb option with stuffed peppers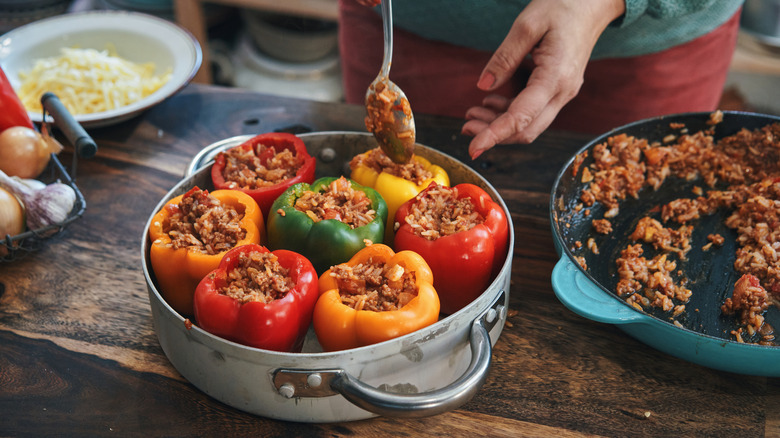 Gmvozd/Getty Images
Stuffed peppers are a great option if you're aiming to make a lighter, lower-carb version of twice-baked potatoes. The slight tang of the bell pepper cuts through the fat and meatiness of the hamburger patty and offers a nice crunch. Many stuffed pepper recipes use rice as the primary filler, and while this is a tried and true option, you might want to consider adding crushed tomatoes or broth to the mixture to ensure the beef isn't too dry.
Alternatively, you could skip the rice and go for something completely different. Make a filling out of crushed tomatoes, onion, garlic, chili powder, kidney beans, and chopped hamburger patties for a chili-inspired dish. Don't forget that cheese makes (almost) everything better. If you're making a rice filling and are worried about the texture, add some Monterey Jack or mozzarella; the results will be gooey and delicious.
11. Use leftover ground beef in a stir-fry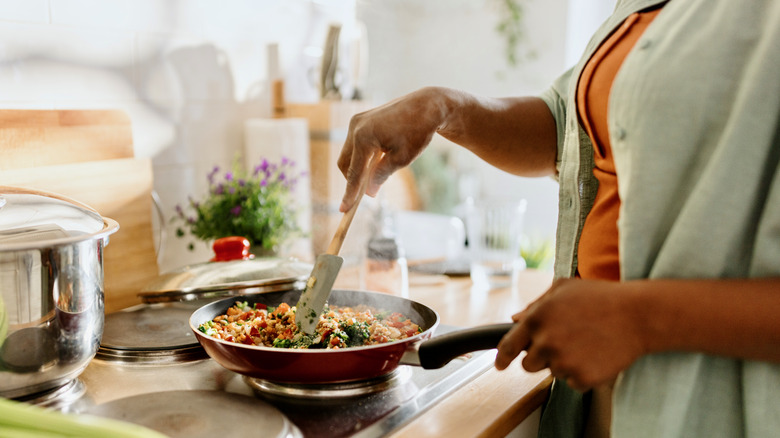 Anchiy/Getty Images
Chicken, sausage, and tofu are some obvious additions to stir-fries, but leftover burgers will work well too. The only downside is that, as with salads, stir-fries do not have the moisture content needed to make the patties juicy again. Therefore, you'll need to take a little bit of extra time to prep the meat. Chopping it finely and letting it sit in a marinade will add moisture and tenderize the beef if you use an acidic ingredient like lemon juice. Surprisingly, pineapple is one of the best ingredients for a marinade because of a specific enzyme called bromelain. It will also add a layer of sweetness that pairs perfectly with the spicy fattiness of ground burger meat.
The best thing about stir-fries is that they are infinitely adaptable and can use up any other dinner leftovers you have. Broccoli, onions, bok choy, bell pepper, peas, and corn are some examples of vegetables that will taste delicious with your leftover hamburger meat. Steam some rice or boil pasta, and you'll have a meal ready in under an hour.
10. Use burger meat as a pizza topping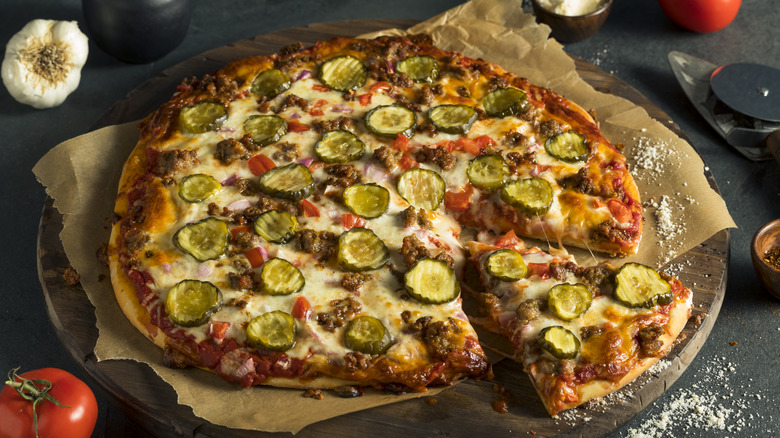 Bhofack2/Getty Images
Pizza is a crowd-pleaser that can be adapted to nearly any palate. For this reason, it ranks close to the middle of our list. However, making homemade pizza also involves baking at high heat, and for beef that has already been either baked, grilled, or fried, that does not bode well. You have to reheat beef to 165 degrees Fahrenheit to kill off the bacteria, but baking it for 20 minutes at 425 degrees Fahrenheit or above will dry it out even if you drench it in cheese and tomato sauce.
That caveat aside, it's hard to go wrong with a cheesy, crusty pizza. Plus, the hamburger meat does not have to be center stage. There are countless options for incorporating leftover patties onto a pizza. If you want to relive your last barbecue, make a copycat version of the Domino's cheeseburger pizza by slathering the dough in mayo, mustard, and ketchup. Then, cover it with chopped burger meat, cheese, tomatoes, and onion. 
Another option is using leftover burger meat instead of ham to make a Hawaiian pizza. The prickly fruit may be one of the most hated pizza toppings, but it pairs surprisingly well with beef. Adventurous toppings aside, you can't go wrong with a stripped-down classic: tomato sauce, mozzarella, and beef. Add onions, cheddar, and garlic; you won't even notice if the meat is a little bit tough.
9. Use cooked ground beef to fill empanadas and dumplings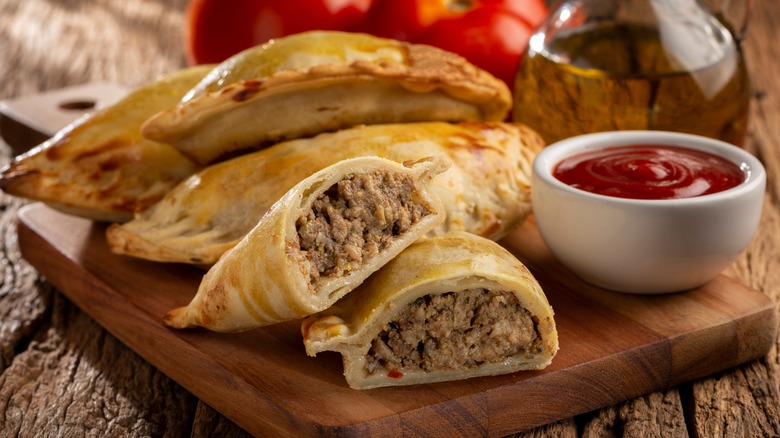 WS-Studio/Shutterstock
Empanadas are delicious pastries that are often filled with ground beef, and they're a great way to use up your leftover meat if you have a little extra time. Since empanadas are so different from burgers, they'll make you forget you're repurposing yesterday's meal. Make the dough by combining flour, salt, egg, shortening, and water. To make the filling, chop the patties until they look like ground beef and sauté them with onions, garlic, and red pepper. Add oregano and tomato paste, then fill the thinly rolled dough rounds. There should be enough liquid from the tomato paste and oil to keep the filling moist without making the pastry soggy.
You can also use a similar filling for dumplings. Although East Asian dumplings usually call for raw meat, recipes from other cuisines use cooked meat. For example, Polish dumplings, called pierogi, are traditionally made with a cooked filling that includes onions, salt and pepper, and broth. However, using leftover hamburger patties in empanadas and dumplings falls below the middle of the pack. Yes, there's potential for them to be a little dry, but with the flaky crust and tomato paste in empanadas and the broth in pierogi, this can be mitigated.
8. Put leftover burger meat in quesadillas, nachos, and tacos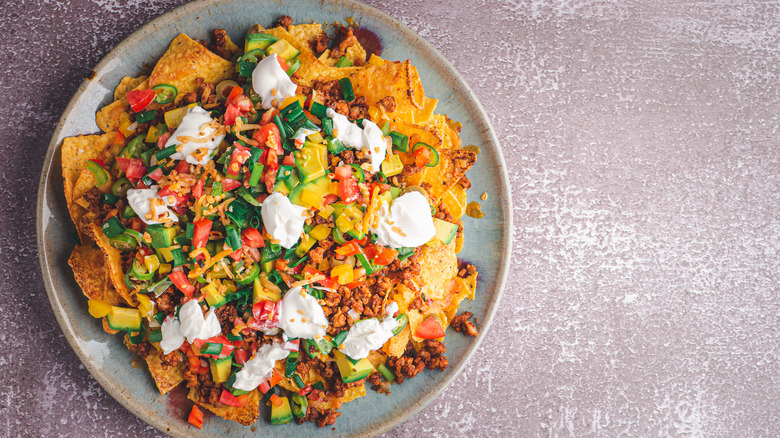 meeboonstudio/Shutterstock
Using leftover hamburgers in quesadillas, nachos, and tacos carries all the same risks as the lower-ranked options. However, the results are so delicious that it belongs in a higher position. With plenty of seasoning, sour cream, and guacamole, you can dress up the leftover beef in quesadillas so you wouldn't know it was a day or two old. An easy quesadilla recipe can be whipped up in an hour (or less if you're using store-bought tortillas) and can be adapted to fit your tastes.
Nachos are even quicker. Our recipe for sheet pan nachos takes a mere 35 minutes from start to finish, and the results will leave you craving more. Chop the burger patties until they resemble ground beef and mix them with sautéed veggies of your choice (we like a mixture of peppers, onions, and jalapeño). Add garlic powder, pepper, cumin, and paprika and layer it over a sheet pan full of tortilla chips before showering it with cheese.
Tacos require slightly more finesse but can be finished within 30 minutes. Chop and reheat the hamburger patties and add chili powder, cumin, salt, garlic powder, and pepper. Tomato paste is optional but will add a little sweetness and some much-needed moisture. Spoon the mixture onto warm tortillas and garnish with cilantro, shredded lettuce, grated cheese, and your favorite salsa.
7. Add cooked beef to sandwiches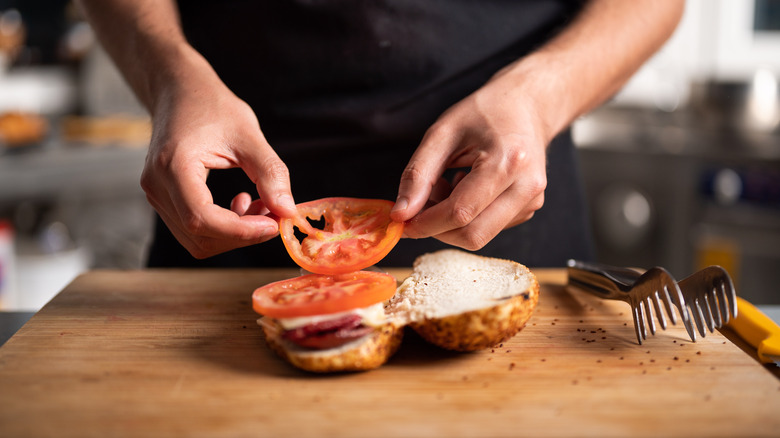 Ilkermetinkursova/Getty Images
Unless you categorize burgers as sandwiches, ground beef is an all-too-rare sandwich filling. Unlike more popular meats like sliced turkey and ham, its strength lies in its porousness. Instead of slathering the bread you're using with mustard and mayo, turn to a sauce or a marinade instead and let the meat absorb the flavor.
Chop your hamburger patties into a consistency resembling ground beef and soak them in your choice of marinade. Marinara also works for making a hassle-free version of a meatball sub. Teriyaki sauce is tough to beat if you're craving something sweet and salty, or you can mix tomato sauce, ketchup, brown sugar, Worcestershire, and mustard for a sloppy joe-inspired option.
One of the best sandwiches you can make with leftover burger meat is grilled cheese, especially if you're the type of cheeseburger fan who prefers more cheese than a burger. Adding onions takes the meat and cheese combo to new heights — and cuts through the fat with a refreshing sharpness.
6. Put burger meat in eggs for breakfast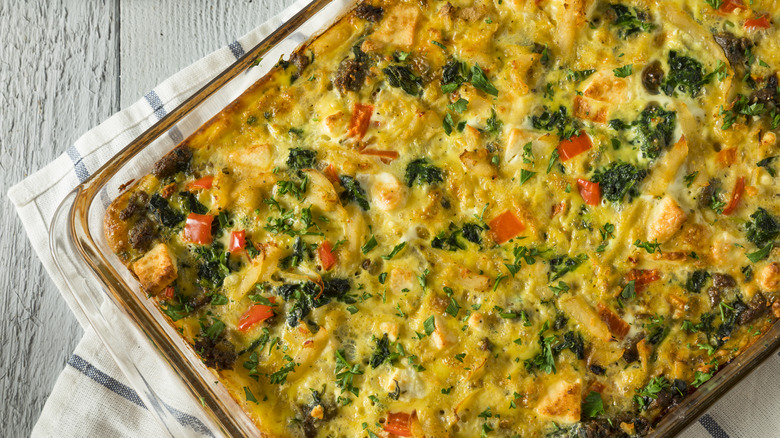 Bhofack2/Getty Images
One of the best ways to disguise your leftover hamburger meat is to use it for breakfast. No one will associate eggs with last night's barbecue; you might even trick yourself into forgetting it too. The only reason this option does not appear in the top five is that not all egg recipes are created equal when it comes to adding leftover beef. Quiche is a winning option. With enough cheese, cream, and vegetables, the meat will practically melt in your mouth. You can adapt a classically French recipe with a delicate Quiche Lorraine or go for crustless, 20-minute egg muffins.
Scrambled eggs are harder to get right when you're adding leftover beef. The meat will get dry, no matter how fluffy and moist the eggs are, and it won't hold together as nicely. Shakshuka will yield better results and switch up your usual breakfast routine. Sauté the chopped patties with onion, garlic, bell pepper, cumin, and paprika, and mix in tomato sauce. Then crack open four to six eggs on top of the mixture and transfer the skillet to the oven. When the eggs are cooked, it's ready to serve. Although shakshuka is traditionally vegetarian, it tastes delicious with ground meat, even leftover hamburger patties. 
5. Add burger meat to pasta dishes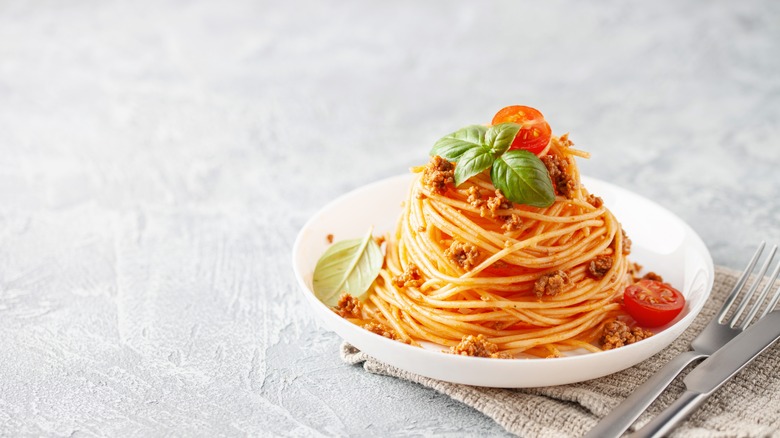 NatalyaBond/Shutterstock
Many pasta-based recipes call for ground beef, and they can be modified for leftover hamburger meat easily. Pasta bolognese is one of the best options because the beef will swim in enough delicious sauce to be as juicy as when you cooked it the first time. You don't have to worry about chopping beef as finely as possible because it will fall apart the longer you let the sauce simmer. Adding pancetta will take the flavor profile to the next level, while red wine will add another layer of complexity. Bolognese is a classic recipe for a reason, and it's one of the best ways to elevate your day-or-two-old patties.
Not all pasta recipes are effective at compensating for dryness, which is why this method barely cracks the top five. For example, beef stroganoff is a delicious dish that can work well with leftover patties, but it won't be as succulent as bolognese. Using more cream sauce and cutting back on the meat is the best way to avoid dryness and achieve a resourceful spin on the creamy Russian classic.
We can't mention pasta without including mac and cheese; leftover hamburgers will fit into the classic recipes beautifully. Ensure you're using plenty of cheese (as if you needed an excuse), and add a little extra milk or cream for good measure.
4. Make leftover ground beef a filling for savory pies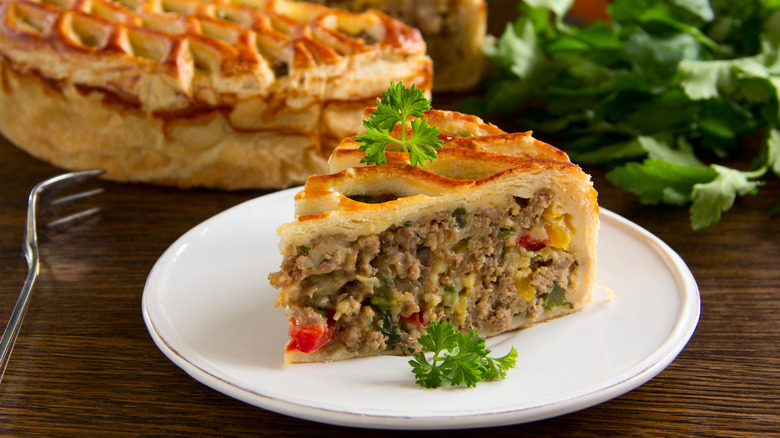 Lesya Dolyuk/Shutterstock
Pot pies are one of the most pleasurable comfort foods for the coldest months of the year. The flaky crust, creamy meat filling, and generous portion of vegetables make it one of the best one-stop-shops for texture, flavor, indulgence, and nutrients. Many beef pot pies call for cubed sirloin or bottom-round steak, but ground beef arguably works better because it absorbs more liquid. Pie crust is the stumbling block for many home cooks, but you can easily buy a ready-made one from the store or follow our easy step-by-step guide for making pie crust.
As with pasta bolognese, pot pies are more forgiving with leftover hamburger meat than other dishes because the beef will have plenty of time to soak up the liquid and fall apart. All you need to do is roughly chop the meat and combine it with the rest of the filling. We like this simple homemade beef pot pie with carrots, celery, onion, and parsley, but feel free to add whatever veggies you prefer. There is plenty of room for creativity when it comes to pot pies.
3. Add cooked ground beef to casseroles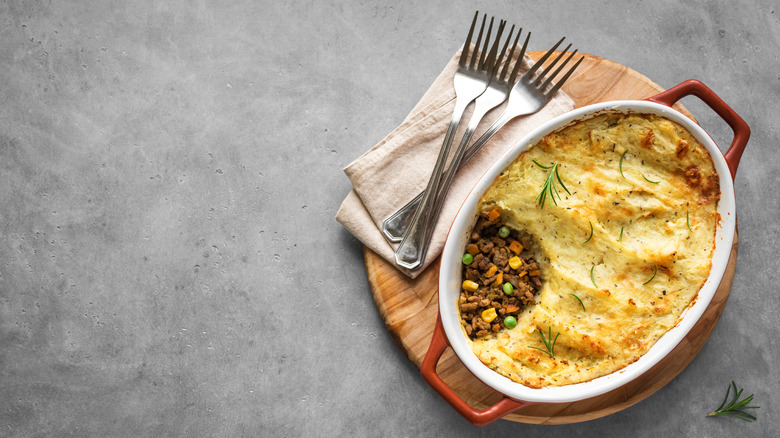 Oksana Mizina/Shutterstock
Casseroles are one go-to method of getting rid of leftovers. Make them with vegetables for a healthy meal, or pile them with cheese, salt, and pasta to make the ultimate comfort food. Pretty much any dish can be adapted into a casserole. For example, pizza casserole, Frito pie, and even French toast casserole. Scallops, tuna, hash browns, and rice have multiple casserole varieties — and there's always room for invention.
It's no surprise that this dish is ideal for leftover hamburger meat. You can add as much liquid as you need without worrying about soggy crust or soupy pasta, and you can tailor the rest of the ingredients to your liking. Cottage pie is a classic option that is hard to beat. Worcestershire sauce and vegetables smothered in creamy mashed potatoes is a match made in heaven, but if you're not crazy for the flavors or want to try something new, our hamburger casserole recipe is an unexpected treat that you have to taste to believe.
2. Put a meaty spin on gravy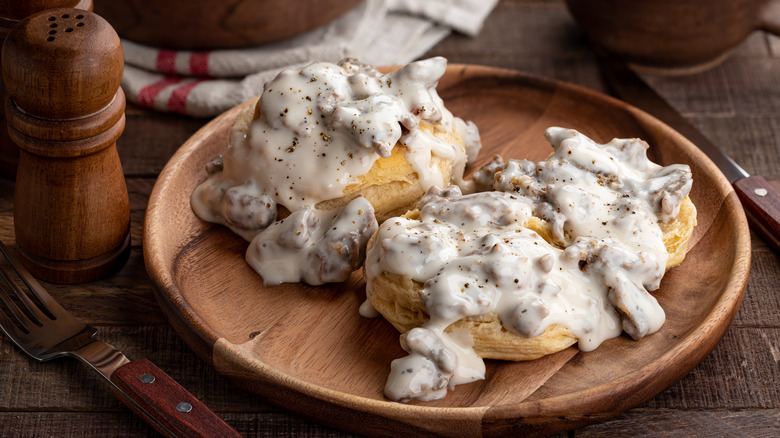 Charles Brutlag/Shutterstock
Gravy probably wasn't on your list of ways to use leftover burgers, but it ranks right at the top of ours. Meat is an often overlooked ingredient in gravy because most of us are used to pouring the sauce over meat instead. However, if you try it over mashed potatoes or biscuits, you won't look back. This recipe is quick, easy, and perfect for leftover hamburgers because it's primarily liquid, meaning you won't notice the dryness inherent in day-old, pre-cooked ground beef.
To make hamburger gravy, chop the meat and sauté it with onions and garlic. Add broth and milk (cream works, too) and allow it to thicken. Season with salt and pepper to taste, and add a dash of Worcestershire sauce or mustard for an optional kick. That's it! Pour it over homemade biscuits or your favorite mashed potato recipe, and you'll wish you made a double recipe.
Anyone who grew up in a military family will likely recognize this dish as a close relative of S.O.S. (short for "s*** on a shingle"), which dates back to the early 20th century and was particularly popular among servicemen during World War II. Despite its unflattering moniker, it's such a well-loved dish that IHOP and Cracker Barrel used to sell their own versions.
1. Put leftover burger meat in chili and soup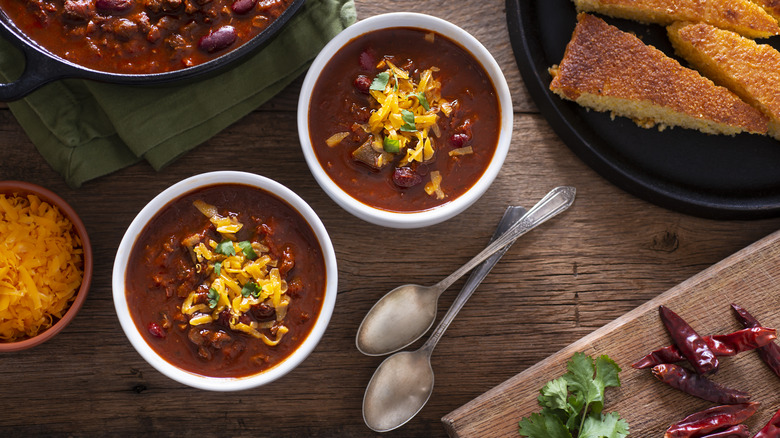 Rudisill/Getty Images
Without a doubt, the top spot belongs to soup and chili. You can't go wrong with a good beef chili; that is doubly true when you're trying to repurpose leftover meat. There are many ways to make chili. You can keep it stripped down to a simple five-ingredient chili, attempt to emulate Wendy's recipe, or freestyle it with whatever vegetables and canned beans you have.
Beyond chili, there are plenty of soups you can make, too. Replacing chicken with chopped hamburger meat in a classic chicken noodle soup works surprisingly well and is as comforting as the standard recipe. Another great option is to make a hearty slow-cooker stew, which will hit the spot even during warmer months.
The beauty of chili and soup when using leftover burger meat is that you don't have to worry about mitigating dryness or trying not to overcook something that has already been cooked. All you need to do is let the soup simmer long enough to soften the meat, and it will bear no resemblance to leftovers.