30-Minute Twice Baked Potatoes Recipe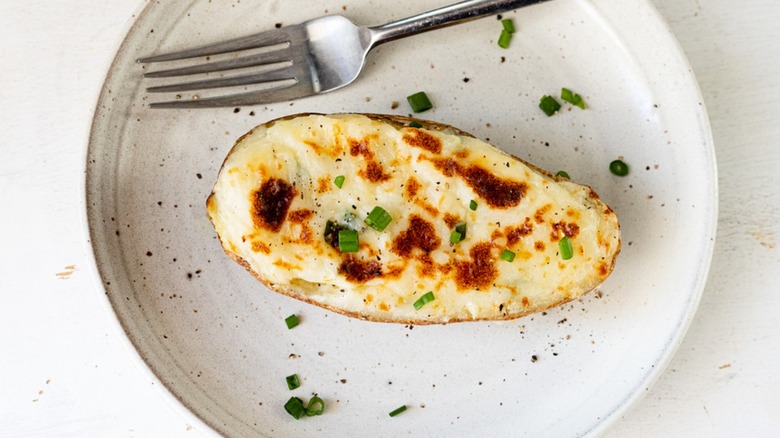 Sher Castellano/Mashed
While baked potatoes are all well and good on their own, let's be honest about it — no matter how healthy a plain, unadorned potato is, they tend to be incredibly bland without any type of topping, and few of us are inclined to eat them this way despite nutritionists urging us to do so. At the very least, baked potatoes require salt, pepper, and butter, but they're even better if they come fully loaded.
The loaded baked potato comes in many varieties and goes by a number of different names, but when it's called "twice baked," this refers to a certain technique whereby the potato is first cooked, then has its filling scooped out, mixed with a variety of different toppings (cheese tends to be featured prominently), and returned to the potato before it gets baked for a second time. Recipe developer Sher Castellano tells us of her twice-baked potatoes, "This recipe i[s] special enough to serve at the holidays or at a brunch, but also easy enough for weeknight meals."
Assemble the ingredients for your twice baked potatoes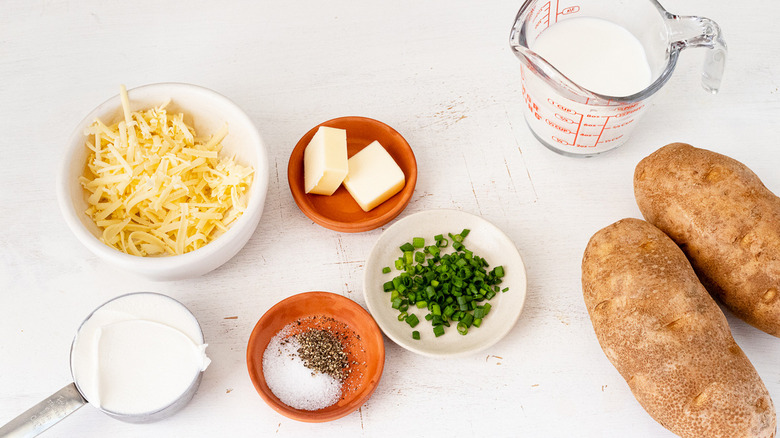 Sher Castellano/Mashed
To make these twice-baked potatoes, Castellano recommends using russet potatoes, explaining that "they have a great texture, firm and not to[o] soft, and have a terrific skin texture which holds up for a double bake process." You're also going to need butter — softened, so be aware that you'll need to take it out of the fridge some time before you begin. Castellano uses unsalted butter, but you can always go with the salted kind and just cut the amount of salt you add to the potatoes by a tiny bit. (Or not, depending on your personal salt preference.) You're also going to need a few more dairy products: milk, cheddar cheese (Castellano prefers the extra-sharp variety), and sour cream. For a finishing touch, a generous helping of chives adds color as well as flavor.
Cook the potatoes for the first time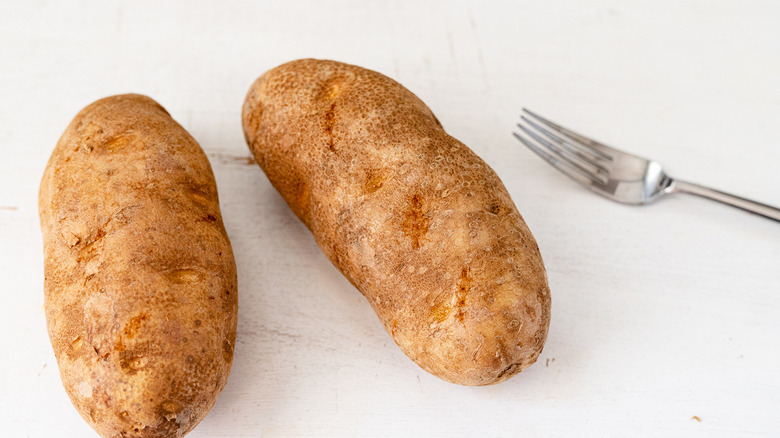 Sher Castellano/Mashed
While this recipe is called "twice baked," that's technically a bit of a misnomer in this case. In order to save time, Castellano actually cooks the potatoes in the microwave for the first time. She says the first thing you need to do is to preheat the oven, since you will be using it for the second stage of potato cooking, but you'll already be nuking the potatoes as the oven heats up.
Scrub your spuds, then pat them dry. Now take a fork and stick it in each potato a few times to ventilate it. Zap the potatoes for 10 minutes, then slice them in half lengthwise. They'll be hot, so you may want to handle them with a fork or an oven glove. Let them sit and cool off for a few minutes before you attempt to handle them any further.
Fill the potatoes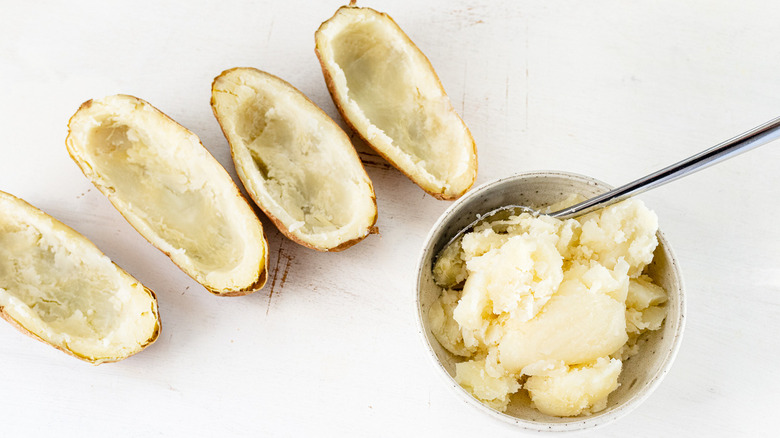 Sher Castellano/Mashed
Once the potatoes have cooled slightly, take a spoon and scoop out the white part. Make sure the skins don't tear, though, and try to keep about ¼-inch of potato lining inside each skin. Mix the scooped-out potato with the dairy products plus 2 tablespoons of the chives, ½ teaspoon of salt, and ¼ teaspoon of pepper. (Feel free to adjust the salt and pepper to taste, of course.) Blend all of these ingredients together until they are smooth and creamy. Castellano uses an electric hand mixer to do this, and says if you use one you should set it to low speed. If you like, though, you can use a potato masher instead.
Finish the potatoes in the oven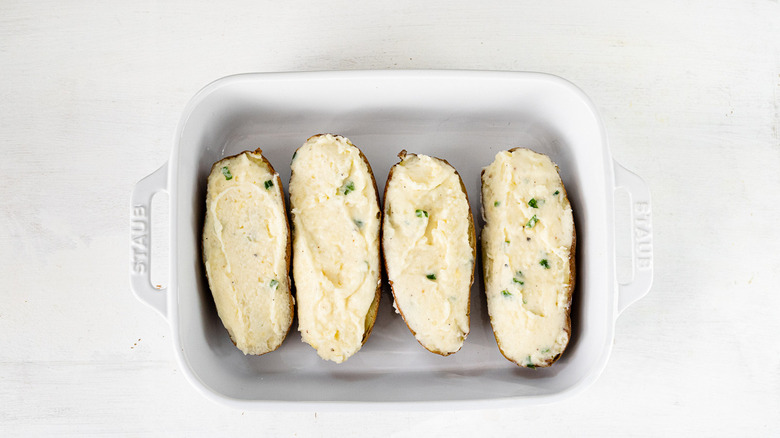 Sher Castellano/Mashed
Put the potato skins into a casserole dish and fill each one with the cheesy chive mixture. Bake them for 10 minutes, then switch the oven over to the "broil" setting and cook them for 2 more minutes, or until they're a nice golden brown. Sprinkle the potatoes with the rest of the chives and some additional pepper before serving them while they're still warm.
As is, these twice-baked potatoes make for a nice side dish. Castellano, who likes to keep things healthy, tells us, "I would serve it with a piece of broiled fish and green vegetable," but we think they would go great with a big, juicy steak as well. Of course, you could always turn these potatoes into a main dish with the addition of some extra protein. Castellano says "Something salty and crispy would be a good addition — bacon, ham, sausage, chorizo, etc." If you prefer to keep the potatoes vegetarian, she suggests adding chickpeas or broccoli along with some extra cheese.
30-Minute Twice Baked Potatoes Recipe
For a truly delicious baked potato, you need this twice-baked potato recipe. It's warm, it's gooey, and it's easy to whip up as a side for a juicy steak.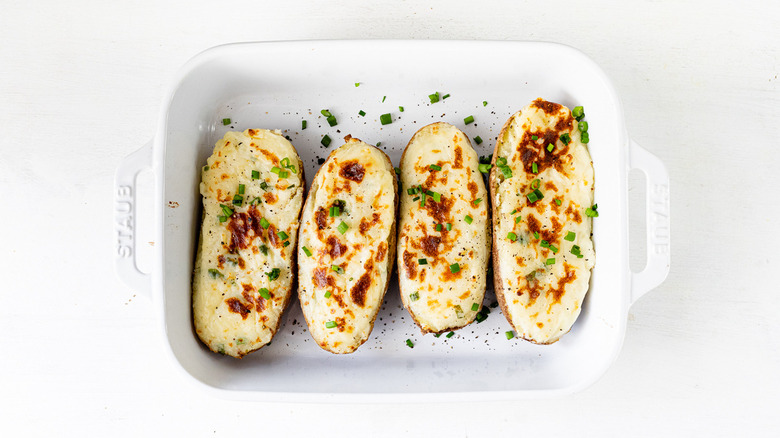 Ingredients
2 medium russet potatoes
2 tablespoons unsalted butter, cubed and softened
¼ cup whole milk
½ cup grated cheddar
½ cup sour cream
½ teaspoon fine sea salt
¼ teaspoon black pepper
¼ cup minced chives, divided
Directions
Preheat the oven to 400 F.
Wash the potatoes and pat them dry before pricking each one several times with the tines of a fork.
Microwave the potatoes for 10 minutes.
Slice the cooked potatoes lengthwise, then set them aside until they're cool enough to handle.
Scoop out the cooked potato from the skins, making sure the skins remain intact and retain a ¼-inch lining of potato inside each one.
Combine the scooped-out potato innards with the butter, milk, cheese, sour cream, 2 tablespoons chives, ½ teaspoon salt, and ¼ teaspoon pepper. Blend the ingredients together until smooth.
Place the potato skins in a casserole dish and spoon the filling into each one.
Bake the filled potatoes for 10 minutes.
Set the oven to broil, then cook the potatoes for another 2 minutes or until they are a light golden brown in color.
Garnish the potatoes with the remaining chives and a sprinkling of black pepper before serving them warm.
Nutrition
| | |
| --- | --- |
| Calories per Serving | 268 |
| Total Fat | 17.6 g |
| Saturated Fat | 10.5 g |
| Trans Fat | 0.4 g |
| Cholesterol | 48.6 mg |
| | |
| --- | --- |
| Total Carbohydrates | 21.3 g |
| Dietary Fiber | 1.5 g |
| Total Sugars | 2.4 g |
| Sodium | 412.3 mg |
| Protein | 7.5 g |