Low-Carb Pepperoni Pizza Casserole Recipe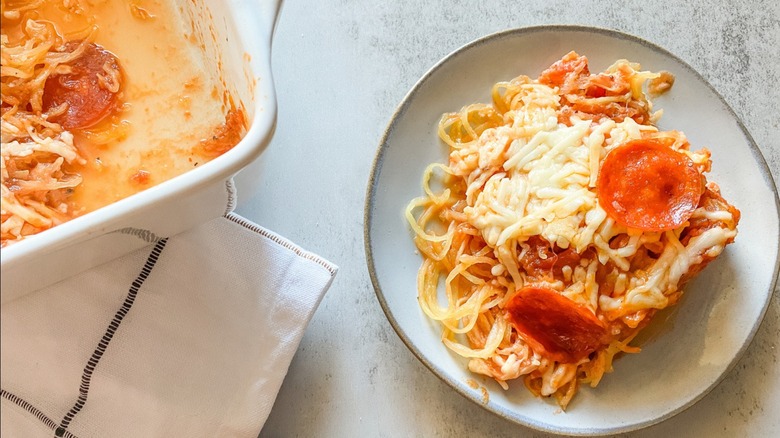 Kristen Carli/Mashed
Pepperoni pizza is one of those classic comfort foods that you could probably eat two or three times each and every week based on taste, but probably should not eat more than two or three times a month based on calories. So what's to be done? Give in to the pizza cravings? Resist with regrets? Or find a happy middle ground with this recipe for a low-carb pepperoni pizza casserole?
Yeah, that's what we figured. Chef, recipe developer, and registered dietician Kristen Carli of Camelback Nutrition & Wellness says of this unique dish: "It tastes like a pizza pasta bake," giving you that pepperoni pizza deliciousness with the satisfaction of knowing the "pasta" noodles are super healthy. "This is low-carb and definitely high in protein due to the eggs, cheese, and pepperoni," Carli says, adding, "I love that you also get your veggies in with this dish, since it is squash-based."
It's a crowd-pleasing dish that the kids will eat without complaint and that, despite a fair amount of time spent waiting while things bake, is overall a pretty easy recipe to manage, so parents won't mind doing the cooking, either.
Gather your ingredients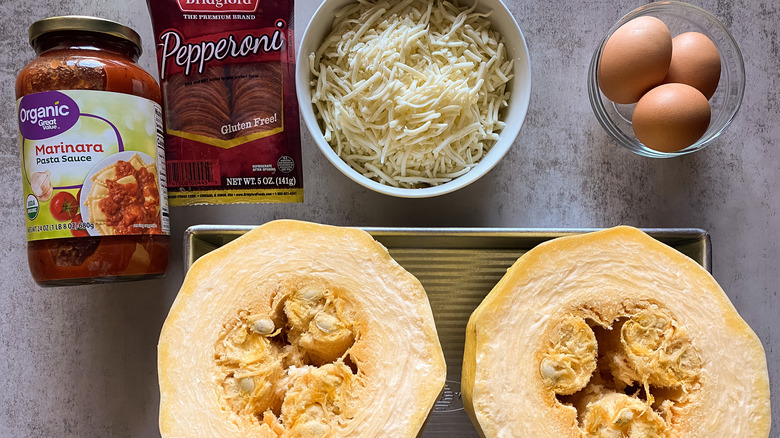 Kristen Carli/Mashed
The main player here is the spaghetti squash in terms of volume, but on its own, spaghetti squash doesn't have a lot of flavor. Which isn't to detract from the veggie — in fact, it's a good thing, as the other ingredients define the flavor here. Said ingredients are olive oil, salt, pepper, marinara sauce, beaten eggs, shredded mozzarella cheese, and sliced pepperonis.
You can also add other ingredients, of course, from some diced onion and tomatoes to bell pepper strips to any of your other favorite pizza toppings.
Bake the spaghetti squash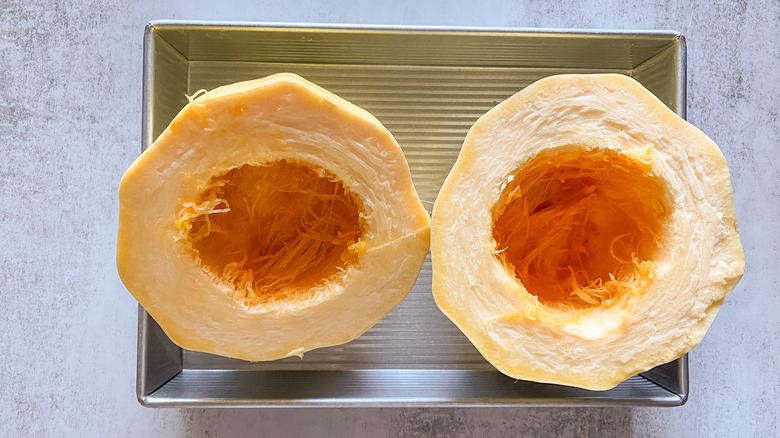 Kristen Carli/Mashed
As noted, there is a fair amount of waiting around with this recipe as things bake. You can do this part, baking the spaghetti squash, on the earlier side, though, so plan ahead for a bit more efficiency at dinner time, if needed.
To bake the spaghetti squash, first preheat the oven to 350 F. Now slice the spaghetti squash in half — you can go lengthwise or cut across the shorter axis, but either way, Carli says, "Be sure to be careful cutting the spaghetti squash!" A dull knife risks slipping as you cut into the thick flesh of the vegetable. Once you have it halved, use a spoon to scoop out the seeds. Then brush the tops with olive oil.
Pop the halves onto a baking sheet, cut sides up, and roast them for 30 to 40 minutes.
Shred the noodles, then begin layering the casserole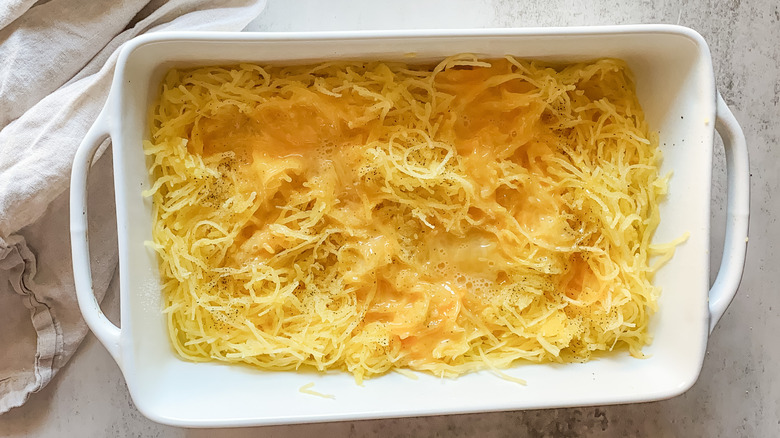 Kristen Carli/Mashed
Remove the cooked squash from the oven and let it cool for a few minutes. Then use a fork to scrape along the insides of squash until spaghetti strands form, and scoop them out with a spoon.
Place all of the spaghetti squash noodles into a lightly greased 9x13-inch baking dish, then sprinkle salt and pepper on top. Next evenly pour in the marinara sauce, then add the beaten eggs after the sauce. Now, using a fork, stir all of the ingredients well until they have combined.
Top casserole with cheese and pepperoni, bake, then enjoy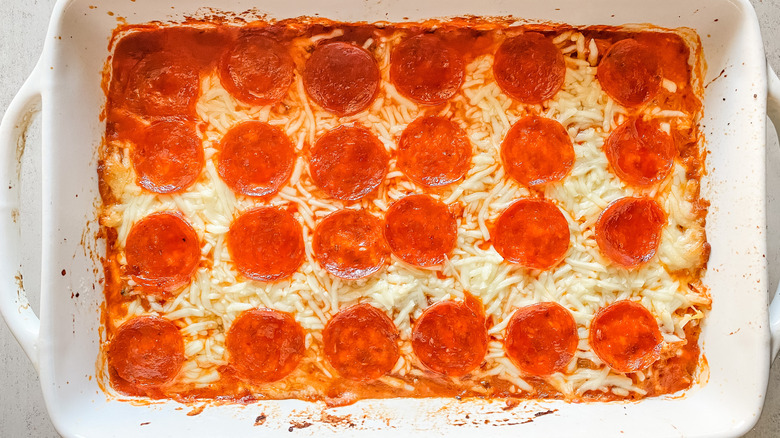 Kristen Carli/Mashed
Sprinkle the mozzarella cheese evenly on top of the blended ingredients, then top the cheese with evenly placed pepperoni slices.
Now pop the casserole into the hot oven (still set to 350 F) and bake it for 30 minutes. And that's it — really not too much work, and not too much cleanup, either, right? Carli says, "I love that this dish is a one-pan meal and does not require any side dishes; it is complete on its own."
And once the casserole is baked and cut into squares, you can take a bite and see that she's right on that call. Assuming you and the gang don't eat the whole pan, Carli adds: "It stores best in an airtight container for up to five days [and] reheats best in the microwave."
Low-Carb Pepperoni Pizza Casserole Recipe
When you're in the mood for pepperoni pizza, but not in the mood for the carbs and calories, this low-carb spaghetti squash bake will fulfill your cravings!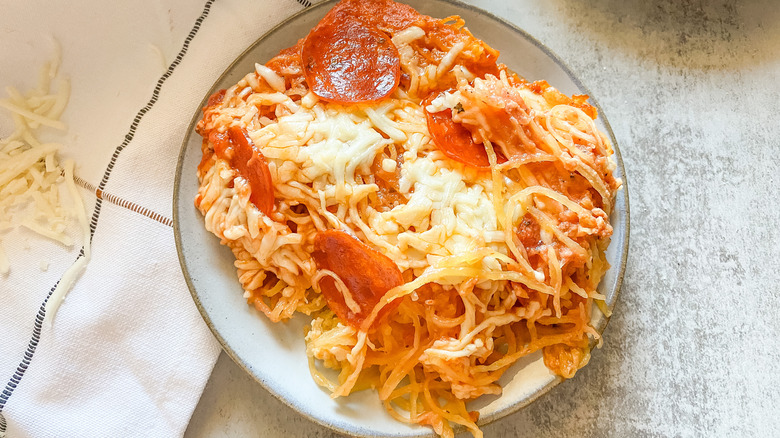 Total time: 1 hour, 10 minutes
Ingredients
1 large spaghetti squash
2 tablespoons olive oil
1 teaspoon salt
½ teaspoon pepper
1 (24-ounce) jar marinara sauce
3 eggs, beaten
2 cups shredded mozzarella cheese
1 ounce pepperoni slices
Directions
Preheat the oven to 350 F.
Slice the spaghetti squash in half. Using a spoon, scoop out the seeds. Brush the squash halves with the olive oil.
Roast the squash, cut side up, on a baking sheet, for 30 to 40 minutes.
Remove the cooked squash from oven. Using a fork, scrape the inside of the squash until spaghetti strands form.
Place all spaghetti squash noodles into a lightly greased 9x13-inch baking dish.
Sprinkle salt and pepper on top of the noodles, then pour the marinara sauce on top.
Pour the beaten eggs on top and use a fork to stir until well combined.
Sprinkle the cheese on top, then top with pepperoni slices.
Bake for 30 minutes.
Cut into squares and serve.
Nutrition
| | |
| --- | --- |
| Calories per Serving | 339 |
| Total Fat | 24.1 g |
| Saturated Fat | 11.8 g |
| Trans Fat | 0.1 g |
| Cholesterol | 123.2 mg |
| | |
| --- | --- |
| Total Carbohydrates | 12.6 g |
| Dietary Fiber | 2.5 g |
| Total Sugars | 7.1 g |
| Sodium | 913.8 mg |
| Protein | 18.5 g |