12 Ways To Upgrade Your Thanksgiving Turkey To Make It Even Tastier, According To Foodies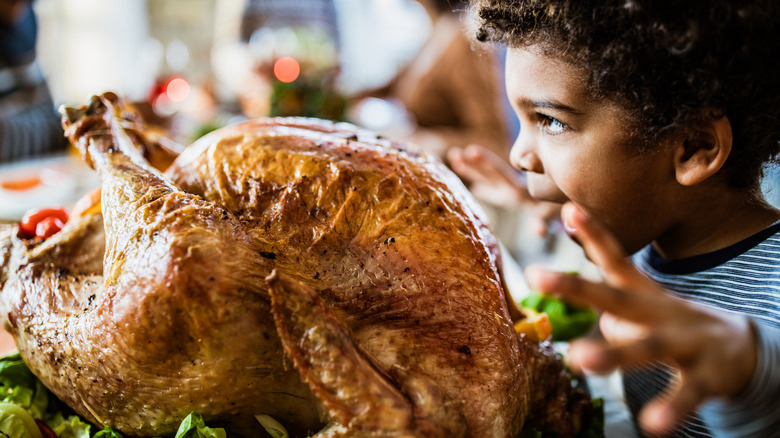 Skynesher/Getty Images
While Brits enjoy a roast dinner every Sunday and turkey for a festive feast, in the U.S., Thanksgiving is the ultimate blowout foodie experience that happens around family dinner tables. While the trimmings may vary with a variety of different stuffings, cranberry sauces, and gravies, the highlight of any table has to be the turkey. It's traditional to roast it, although you don't have to, and there are plenty of great tips and tricks for roasting a turkey to try out. 
It's easy for the skin not to crisp up or the meat to turn stringy and dried out. Once you've mastered how to cook a succulent turkey, you might like a few ideas on how to make it taste more flavorful. From glazing to stuffing, and even which way to put a turkey into a roasting tray, here are some of the best ways we've found to upgrade your Thanksgiving turkey to make it even tastier.
1. Marinate the turkey first
There are so many different ways to cook a turkey from roasting to smoking and even deep-frying. You can also use a dry or wet brine. Each brings out a unique taste and texture. One way to enhance the flavor is to marinate the raw meat before you cook it. Olive oil is a great carrier for salty soy sauce, citrusy lemon, orange juice, fresh herbs, and seasonings are great to add, too. What also helps make the turkey tastier is that by marinating it, the meat is less likely to dry out. For a succulent result, take the turkey out of the sauce before cooking. Seville oranges are great for making a marinade with, too, as they add a wonderful sour tang. If you're adding chopped veggies such as onion, bell pepper, and garlic then make your marinade in a blender, and don't forget to season. 
Zestiness creates a juicier bird, and you can boost the taste of the meat by making a marinade with citrus juice combined with chipotles in adobo and yellow pepper. You'll get a punchier flavor that's not spicy. You can back this up with some garlic, warm seasonings, herbs, and a splash of apple cider vinegar. Keep the whole turkey in the marinade for at least 12-24 hours so that the ingredients can permeate the meat. Get creative and create your own signature marinade.
2. Inject the marinade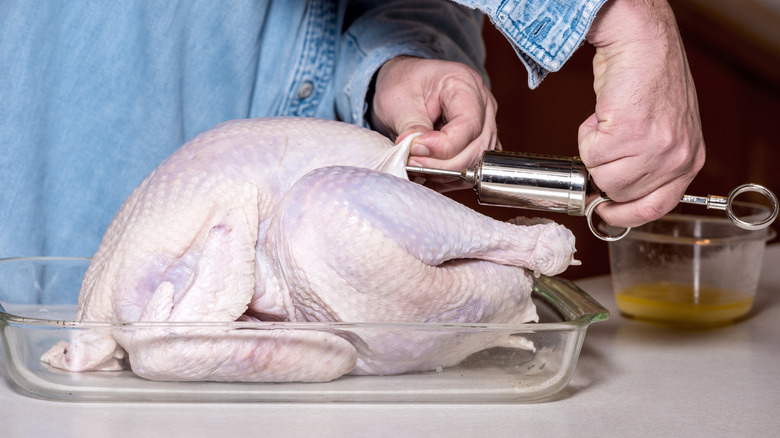 Charles Knowles/Shutterstock
If you're cooking Thanksgiving for a crowd and have a huge turkey, then you might want to take an extra step and actually inject the marinade into the meat. That way each serving will be tender and the flavor will be bolder. This is one of the best ways to upgrade your Thanksgiving turkey to make it even tastier.
You don't have to make a complex marinade either. A simple lemon butter works wonders. If you're wondering about what to do with the skin and outside of the turkey, then a dry rub is ideal. Instead of using oil, as you might with a regular marinade, combine butter and lemon juice with chicken broth instead. You'll need a meat injector syringe for this. Pierce the turkey legs, breast meat, and thighs multiple times where it's plumpest. Leave your injected turkey for at least 2 hours or longer if possible. You can heat oil and water with dried herbs for marinating, too. Inject when cool and make sure the ingredients are ground up enough that they won't get stuck. What about trying a beer and butter mix? And garlic butter is unbelievably delicious.
3. Brush on a glaze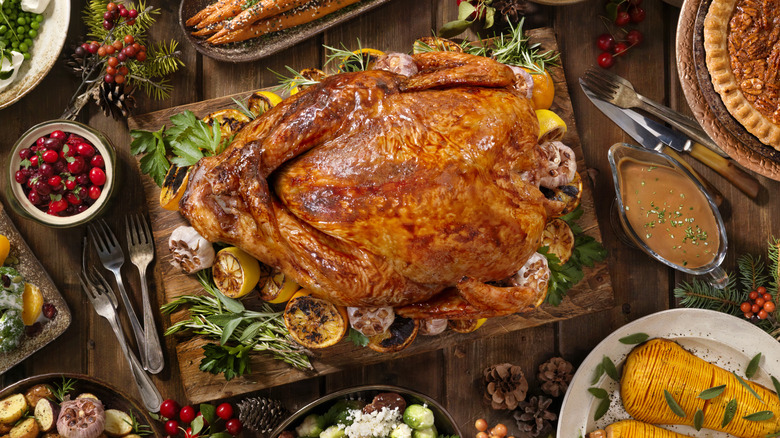 Lauripatterson/Getty Images
You know how amazing a slow cooker glazed ham is, right? It's no surprise then that a glazed turkey is going to wow everyone gathering around a Thanksgiving table. With such an incredible array of sides, this holiday feast is a flavorful one, and glazing is the cherry on the top. It not only makes the meat tastier, but it also adds a lovely color and crispy texture, and it stops the turkey from losing too much moisture in the oven. Add a buttery, zesty, herby honey glaze that will caramelize and brown nicely every half hour. Switch up the flavors with a maple syrup butter glaze with umami soy, Worcestershire sauce, and thyme.
Orange, thyme, and honey are a great combination as well, with a sour twist from balsamic vinegar. Try glazing more frequently, especially for the first hour, to lock in these ingredients and get the glaze built up enough that it's going to work its magic. You don't have to be fancy with the ingredients either. What you want is that glazed effect. Heat brown sugar, cider vinegar, and orange juice in a pan and add butter for a simple glaze. For a fruity taste, make a glaze with apricot jam. Add lemon juice and zest, chopped sage, and season. Instead of heating in a pan, give the ingredients a quick blitz in the microwave to create the right consistency.
4. Cover in mayo
It's easy to make your own homemade mayonnaise, and it's so moreish and creamy when spread on turkey sandwiches. It's an essential ingredient if you want to make a deli-style turkey salad. You might not have considered using it when looking for ways to upgrade your Thanksgiving turkey to make it even tastier. It's super simple and works. Not only are you going to cover an entire turkey with mayo before cooking it, which sounds strange enough, but you're also going to add it to the cavity and cover the inside of the bird, too. 
Basically, it keeps the skin and meat from drying out. The outside turns crispy, and the inside is velvety soft and not dry and tough. You can use this mayo trick in place of basting. It works in much the same way. If you're not a fan of mayo, then no fear as the taste won't be there at the end. However, nothing is stopping you from giving the mayo some added flavor. Make a chipotle mayo and make sure that you spread it under the skin while massaging it into the meat. Use a spoon to scoop the condiment under the skin and press on top of the skin to cover the meat.
5. Steam roast it
One of the best ways to upgrade your Thanksgiving turkey to make it even tastier is to steam roast it.  There are several ways you can do this. To steam roast the bird, you need to create a steam effect in the oven. Place overlapping sheets of foil into your roasting tin at angles. Grease them so that they don't stick to the turkey. Put your turkey on top, create a tent with the foil, and seal the edges. Be careful of the steam coming out when it's cooked and ready to open. Keep the juices in the foil to make a spectacular gravy. 
Another method is to raise a raw turkey in a roasting tray on top of veggies and add water underneath it. The liquid will evaporate and produce steam which will keep the meat lovely and juicy. If the bird is too large to fit in the oven raised up, you can roast it without any liquid in the tray. Add water to a second tray and place this in the oven underneath the roasting one. Keep your eye on the water level and add more boiling water during the cooking time if needed. Another option is to add water to a tray and add a rack above the liquid. Put the turkey on top and cover with foil. Leave for 30 minutes and then roast in the oven.
6. Turn the turkey over
The iconic image of a roasted turkey that's fresh out of the oven is not usually of a bird that's upside down. However, while you would want to serve it at the Thanksgiving table the right way up ready to carve, you might want to consider which way you roast it. The white meat on top is leaner, while the darker thigh meat is fattier. What this means is that there's a tendency for the turkey breast to dry out in order to cook the legs. By putting the white meat on the bottom of the roasting tray, you're going to let the juices run down and keep it nice and succulent. The darker meat won't take as long to cook either. A thermometer helps when roasting meat. Whichever way you cook it, you need the internal temperature of the meat to reach that magic 165 F for it to be safe to eat.  
A great tip for roasting a topsy-turvy turkey is to add slices of buttered bread to the bottom of the tray. That way, the breast meat and skin won't stick to the bottom. When you turn the turkey around again, you don't want to leave the top of the meat behind. One of the easiest ways to twist it the right way around is not by pulling on the legs or grabbing it, but by sticking a wooden spoon inside the bird and using this to lift and turn. 
7. Rub on compound butter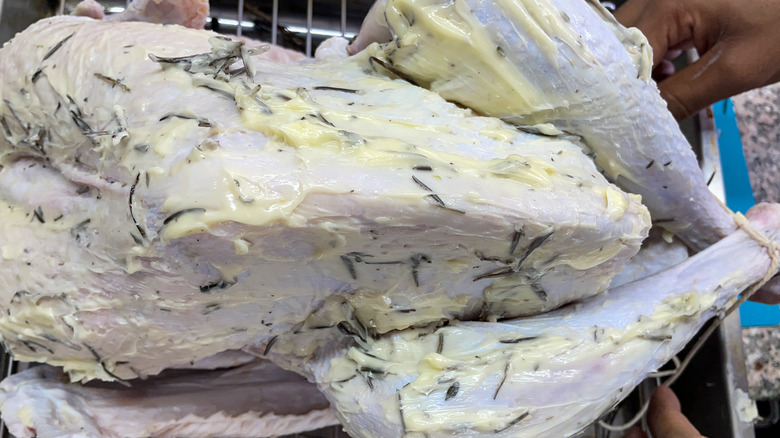 Mtreasure/Getty Images
One of the reasons why butter always tastes better when eating at a restaurant is because compound butter is used to finish off succulent meats like steak. It also makes Thanksgiving turkey so much tastier, too, if you add it before roasting. There's something satisfying about rubbing an herby butter all over your turkey, knowing that it's going to give the flavor of the meat and the taste of the crispy skin a boost. As well as fresh and dried herbs, you can elevate the taste with some garlic, and add a little extra depth with five-spice powder. Make sure you cover the meat under the skin. You'll need to create that space, but keep the skin attached in the middle so that it's not totally separated. 
As well as covering your turkey with compound butter, add butter and fresh herbs inside the bird as well. Some recipes advise adding butter under the skin only, with others suggesting spreading it on top of the skin as well. Another great ingredient to add to softened butter, herbs, and garlic is lemon zest. It adds a lovely bright citrusy punch that livens up the other ingredients. Add butter to the underside of the bird, too, and crank up the seasonings. Soy sauce and Dijon mustard create an umami element, and olive oil means the temperature can be higher without the butter burning. You can also inject the compound butter directly into the turkey partway through while cooking.
8. Make it spicy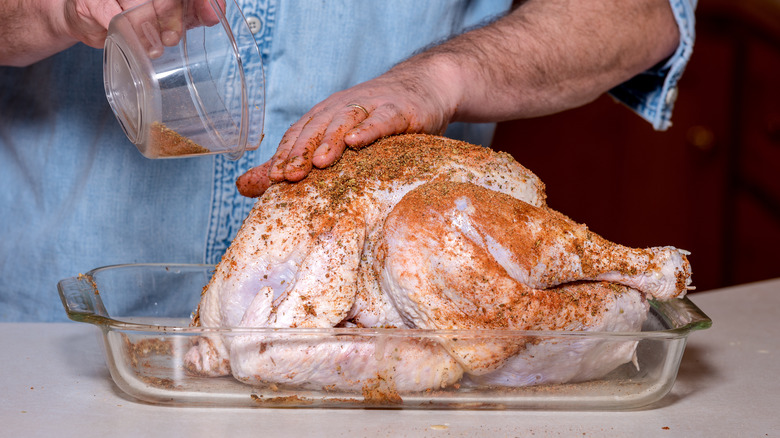 Charles Knowles/Shutterstock
There are a lot of flavors going on with a Thanksgiving feast. However, everyone knows that the pièce de résistance is the turkey. Carving and serving it at the table is a ritual for this family holiday. However, it's the taste that really counts. Aside from wanting the meat to be succulent and not tough and stringy, a delicious upgrade is to flavor-bomb the meat before roasting. You can do this by turning up the heat with some spices and transforming turkey with a terrifically different taste. 
To connect with the cuisine of India, make a spicy marinade with garam masala, Greek yogurt, and tomato purée with ginger, chili, garlic, and spices. Add a squeeze of lime juice and some zest. Stuff the bird with garlic and halved lemons and limes. There's no mistaking this for your traditional Thanksgiving turkey that's for sure. Cajun flavors are also a tasty choice, and you can use a compound butter recipe for this. Another method is to add a rub with cayenne pepper, cumin, and ground coriander, plus paprika, onion and garlic powders, and dried herbs. Make sure the raw turkey is dry before rubbing the spices into the skin. Rub in olive oil after you've done this. Another method is to make a Jamaican jerk turkey and baste the meat with the spiced sauce close to the end of the cooking time. This allows the sugars and spices to caramelize without burning. 
9. Give it some sweetness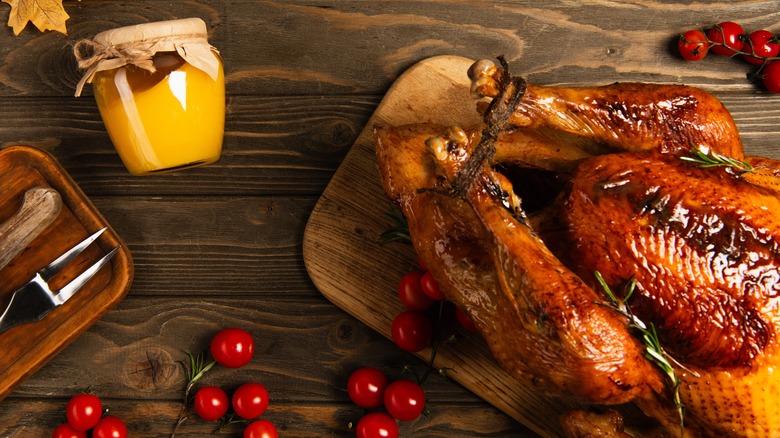 LightField Studios/Shutterstock
Cranberry sauce is the perfect condiment to serve with slices of juicy turkey. And think about how amazing skillet pork chops with apples sound or duck breast with pomegranate sauce. Getting hungry? Adding sweetness is one of the best ways to upgrade Thanksgiving turkey. And that doesn't mean to say that you can't elevate the savory flavors at the same time. Just as sweet and salty are a culinary match, so too is a sweet and spicy combo. If you don't want to go full-on with the spiciness but want the taste that spices bring to the table, then tempering the heat by sweetening the flavor profile is a great solution. 
One of the best ways to achieve this is by combining a spicy rub with a sweet glaze. Add salt under the skin, canola oil on top of the skin, and massage in whatever rub you like. A salty rub with brown sugar and spices like ginger and paprika isn't going to be too fiery. Combine honey, hot sauce, and oil. Brush this glaze on the bird for the last 25 minutes of cooking time. Once ready, glaze again, and rest the meat covered up for 30 minutes. Make sure the glaze doesn't come into contact with any utensils that have touched uncooked meat. Another method is to make maple syrup, apple cider vinegar, and herb butter. Spread this under and over the skin, and keep some back to add to the gravy. 
10. Stuff to elevate the flavor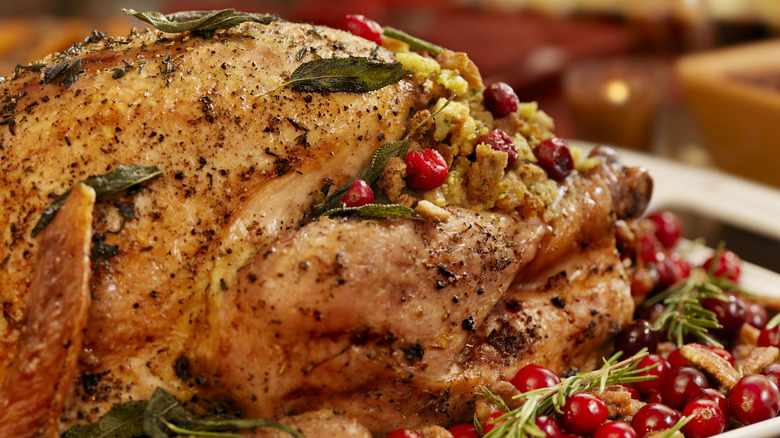 Lauripatterson/Getty Images
You might want to check out some Thanksgiving stuffing hacks as part of your holiday meal upgrade. Some people like to cook the stuffing inside the turkey, although you might find it easier and less risky to keep it separate. If so, then you've got a lot of space inside the bird that's prime for adding flavorful ingredients. A classic turkey stuffer is fresh herbs. A few sprigs of rosemary and thyme give the meat an aromatic flavor that's subtle yet sure beats a bland bird. Root vegetables also work well and keep the meat nice and succulent. This includes potatoes which will turn into melt-in-the-mouth bites. 
Embrace the flavors of fall and stop your turkey from drying up with a fruity filling. Apples are a great choice and a vegetable that pairs well is fennel. Citrus fruits are perfect for lifting other ingredients, and they also add moisture to the cavity which permeates the meat as it roasts. If you want to add some autumnal warmth but don't want to go spicy, then a great tip is to add some root ginger. Peel and slice it beforehand. You could also combine U.S. tradition with culinary influence from another part of the world — rellenong manok is a classic Filipino turkey recipe. It's made with deboned turkey breast. Make a meaty filling with sausage meat, herbs, pineapple, and dried cranberries. Layer onto the turkey and add whole hard-boiled eggs in the middle. Roll and roast.  
11. Change up gravy for sauce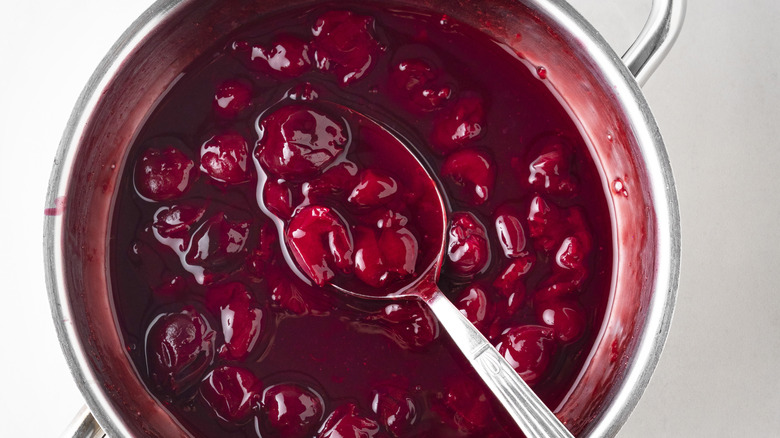 Pinkybird/Getty Images
What's Thanksgiving turkey without lashings of gravy? Sometimes, it's necessary to cover up a less-than-succulent slice of meat. You can use the juices from the roasting pan to make gravy by removing the fat and reducing it by putting the pan on the stovetop. One of the best ways to upgrade your Thanksgiving turkey to make it even tastier is to swap out a traditional gravy and serve it with a more flavorful sauce instead. A cherry and shallot sauce hits the spot as it adds sweetness with a tangy edge that pairs perfectly with the tenderness of the turkey. You can make this with cherry jelly rather than fresh fruit, and add pomegranate juice to amplify the sweet and sour autumnal notes. 
A complementary rub and sauce enhance flavors, too. Orange zest, honey, and cumin, with other spices, make a fabulous Moroccan-inspired rub. Add stock to the pan with root veggies, giblets, and sherry, and use this as a base for the sauce. Remove any bits and add the stock to a saucepan without any of the oil. Heat and orange juice to make a fresh-tasting citrus jus. There aren't any hard and fast rules. A mushroom sauce might work, or a lighter, lemony herb one. What about making a creamy gravy? You can add some herbs to that, too. Try making a sauce with different types of alcohol like red wine or cider.
12. Cook a succulent turkey breast dish
Cooking a whole bird so that it comes out of the oven succulent and tasty is no mean feat. And with family gathering for Thanksgiving and all the trimmings to make roasting a turkey can become an overwhelming culinary feat. After all, the whole point of the holiday is to get together with loved ones, share food and relax. You might find that the best way to upgrade your turkey so that it's wonderfully tasty is to ditch the idea of roasting a whole one. Instead, make garlic and herb-roasted turkey breast. Roast the meat with an olive oil mix of dried sage and thyme, with salt and pepper, plus minced garlic. Keep it juicy with a butter basting. 
Or what about a slow cooker turkey breast? Use bone-in meat and rub seasoned butter under the skin. Stuff with fresh herbs, orange, onion, and garlic, and slowly cook for 4 hours. You can crisp up the skin under the broiler once it's cooked, and make homemade gravy in the slow cooker. Instant Pot turkey breast is another option, with broth in the bottom and a butter-basted bird cooked upside down. Fire up the grill, and throw an herby-brined turkey breast onto it to sear the skin before cooking the meat in a barbecue-proof dish with the lid down. A cherry sauce with orange zest is the perfect accompaniment.