Creamy Country White Gravy Recipe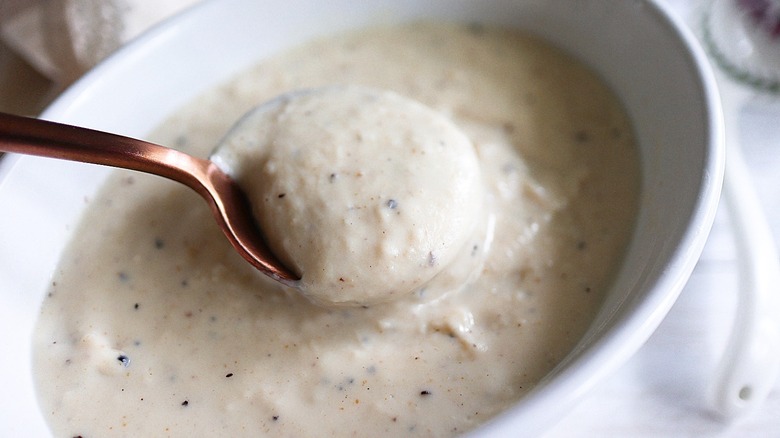 Cecilia Ryu/Mashed
Is comfort food really comfort food without a good slathering of gravy? Whether it's mashed potatoes, biscuits, meatloaf, or your favorite fried foods, there aren't many dishes that can't be improved by this creamy, comforting sauce.
White gravy is very popular in the South, and it's definitely a lot creamier than brown gravy. It's traditionally made using milk and bacon grease, but recipe developer Cecilia Ryu's version of white country gravy opts for a hearty helping of butter instead, making it a great choice if you're serving vegetarians or people who don't eat pork.
"This gravy is perfect with chicken fried steak," Ryu says. "It also pairs well with biscuits and sausage, pork chops, and fried chicken." If that's enough to get your mouth watering, good news: Whipping up your own batch of creamy country white gravy is easy as pie. Speaking of, you could even put this gravy on a chicken pot pie if you wanted. We won't stop you.
Get your gravy ingredients together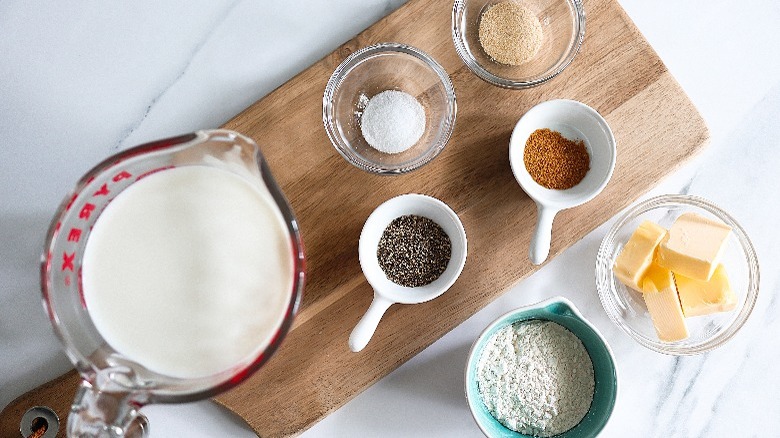 Cecilia Ryu/Mashed
The ingredients for white gravy are simple: milk, butter, flour, salt, pepper, garlic powder, and a little cayenne. You might even have all of them in your kitchen right now! "I like to use garlic powder mainly because it's always in my pantry," Ryu says. "This gravy is simple and easy to whip up so it's faster and more convenient to use garlic powder rather than mincing fresh garlic. I suppose you could use fresh garlic, but I honestly never have." You can't go wrong with that kind of convenience.
Start by making a roux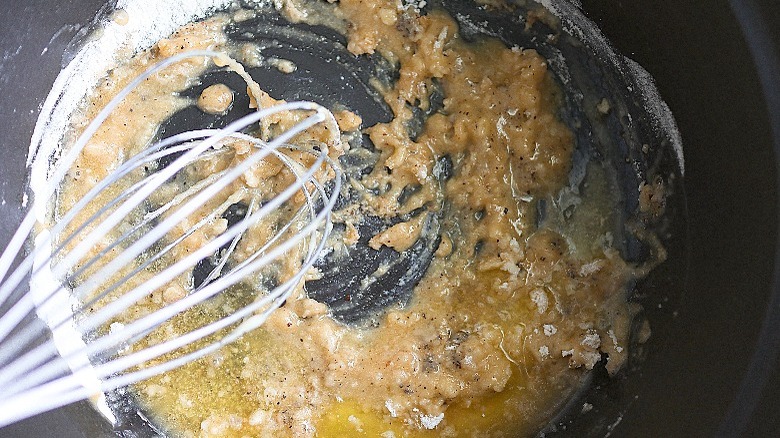 Cecilia Ryu/Mashed
Get out a nonstick skillet or small pot, turn the stove to medium heat, and add the butter. When it's fully melted, put the flour and seasonings in there with it. Let that cook for a few minutes, whisking regularly. Congrats, you've just made a roux, which will serve as the base to your gravy.
Add the milk and stir it up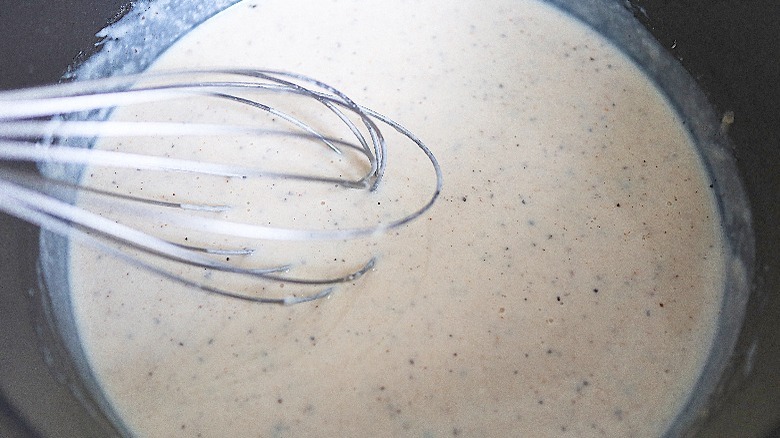 Cecilia Ryu/Mashed
It's time to add the milk. Pour in a small amount at a time (Ryu suggests about ½ cup), stirring after each addition to make sure the dairy is evenly incorporated. Continue whisking until you reach a smooth consistency, then let the gravy cook a bit longer so it can thicken up. Give it a taste to see if it needs any extra seasoning.
Gravy cravings, begone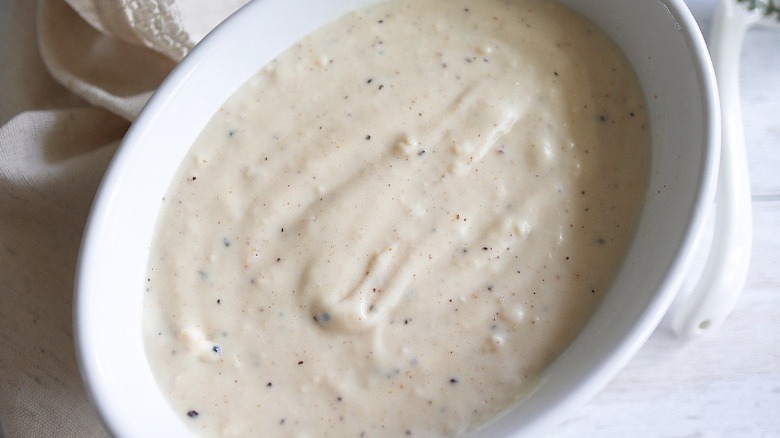 Cecilia Ryu/Mashed
After your gravy is thick and seasoned, that's it! It's ready to enjoy any way you like, whether you want to stick with Ryu's suggestion of chicken fried steak or biscuits, or go off on your own unique gravy journey.
If you end up with extra, just stick it in the fridge in an airtight container. "The gravy will be thick once it comes out of the refrigerator. Reheat in a small saucepan over low heat, slowly whisking in 1-2 tablespoons of hot water to loosen. Adjust seasoning if necessary," Ryu explains, adding that "you can also heat in the microwave in 30 second increments. Stir after each 30-minute interval, adding hot water as necessary to loosen."
Creamy Country White Gravy Recipe
This creamy country white gravy is the perfect topping for chicken fried steak, biscuits, mashed potatoes — the list goes on and on!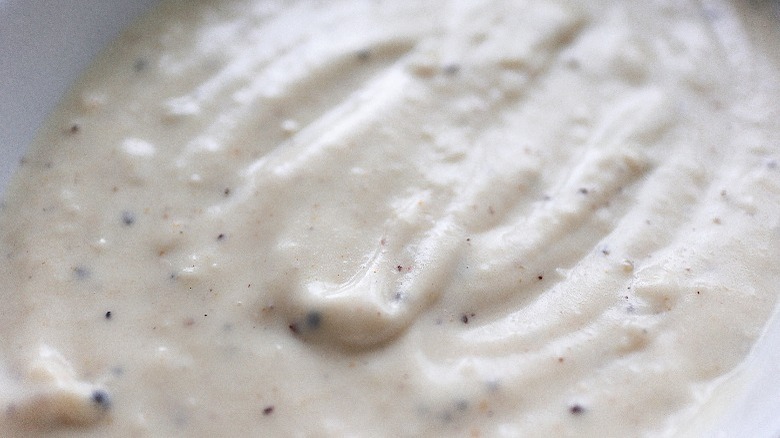 Ingredients
¼ cup butter
¼ cup flour
2 cups milk
¾ teaspoon salt
1 teaspoon coarse ground black pepper
½ teaspoon garlic powder
¼ teaspoon cayenne pepper
Directions
In a small saucepan or non-stick skillet, add the butter and melt over medium heat. Once melted, add flour, salt, black pepper, onion powder, and cayenne. Whisk to combine.
Cook the flour/butter mixture for 2 to 3 minutes.
Slowly and gradually pour in the milk, about ½ cup at a time, whisking well after each addition. Continue to whisk until all milk has been added and no lumps remain.
Cook for another 2 to 4 minutes, until creamy and thick. Taste to adjust seasoning. Serve immediately.
Nutrition
| | |
| --- | --- |
| Calories per Serving | 138 |
| Total Fat | 10.4 g |
| Saturated Fat | 6.4 g |
| Trans Fat | 0.3 g |
| Cholesterol | 28.5 mg |
| | |
| --- | --- |
| Total Carbohydrates | 8.4 g |
| Dietary Fiber | 0.3 g |
| Total Sugars | 4.1 g |
| Sodium | 224.9 mg |
| Protein | 3.3 g |