Deli-Style Turkey Salad Recipe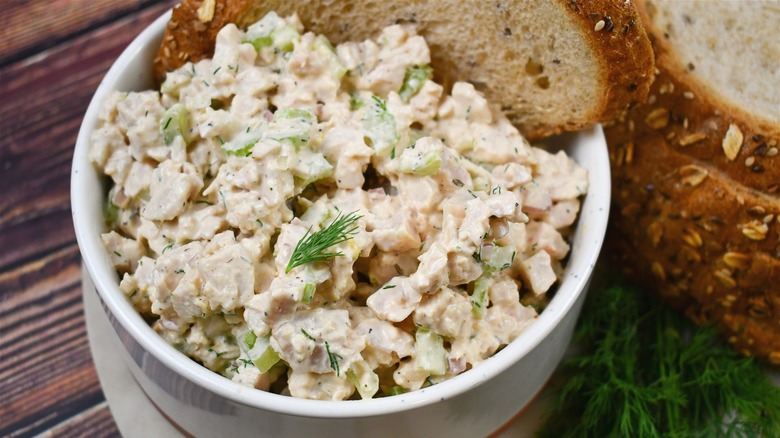 Jenny Kellerhals/Mashed
After everyone's had their fill of Thanksgiving dinner, there's a good chance you still have some leftover turkey and stuffing ingredients for another few meals. Turkey salad is one of the easiest and most convenient recipes to quickly repurpose cooked turkey meat, without letting any of it go to waste. Alternatively, if you have some deli turkey meat sitting in your fridge, this turkey salad recipe will help liven it up.
Recipe developer Jenny Kellerhals also mentions that it's a great dish to put together year-round. "All of the essential ingredients you'd want for a turkey sandwich are incorporated into turkey salad," says Kellerhals. "I like making a small batch of it for weekly lunches, and eat it on crackers for a filling protein-packed snack at my desk." Kellerhals opts for cooked turkey breast from the deli to make this quick and satisfying dish at home. This basic recipe is also customizable based on your preferences, and what ingredients you might already have on-hand. Here's how to make an easy to please deli-style turkey salad in just 15 minutes or less.
Gather the ingredients for the deli-style turkey salad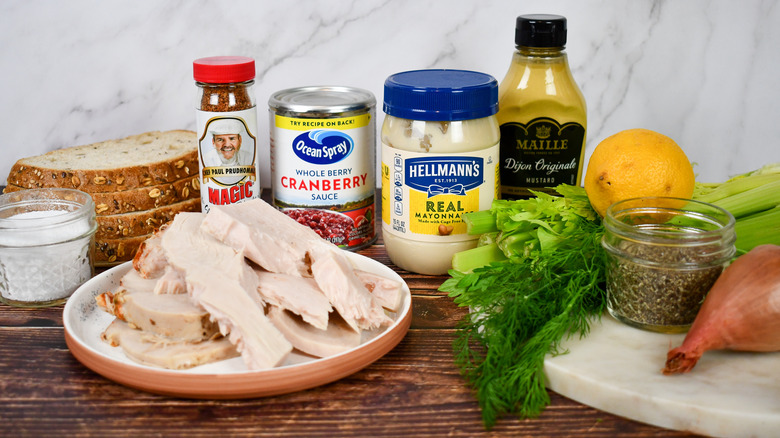 Jenny Kellerhals/Mashed
There's a good chance you have almost everything you need for turkey salad in your refrigerator already. You'll need about a pound of pre-cooked turkey meat, either from your own roast or from the deli. Fresh produce includes celery stalks, a shallot, a lemon, and fresh dill. Mayonnaise and Dijon mustard are essential ingredients in turkey salad. Kosher salt and black pepper are needed for seasoning, as well as blackening or creole seasoning for additional flavor if you'd like. Finally, you may want some bread for serving, along with some cranberry sauce for topping.
Prepare the produce
Jenny Kellerhals/Mashed
Thoroughly wash and dry the produce, including the celery, lemon, and dill, if it hasn't been pre-washed. Make sure that the celery is finely chopped, along with half of the shallot. You'll also need some fresh chopped dill, so it's a good idea to remove it from the sprigs and chop that up now, too.
Chop the cooked turkey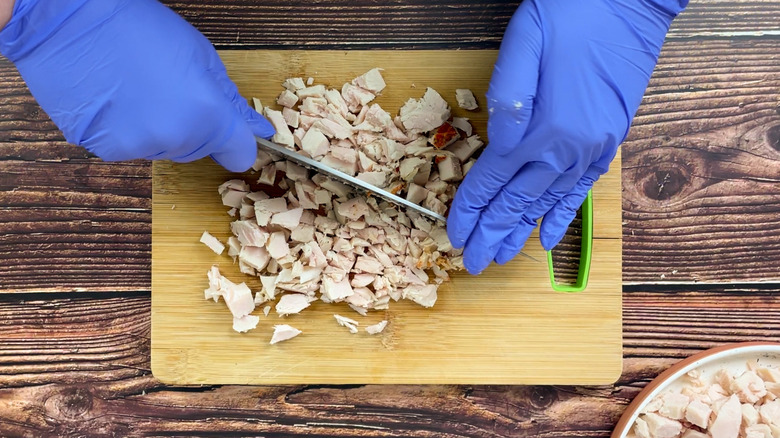 Jenny Kellerhals/Mashed
Turkey meat should be thoroughly chilled before chopping and turning into turkey salad. Tear any large pieces of cooked turkey meat into smaller pieces for easier handling. In small manageable portions, chop the meat into small bite-sized pieces. Alternatively, Kellerhals suggests pulsing the turkey meat in a food processor in small batches to chop if you'd rather not do it by hand.
Whisk together the dressing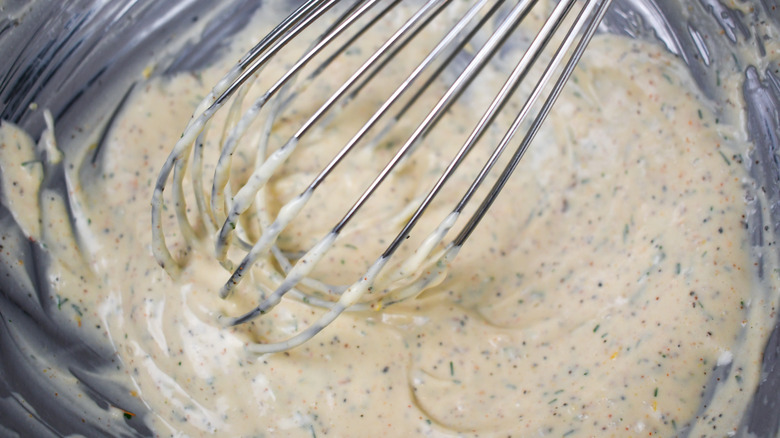 Jenny Kellerhals/Mashed
In a large bowl, add the mayonnaise and Dijon-style mustard. Zest ¼ of the lemon directly into the bowl, then juice the lemon and add 1 tablespoon of freshly-squeezed lemon juice. Chop the fresh dill and add to the bowl along with the salt, pepper, and blackening or creole seasoning, if using. Whisk all of the ingredients together for about a minute to fully incorporate, and lightly whip the dressing.
Fold in the vegetables and turkey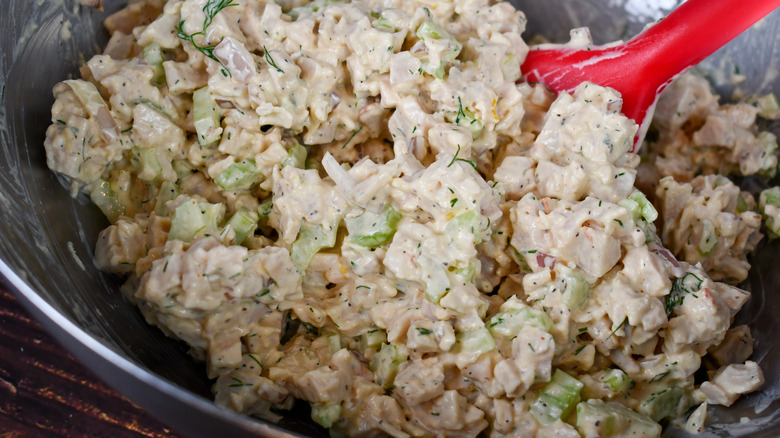 Jenny Kellerhals/Mashed
Fold the chopped shallot and celery into the dressing, followed by the chopped turkey. Add the turkey in 3 or 4 portions, making sure to coat all of the turkey in the dressing each time. At this point, taste the turkey salad and adjust the seasoning and texture of the mix to suit your tastes. "I find myself adding more salt, herbs, and blackening seasoning to my turkey salad at this point," says Kellerhals, "but this is also a good time to add more mayo or mustard if you like a creamier salad."
Serve and enjoy this easy turkey salad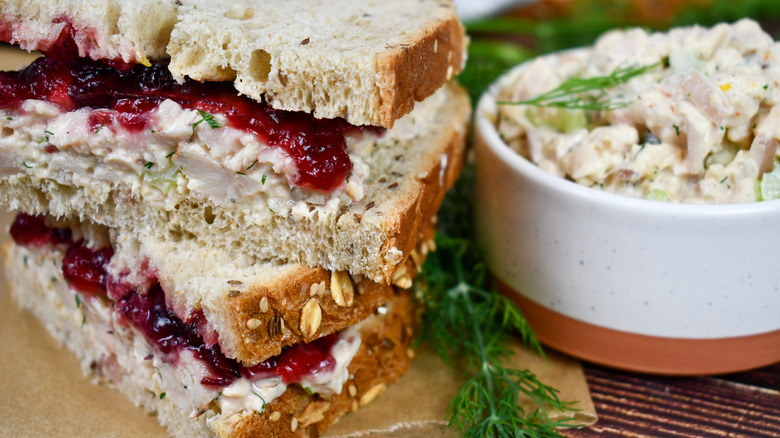 Jenny Kellerhals/Mashed
Your turkey salad can be enjoyed just about any way you prefer. We like heaping it onto slices of multi-grain bread and topping it with leftover cranberry sauce, but it would also be tasty served dip-style on crackers. Folded into a wrap with lettuce and cheddar cheese is a tidy option for lunches to go, and it also tastes great served in a lettuce wrap as a gluten-free option.
To store, place plastic wrap or parchment paper on the surface of the turkey salad, and wrap tightly with plastic wrap or store in an air-tight container. The salad can be refrigerated for 3 to 5 days, based on when the turkey was cooked or purchased. Freezing isn't recommended, but leftover cooked turkey can be frozen and thawed to make this quick turkey salad.
Deli-Style Turkey Salad Recipe
Use up leftover turkey with ease thanks to this this deli-style turkey salad recipe.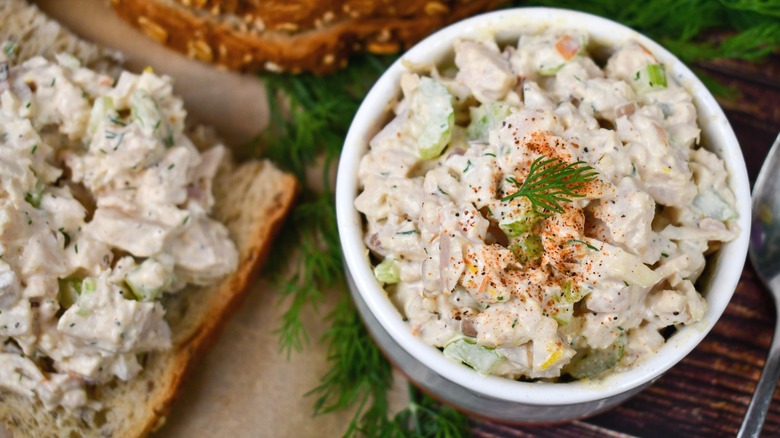 Ingredients
1 pound cooked turkey breast
⅔ cup mayonnaise
1 ½ tablespoons Dijon mustard
1 ½ tablespoons chopped fresh dill
zest from ¼ lemon
1 tablespoon fresh lemon juice
1 teaspoon kosher salt
½ teaspoon black pepper
½ cup finely chopped celery
½ shallot, finely chopped
Optional Ingredients
1 teaspoon blackening or creole seasoning
cranberry sauce for topping
sliced bread, crackers, or lettuce wraps, for serving
Directions
Tear larger pieces of cooked turkey breast into smaller pieces, then finely chop into smaller bite-sized pieces.
In a large bowl combine mayonnaise, Dijon mustard, chopped fresh dill, zest from ¼ lemon, 1 tablespoon of fresh lemon juice, salt, pepper, and blackened or creole seasoning (if using). Whisk together for about a minute to completely blend ingredients and lightly whip.
Fold in chopped celery and shallot, followed by the chopped turkey, taking care to evenly distribute the mayonnaise dressing. Taste and adjust the seasoning as desired.
Serve immediately on bread, crackers, or lettuce wraps. To store, wrap turkey salad tightly with plastic wrap and refrigerate for 3-5 days.
Nutrition
| | |
| --- | --- |
| Calories per Serving | 197 |
| Total Fat | 16.3 g |
| Saturated Fat | 2.4 g |
| Trans Fat | 0.0 g |
| Cholesterol | 35.9 mg |
| | |
| --- | --- |
| Total Carbohydrates | 2.7 g |
| Dietary Fiber | 0.4 g |
| Total Sugars | 2.4 g |
| Sodium | 671.7 mg |
| Protein | 9.6 g |