Everything Bagel Dip Recipe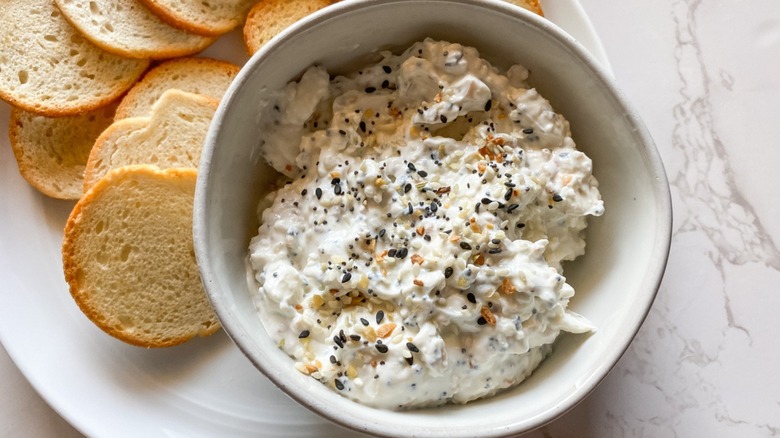 Kristen Carli/Mashed
Everything bagels may seem as if they've been around forever, but by all accounts they might go back only about 40 years or so. According to The New Yorker, a man named David Gussin invented it when he was about 15 and working at a bagel place in Queens circa 1980. If you're wondering whether he made a few zillion bucks off his creation, apparently he did not. As he told the magazine, "Admittedly, you think, Wow, what if I made a penny off of every everything bagel?" He went on to add, though, "But, realistically, who patented pizza? Who patented the bagel, you know? It never even entered my mind." Well, it's a good thing he didn't try, since as a subsequent Atlas Obscura piece notes, other restaurateurs have also put forth similar claims. More importantly, they point out that mixing up different bagel toppings is a rather obvious proposition, so it's not the kind of thing anyone could really have been said to invent.
Registered dietitian and recipe developer Kristen Carli makes no claims to having been the first to come up with the idea of flavoring a dip with everything bagel seasoning, but she took this idea and made it her own. As she explains, "I love everything bagels and cream cheese. I use the everything bagel seasoning on bagels, avocado toast, roasted veggies, etc. [so] I knew I wanted to create a yummy, creamy everything bagel dip to serve with bagel chips."
Gather your ingredients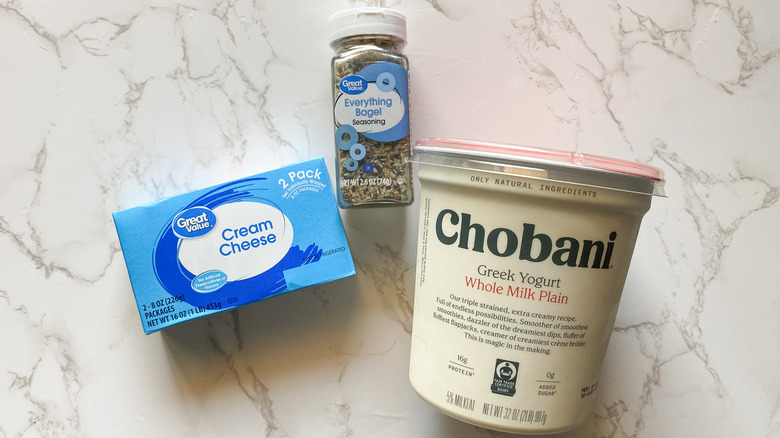 Kristen Carli/Mashed
This recipe has a short and sweet ingredient list, and yet it may still involve a trip to the store as these items may not be something you have on hand at all times. The base of the dip is made from two different dairy products — cream cheese and yogurt. Carli went with full-fat cream cheese and full-fat Greek yogurt, but says "Of course, you can sub low-fat Greek yogurt and low-fat cream cheese."
As far as flavorings go, this dip needs just one thing: everything bagel seasoning, of course! There's enough going on in there, taste-wise, to make additional seasonings superfluous.
You could always try making your own everything bagel seasoning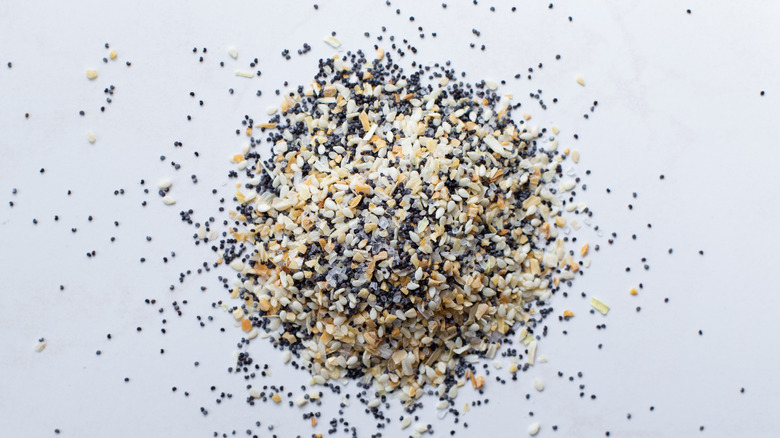 Sara Schober/Shutterstock
If you don't want to buy your everything bagel seasoning from Trader Joe's, Costco, Aldi, or just about any other major supermarket (Carli went with the Great Value brand herself), it's incredibly easy to make it yourself. All you'll need is a fairly well-stocked spice cabinet, or to make a quick trip to the grocery store and then some room on your pantry shelves to house your new spice collection.
This simple recipe for everything bagel seasoning comes from the queen of the domestic divas herself, Martha Stewart. According to Martha, all you need to do is mix equal parts of black sesame seeds, poppy seeds, dried minced garlic, dried minced onion, flaky sea salt, and toasted sesame seeds. 
Mix the ingredients to make the dip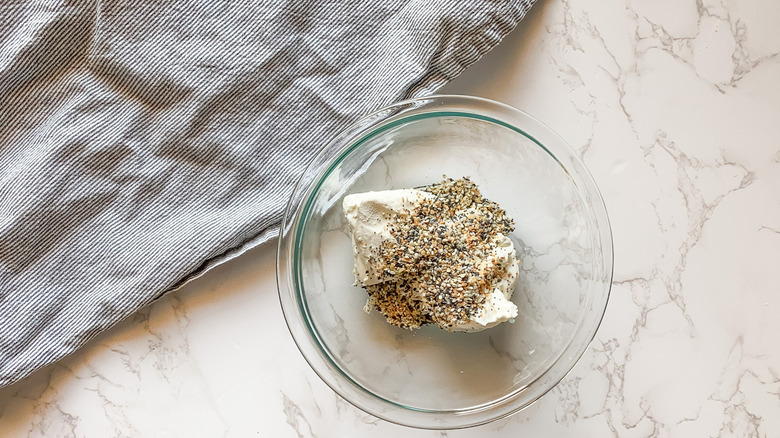 Kristen Carli/Mashed
Combine the cream cheese, yogurt, and everything bagel seasoning in a medium-sized bowl and mix them up until you have a smooth, seed-studded dip. Really, that's all you need to do! Carli used a silicone spatula to do her mixing, saying she had to "mash [the] cream cheese until [it was] smooth." If you let the cream cheese sit until it reaches room temperature, this will make it all the easier to squish, or you could always combine the cream cheese and the yogurt with a hand mixer or in a food processor before gently folding in the seasoning mix.
This dip's not just for dunking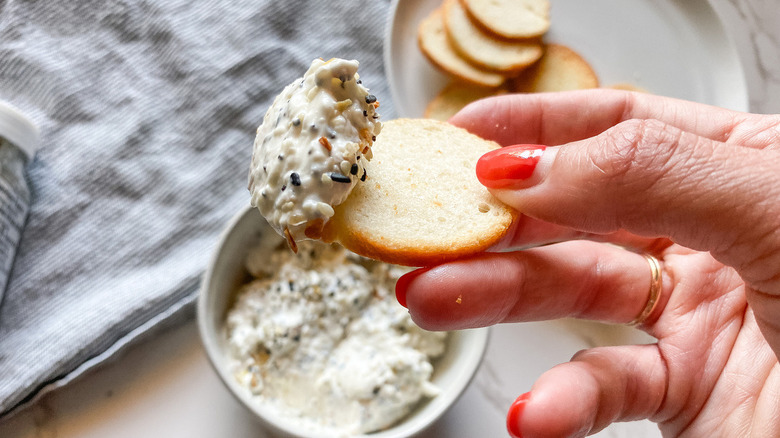 Kristen Carli/Mashed
Carli tells us "I love this with bagel chips," something that would make for a kind of deconstructed, inside-out everything bagel, but you don't have to limit yourself to this method of serving. She also says "This dip is great with veggies, like carrots and celery, as well as tortilla chips."
This dip can also double as a sandwich spread or burger topping, or you could stir a spoonful into your scrambled eggs as they're cooking. Oh, and don't forget to use it as a bagel schmear! Top an everything bagel with this spread to achieve maximum everythingness.
Everything Bagel Dip Recipe
Flip your everything bagel into reverse and make this everything bagel dip, perfect to use with bagels, tortilla chips, veggies, and, well ... everything!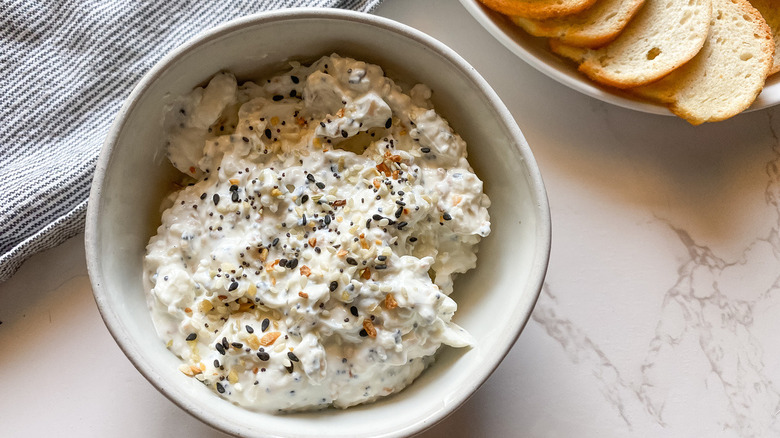 Ingredients
4 ounces cream cheese
½ cup full-fat plain Greek yogurt
¼ cup everything bagel seasoning
Directions
Combine the cream cheese, yogurt, and everything bagel seasoning in a medium bowl.
Mix dip until smooth.
Serve as a dip, spread, or topping as desired.
Nutrition
| | |
| --- | --- |
| Calories per Serving | 142 |
| Total Fat | 11.9 g |
| Saturated Fat | 6.8 g |
| Trans Fat | 0.0 g |
| Cholesterol | 36.0 mg |
| | |
| --- | --- |
| Total Carbohydrates | 5.2 g |
| Dietary Fiber | 0.5 g |
| Total Sugars | 2.2 g |
| Sodium | 121.5 mg |
| Protein | 4.7 g |