Easy Homemade Bagel Chips Recipe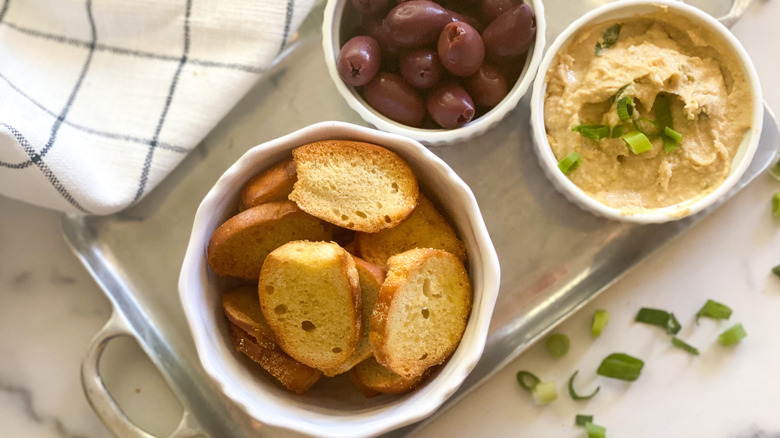 Miriam Hahn/Mashed
There are many reasons to fall in love with the bagel — not the least of which is because, depending on how they're made, this particular baked dough can be low in saturated fat, cholesterol-free, and sugar-free (via Verywell Fit). Given all that, it's no surprise that Miriam Hahn of Youcare.Selfcare chose to give the bagel a starring role in her quest to create a better-for-you homemade bagel chip. 
We concede that making your own bagel chips at home can be more challenging than picking up pre-packaged ones from the store. But getting pre-made chips means they won't be as fresh — and they won't be as tasty as a result. Buying pre-made chips also means you're giving up control over the quality of the ingredients you use to make the chips — from the type of bagel to the type of oil. In her recipe for homemade bagel chips, Hahn shows us how easy it can be to elevate the quality of this well-loved treat.
Wheat or whole wheat bagels work best for this recipe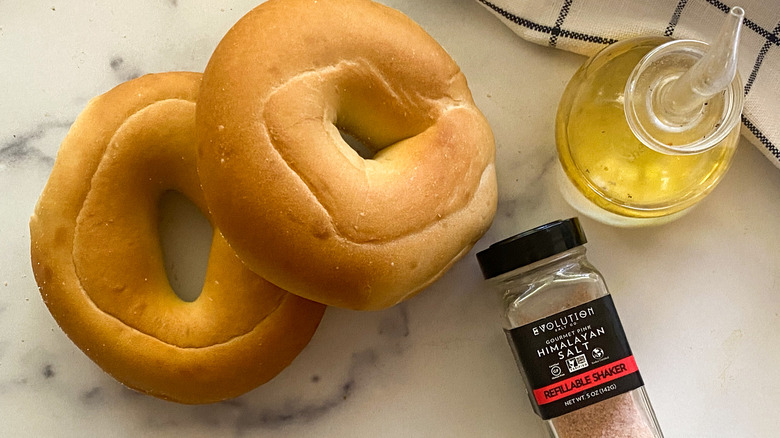 Miriam Hahn/Mashed
Before you begin, make sure you've lined up your ingredients to save yourself the trouble of running to and from the store. You'll need bagels, coarse salt, and a quality olive oil.
While weighing the pros and cons of your potential bagel choices, know that you can use either whole wheat or refined wheat bagels to make your chips without any trouble, but Hahn warns that gluten-free bagels might not give you the same results. A lack of gluten can make baked goods more dense and less spongy (via Schaer), which will undoubtedly compromise your chips in the long run.
Fresh bagels are easier to cut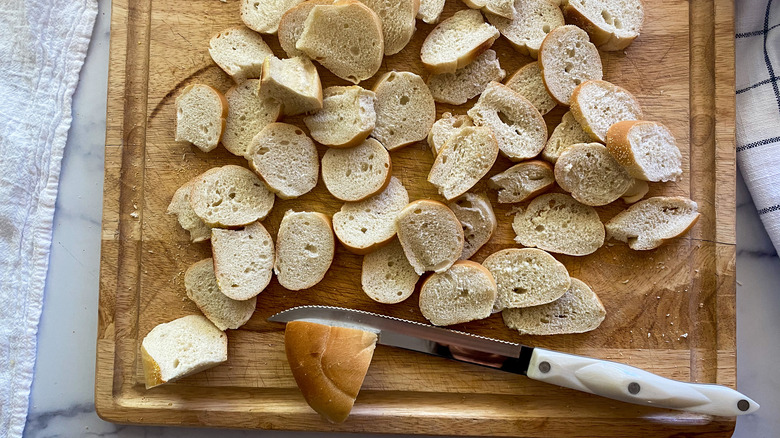 Miriam Hahn/Mashed
You know you're one step closer to homemade bagel chip goodness when you preheat your oven to 350 F. Next, cut up your bagels into quarters, and then slice those further into ¼-inch rounds. 
While some cooks might consider bagel chips to be an ideal way of recycling bagels that are potentially close to the end of their best by dates, Hahn recommends you use fresh bagels from the get go. "I like to use a fresh bagel because it is easier to cut and a stale bagel might end up too dry," Hahn says.
Making bagel chips might be a good way of using up bagels if you've bought a few too many, because unless they are stored properly, bagels can go stale and hard in 48 hours (via The Bagel Club). 
The trick to keeping the oil content in bagel chips low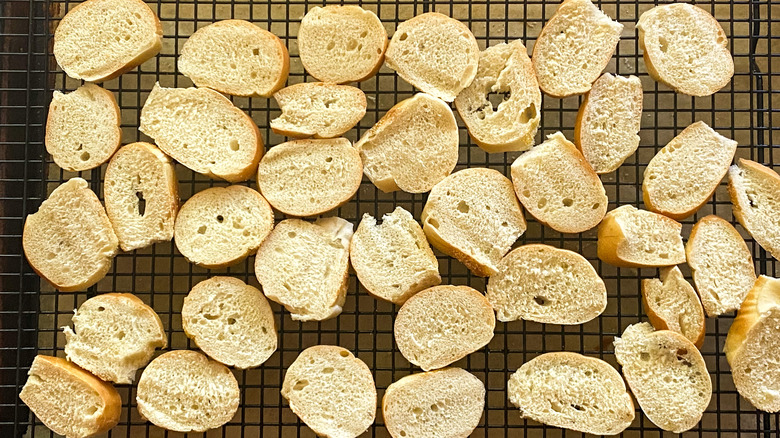 Miriam Hahn/Mashed
Once you've prepped your bagel rounds, Hahn recommends that you lay them out in a single layer and on a cookie sheet before brushing them with a bit of olive oil on both sides and seasoning with salt.
If this sounds a bit too fiddly for your taste, Hahn also says you can toss the bagel rounds in oil, but she points out that brushing the rounds helps to control the amount of oil you're likely to use, keeping the oil content of the chips lower as a result. If for some reason you don't have olive oil, Hahn says that butter can also be used as an acceptable substitute. 
Bagel chips can be made in an oven or air fryer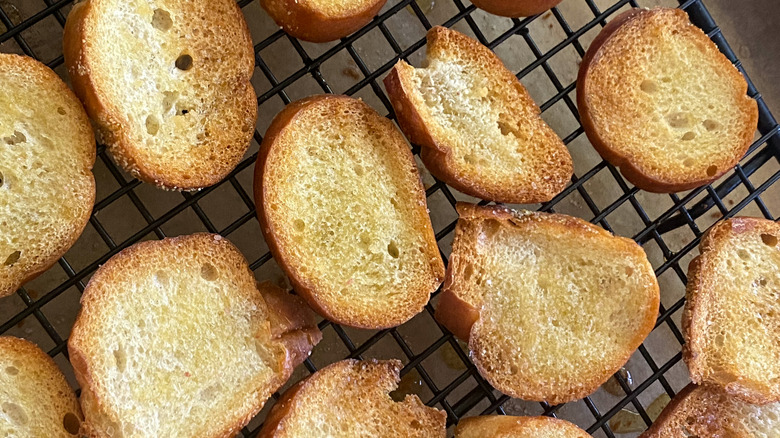 Miriam Hahn/Mashed
Once you've oiled and seasoned your bagel rounds, they're ready for a turn in the preheated oven. They'll be ready after 10 to 12 minutes, at which point they should be golden brown. To those who might think firing up your oven for a snack might be overkill, Hahn says you'll get the same effect if you use an air fryer set to 380 F for 8 minutes. You just need to remember to take the chips out and shake them halfway through the cooking time. 
In case you're wondering why you can also make these chips in an air fryer, air fryers essentially work the same way as convection ovens. These lovely kitchen-top appliances aren't really fryers at all!
There is a good reason for keeping chips simple and straightforward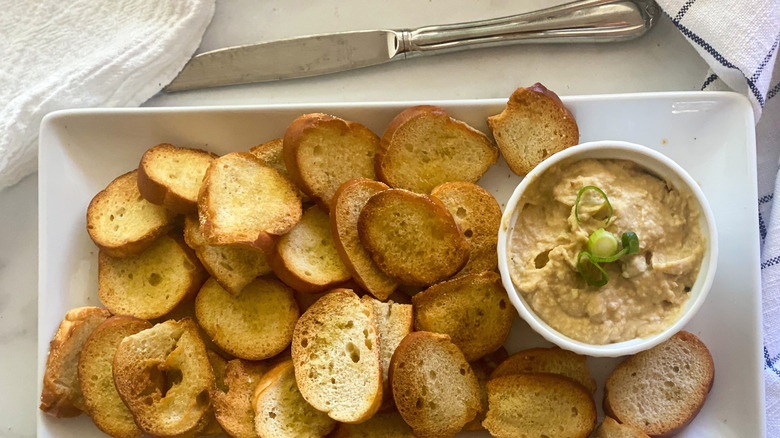 Miriam Hahn/Mashed
We're guessing that the reason Hahn likes to keep her bagel chips simple is because it allows them to be more versatile. The absence of add-ins gives the chips a chance to team up with dips like hummus or baba ganoush for a knockout snack combo. Having said that, Hahn isn't averse to the idea of creating a sweet version of her tasty treat. "If I were going to make a sweet version, I would brush with oil the same way and sprinkle on sugar and cinnamon," she says. 
Easy Homemade Bagel Chips Recipe
Our easy homemade bagel chips recipe is ready in only 13 minutes, and makes it easy to elevate the quality of this well-loved treat.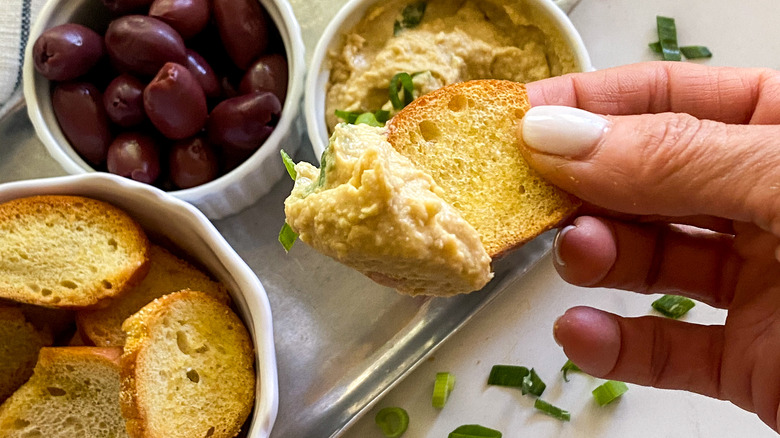 Ingredients
2 unsliced bagels
2 tablespoons olive oil
½ tsp coarse salt
Directions
Preheat the oven to 350 F.
Cut the bagels into four quarters. Cut each quarter into ¼-inch slices.
Lay the slices on a cookie sheet and brush each slice with oil on both sides, then sprinkle with salt.
Bake for 10 to 12 minutes, until golden brown.
Nutrition
| | |
| --- | --- |
| Calories per Serving | 190 |
| Total Fat | 7.4 g |
| Saturated Fat | 1.1 g |
| Trans Fat | 0.0 g |
| Cholesterol | 0.0 mg |
| | |
| --- | --- |
| Total Carbohydrates | 25.9 g |
| Dietary Fiber | 0.8 g |
| Total Sugars | 4.2 g |
| Sodium | 209.0 mg |
| Protein | 5.2 g |