Reddit May Have Spilled The Tea On New Dunkin' Menu Items
With fall just around the corner, coffee chains are bringing out the seasonal flavors. Earlier this month, The Coffee Bean & Tea Leaf announced its fall lineup, which features lots of new pumpkin and toffee drinks. As usual, Starbucks' Pumpkin Spice Latte should be a staple of the season, as fans are quick to order it the moment it returns to stores. Reddit has already spotted the Pumpkin Spice Latte being previewed at the chain for 2022, and the social media site might also have the scoop on what's new for Dunkin' this season.
Not surprisingly, Dunkin's fall lineup includes a new pumpkin treat: cold brew coffee topped with pumpkin cream cold foam. Less predictably, though, what Redditors just found doesn't have to do with pumpkin at all. Earlier this month, u/Erica-Connor-9 posted in the Dunkin' subreddit about seeing a sign promoting dulce de leche and horchata coffee. The user said they checked the Dunkin' app but didn't see these flavors listed, yet there still seems to be some speculation about what Dunkin' is currently testing in some of its stores.
Dunkin' might be rolling out these sweet toasts soon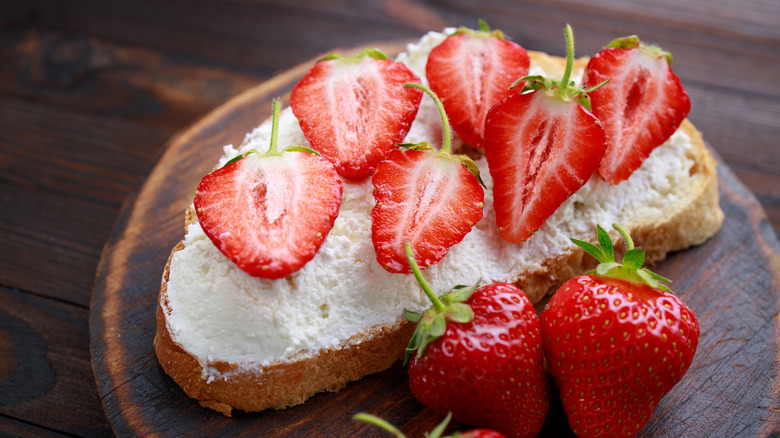 Flotsam/Shutterstock
The top comment on this Reddit post about dulce de leche and horchata flavors coming to Dunkin' is from an employee who said they were "a test item," adding, "My store was supposed to test them but we aren't now." This pretty much confirms that Dunkin' has some new items in the works, and while Redditors didn't explicitly say what these dulce de leche and horchata flavors are for, we're guessing they might be flavor shots or swirls for coffee.
In other news, updated Dunkin' food items might also be on the way. The top comment from u/ryydurr94 continues with, "We are testing hot honey bacon toast and strawberry ricotta toast though," which they called "really good." While Dunkin' has brought out hummus toast and avocado toast in the past, these in-development toasts seem to be incorporating sweeter elements.
We don't have information from any of Dunkin's official accounts about these products, but if you're looking for the test items, Redditors explained that they had seen signs for dulce de leche and horchata in Upstate New York. Not in that area? Satisfy your cravings with an easy homemade horchata recipe or an Instant Pot dulce de leche that makes for a sweet and special coffee topping.