Simple Homemade Seasoned Salt Recipe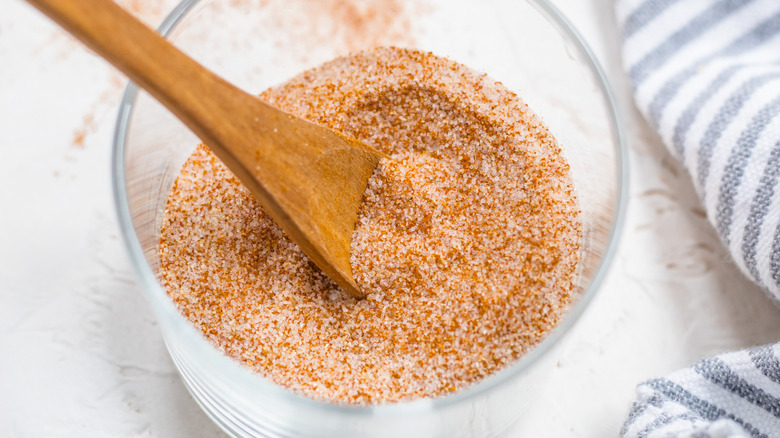 Jaime Shelbert/Mashed
Why sprinkle plain salt on your favorite foods when you could use seasoned salt instead? As the name suggests, seasoned salt features good ol' salt, though there are some other seasonings added to the blend to enhance the flavor considerably. Salt is great on its own, but it doesn't have any other flavor profile besides, well, salty. In this seasoned salt blend, courtesy of recipe developer Jaime Shelbert, there are more complex flavors going on, including garlic, onion, and even a hint of spicy cayenne pepper. 
Sure, you could go out and buy yourself the ever-popular Lawry's seasoned salt, but Shelbert has some pretty convincing reasons for opting for a homemade version. "I love making my own seasoning blend to stay away from unwanted additives hidden in premade blends," she explains. "This is also a cost-effective way to make your own seasoning blend, plus you can tweak the ingredients to suit your liking. This one is super versatile and I use it in many dishes." If you're not a big fan of garlic, you could omit the garlic powder from the blend. And, not a spice person? No problem, just don't add the cayenne. This seasoned salt truly is customizable, versatile, and it will take many of your favorite dishes to a whole new flavor level. 
Grab your seasoned salt ingredients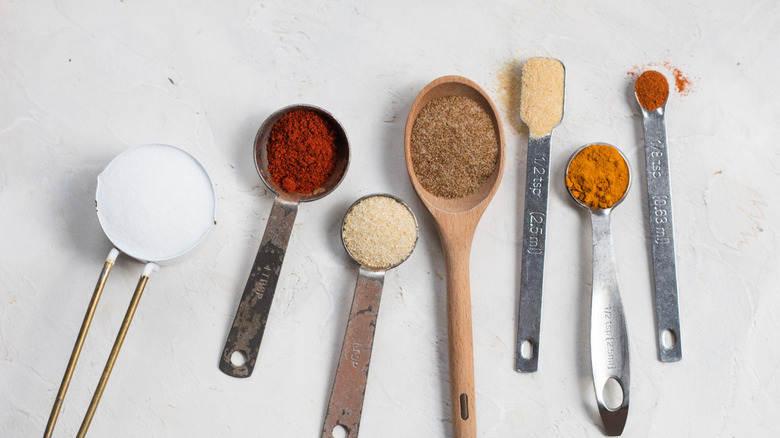 Jaime Shelbert/Mashed
Of course, you'll need some salt for this recipe, and you'll also need celery salt, paprika, onion powder, garlic powder, turmeric, and cayenne. Like Shelbert said, if you don't particularly care for one of the spices, simply omit it from the recipe. 
Mix it all together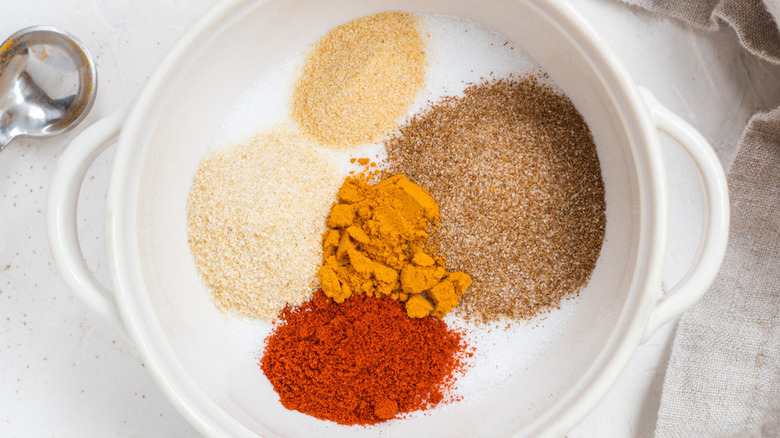 Jaime Shelbert/Mashed
Another great thing about making a seasoning blend at home is that there is essentially just one step: mix it all together! Add the salt, celery salt, paprika, onion powder, garlic powder, turmeric, and cayenne to a bowl, and give everything a good stir. 
Season up your favorite dishes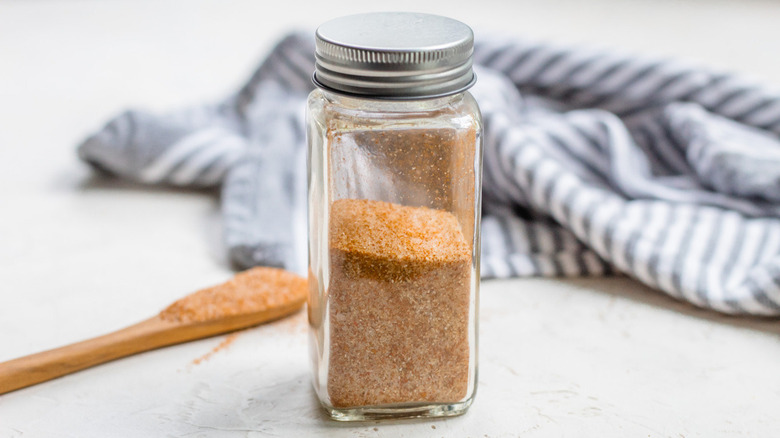 Jaime Shelbert/Mashed
With your seasoned salt all mixed together, simply transfer it to an airtight glass container, and that's it. You're ready to enjoy all the flavor this little blend has to offer, and boy are there countless options out there! "My favorite way to use this salt is to season roasted potatoes or french fries," Shelbert suggests. "You could also use it to season meats [or] roasted vegetables." 
Did you think that was it? Nope, Shelbert has more suggestions, including corn on the cob or even popcorn. "It really can be used any place you would use salt and pepper to add more flavor," she explains.
And, because all the spices in this recipe have pretty long shelf lives, you can count on this blend to last a while. Shelbert says this seasoned salt can "be stored in an airtight container for at least a year."
Simple Homemade Seasoned Salt Recipe
Stop buying pre-made seasoned salt from the store. You can mix together your own blend in a matter of minutes, and it'll taste even better than store-bought.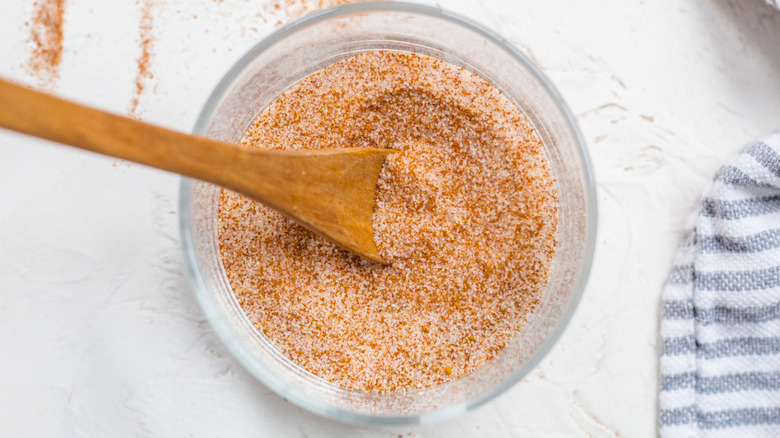 Ingredients
¼ cup iodized salt
2 teaspoons celery salt
1 ½ teaspoons paprika
1 teaspoon onion powder
½ teaspoon garlic powder
½ teaspoon turmeric
⅛ teaspoon cayenne
Directions
Add all the ingredients to a small bowl. Stir to combine.
Store in an airtight glass container.