The Best Wire Grill Brushes Of 2022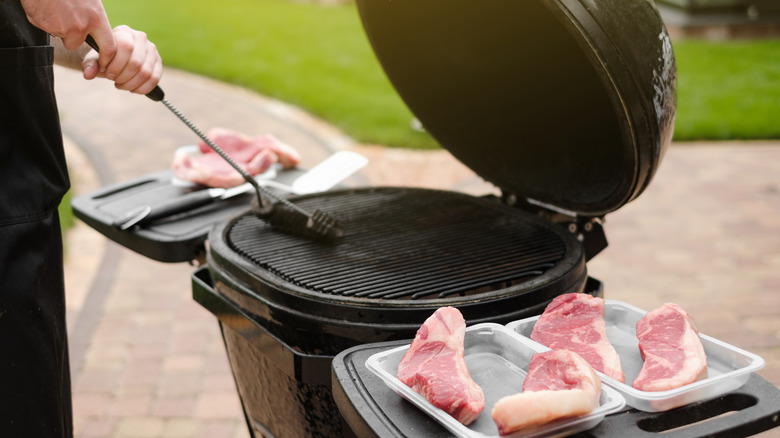 Artem Gorlanov/Shutterstock
We may receive a commission on purchases made from links.
If you have a grill, chances are pretty good that you also have a grill brush. At least, you certainly should have one. These specialized grill accessories come in a variety of sizes, shapes, and materials. At its most basic, a grill brush is made up of two or three components: tightly woven and durable wire attached to a handle. They sometimes have a sharp metal attachment that's used for scraping all of those bits of burned food and grease that the wire part can't always remove on its own. In all, they kind of look like a hairbrush for your grill, and likewise work to keep your grill looking clean and put together.
If you're a grill owner, it's essential that you have one (or more) of these hand, dandy cleaning tools at your disposal. That's because it's vital that you keep your grill free of burnt food and other stuck-on debris. If you don't clean your grill after each use, you risk staining from grease, clogged burners, and also the possibility of attracting a bevy of unwanted rodent guests (via ProGrill). 
When lit on fire, the smoke produced by burned meat could be carcinogenic, though TIME notes that current research hasn't made things completely clear on that front. A dirty grill can become a farm for mold and bacteria, too. In a nutshell, if you care about your grill (and those you're feeding), you'll want to invest in a good brush to keep your grill in good shape.
How we selected products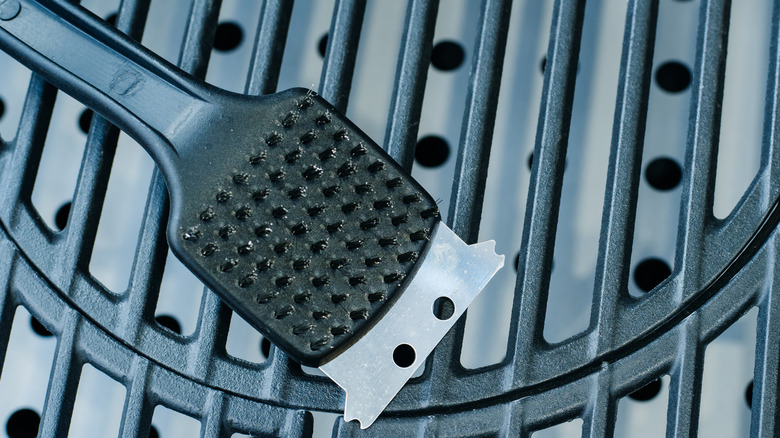 Dmitry Markov152/Shutterstock
As even a quick search can make clear, grill brushes come in a whole host of different shapes, sizes, materials, and price points. With that in mind, we chose the following products based on size, material, and how easy each grill brush is to use and clean. We also considered any extra features a brush might boast, its versatility, and the final price of a given product. There should be just about something for every purpose and budget, even if your wallet is feeling a bit more constricted these days.
Besides looking into the nitty-gritty of things like materials and costs, we also looked at reputable customer feedback, independent assessments from small businesses and larger global retailers. Ultimately, the following categories cover a broad range of wire grill brushes that will hopefully help discover the exact right brush for you, your grill, and all of those hungry diners. All told, there's a little something for everyone.
Best overall wire grill brush
The Kona 360 Degree Clean Grill Brush easily wins the spot for best overall wire grill brush. Amazon reviewers consistently note that this three-in-one stainless steel bristle brush can deep clean even the dirtiest, most neglected grill grates that might be waiting for you out there. Other reviewers were impressed with this product's durability, which stayed strong. Despite aggressive and copious use, the bristles stay intact and functional.
An independent review from The Spruce Eats grants this product high marks not only for the brush's strong, corrosion-free material, but also for how the Kona 360 Degree Clean Grill Brush elevates cleaning to a whole other level, especially with the simple addition of a bit of water. However, when it comes to cleaning the actual brush, there remains a little bit of work involved. OveReview, another independent review source, gives it a 9.1 out of 10 for value, sturdiness, durability, and ease of cleaning.
If you're looking for a seriously versatile grill brush that has just about all the bells and whistles, is still highly affordable, and is also backed by a 5-year warranty, then look no further. 
The Kona 360 Clean Grill Brush is available on Amazon starting at $18.50.
Best budget wire grill brush
Maybe you invested just a wee more money than you had anticipated into a new grill. Of course, you want to make sure that you're keeping up with the maintenance as soon as you start cooking, but something budget-conscious would be nice. What to do?
The Quickie Grill Scrubbing Brush is an economical and easy-to-use grill brush option that does what it's supposed to do: gets your grill grate clean. This brass bristle brush is toted by Amazon reviewers for its value. Many also claim that it works best for smaller grill grates. Though it is on the smaller side, the Quickie Grill Scrubbing Brush has a rather sturdy handle that makes it easier to get into the crevices of your grill grate, all in service of achieving a deeper clean.
Best Views Reviews gives it a 7.4 out of 10 for durability, quality, size, value, and overall customer satisfaction. However, some reviewers claim that the actual handle on the Quickie Grill Scrubbing Brush is much too short to use on a larger grill. However, the fact that this is a brass bristle brush indicates that it's to be used on smaller, more delicate ceramic and porcelain grills like the much-loved Big Green Egg.
If you're looking for a basic, easy to use grill brush for preventative maintenance or to use for mildly dirty grill grates, check out the Quickie Grill Scrubbing Brush on Amazon, starting at $9.
Best wire grill brush splurge
You know how the saying, "everything's bigger in Texas," right? Well, the same goes for their grill brushes. (Texas is, after all, known for their barbecue.) If you've got a big grill grate to clean, and also a few extra dollars to spend, and are looking for high-quality, made in America, grill products, then the Texas BBQ Horseshoe Brush, by The Texas Brush, is something you should check out.
The Texas Brush BBQ Horseshoe Brush enjoys a 4.6 out of 5-star rating on Amazon. This beefy grill cleaning tool is referred to as a beast of a brush largely because of its extra long metal handle (33 inches long, to be precise), which helps to keep you safe from burns. It also gives you excellent leverage when it comes time to clean the grill grate. Independent review blog PatioDaddioBBQ also gives kudos to the Texas Brush BBQ Horseshoe Brush for having interchangeable brush head options.
That said, one Amazon critic warns that the brush bristles are too far apart to be fully effective when it comes to cleaning the grate. Then again, perhaps they're not using a Texas-sized grill.
If you're looking for American-made, larger-than-life grill cleaning tools, then git along, lil' dogie and head over to Amazon, where you can buy the Texas Brush BBQ Horseshoe Brush starting at $80.
Best wire grill brush for power scrubbing
If you're into power tools but also like to clean, then Drill Brush's Grill Cleaning Kit will be your new grilling BFF. Included in this kit are six unique attachments meant to attach to a power drill. Each piece in the kit is designated to attack-clean a different part of your grill, including the grates, flame shields, interior, and exterior. Really, your mind is the only thing holding you back when it comes to making the most out of this unique kit. Amazon reviewers find these to be much more efficient than the typical bristle or wire grill brush, giving the Drill Brush Grill Cleaning Kit 4.6 out of 5 stars.
It's important to note that the attachments are technically not made of wire, but that's for a good reason: the sheer power combination of a real wire brush and an electric drill would severely damage your grill baby,. This means that some Amazon customers warn that the Drill Brush's Grill Cleaning Kit doesn't fully work on super tough grime. Yet Drill Brush creates a variety of attachments that come in different colors (each is meant for a different surface), so perhaps some of these reviewers got a bit mixed up.
If you're looking for a fast, powerful, and kind of grandiose way to clean your dirty grill, you can buy the Drill Brush Grill Cleaning Kit starting at $28 on Amazon.
Best stainless steel wire grill brush
If you're looking for a heavy-duty grill brush manufactured by a respected cookware authority, then Cuisinart's 16.5-inch Stainless Steel Brush and Scraper wins in this particular arena. With over 15,670 reviews and a 4.5 out of 5 stars on Amazon, this currently is the number one bestseller in barbecue tool sets for this particular merchant. Reviewers consistently state that this is a grill brush that will last throughout the ages. Many also like that fact that it's dishwasher safe. Meanwhile, Don't Waste Your Money gives Cuisinart's Stainless Steel Brush and Scraper a 9.1 out of 20, based on reviews from industry experts.
However, it's also important to note that some reviewers think the handle is too short, which means you might expose your skin to a hot grill grate during the cleaning process. Home Depot reviewers also claim that the bristles are too short to get a good, deep clean. Still, that may be only a minor quibble to you, and it's worth noting that Cuisinart's Stainless Steel Brush and Scraper also comes with a one-year warranty.
If you're a fan of Cuisinart and are looking for a beefy stainless steel appliance that can be left outside without fear of it rusting, purchase the Cuisinart Stainless Steel Brush and Scraper on Amazon starting at $10.
Best wire grill brush with replaceable parts
The harsh truth is that you can't become too attached to your grill brush. That's because the sad truth is that, once it's become really worn down, that brush will have to be thrown out and replaced. That's why BBQ-Aid's Grill Brush and Scraper is the perfect choice for those of you who cling to your favorite tool, given that nearly all of the parts on this brush are all replaceable.
Best Views Reviews says that this 15-inch wooden handle has a nice, comfortable grip and appreciate that it's extra sturdy, because the wood encapsulates the stainless steel handle. One of the reasons Amazon reviewers give BBQ-Aid's Grill Brush and Scraper high marks (4.6 out of 5 stars with a 77% approval rating) is because you can purchase replaceable brush pads. BBQ-Aid has excellent customer service. One minor issue worth noting is that some individuals mention that BBQ-Aid's Grill Brush and Scraper has soft bristles that could be stiffer.
If you're one of those grill fans who appreciate serious longevity, then purchase BBQ-Aid's Grill Brush and Scraper on Amazon starting at $20.
Best brass wire grill brush
Brass grill brushes aren't meant for every single grill. According to Grillaholics, brass bristles are softer and are best suited to grill grates made from porcelain or ceramic, like Kamado Grills. The Grillaholics Essential Brass grill brush also excels in the world of these rather niche market brushes, because its brass bristles are larger than the typical bristle brush.
Although Grillaholics Essentials Brass grill brush holds up quite well on porcelain and ceramic grates, it will eventually begin to rust and break down. Some reviewers therefore question its durability, claiming that their Brass Essentials grill brush broke after just a month of use. However, Grillaholics also excels in the customer support department, which impressed multiple customers.
If you're looking for a grill brush that works for softer grill grates, has a proven positive track record, and comes with a lifetime warranty, then purchase the Grillaholics Essentials Brass grill brush on Amazon for $21.
Best bristle grill brush
There are some individuals who loathe bristle brushes and others who swear by them. If you're part of Team Bristle, then the Weber Bamboo Bristle brush is just the grill tool that you've been looking for. Super sturdy and easy to use, this bamboo product is available in a 12-inch and 18-inch length. Amazon customers note that the Weber Bamboo Bristle brush is incredibly strong and does a great job of removing hardened grease and food residue. Other Amazon reviews also appreciate that the handle is longer than other models and doesn't retain heat.
Some found it difficult to get their grates entirely clean, claiming that the bristles aren't angled correctly. Others feel that the quality is questionable compared to the same Weber Bamboo Bristle brush manufactured a few years prior. 
If you're looking for an eco-friendly, affordable, and no-frills bristle brush that gets the job done without breaking the bank (or burning your hand), Amazon sells Weber's Bamboo Bristle brush for $18.
Best wire grill brush for the grill wizard
The Grill Daddy Grand Platinum Cleaner is made for the grill master who takes their cleaning very, very seriously. Constructed with lightweight aluminum, this futuristic grill brush has a built-in reservoir that allows you to steam and clean a grate at the same time. Even though it's pretty beefy, the Grill Daddy Grand Platinum Cleaner is maneuverable, with Amazon customers praising its high quality construction (and giftability). Williams Sonoma customers claim that it just could be the best brush ever, noting that it's easy to store, simple to clean, and highly effective at destroying greasy grill buildup.
On the flip side, some are less than enthused with the Grill Daddy Grand Platinum Cleaner's water reservoir. Some claim that it leaks, while others cite that it's difficult to fill because the hole is too small. Overall, we think this is a part grill brush and steamer combination that is a great addition for those who don't mind spending a few extra bucks for a sparkly clean cooking appliance. 
Buy the Grill Daddy Grand Platinum Cleaner on Amazon starting at $99.
Best combo wire grill brush
The GRILLART Brush and Scraper combo is a versatile, durable, and lightweight option for those who are seeking out a reputable two-in-one tool. It ranks 10th on Amazon's best-selling grill brushes, and has a 78% satisfaction score with over 13,550 global reviewees. Walmart's consumers note that it's incredibly sturdy and that the scraper really allows you to get in and give the grill grate a good, satisfying deep clean.
Note that this is a bristled brush, so it tends to break down more quickly than wire brushes. In fact, across all the websites we sourced for reviews, the premature shedding of wire bristles was mentioned more often than not. Don't Waste Your Money also claims that it's not convenient for larger grills and that it's a bit cumbersome to use.
All in all, the GRILLART Brush and Scraper makes for a top choice when it comes to combination grill brushes. If you're looking for an easy to clean, duo-use brush that works for on all grill grates, head on over to Amazon, where you can purchase one starting at $23.
Best wire grill brush for all grill types
The Kona Safe/Bristle-Free grill brush is the perfect addition to your grill lineup for those of you who aren't interested in bristle brushes. This is also a great choice if you only want one brush in your grill-cleaning repertoire (that also works on all grill types).. Backed by a 10-year warranty, Kona's Safe/Bristle-Free grill brush is considerably tougher than other, more conventional grill brushes. It utilizes tightly wound, stainless steel coil wires to get in the nooks and crannies of the grill grate. Because of this engineering feat, the Kona Safe/Bristle-Free grill brush does not shed wires into your food — which is one of the reasons why this particular Amazon reviewer calls the Kona Safe/Bristle-Free grill brush the "best d*** grill brush ever!"
While its longer handle was engineered to prevent burns you might incur while cleaning, some reviewers have warned that it's not as sturdy as it seems, citing that the brush bent a bit too easily or simply broke in half due to a flaw in the design. Some Walmart commentators have mentioned that it actually does not work with every type of grill.
If you're looking for a high quality, durable stainless steel grill brush that can mostly be used on all grill types, buy the Kona Safe/Bristle-Free grill brush on Amazon starting at $22.