Guy Fieri Is Bringing His Cooking Skills To Stagecoach 2023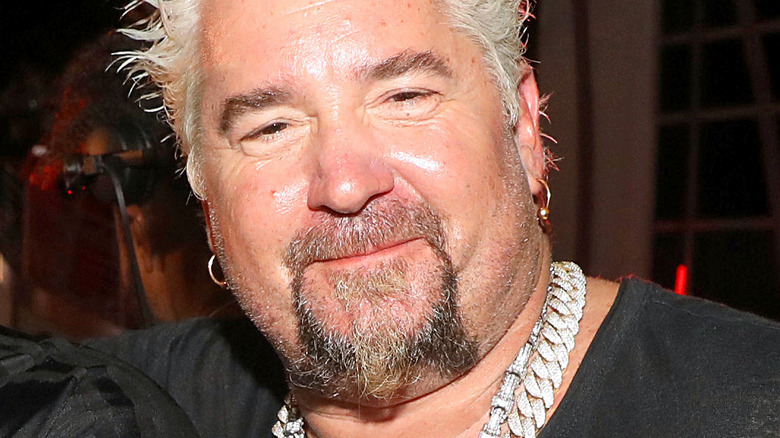 Aaron Davidson/Getty Images
The Stagecoach country music festival's program is set for 2023, and Guy Fieri, with his cooking skills, will be there once again.
Country music was born in small-town America, or Bristol, Tennessee, if you want to give the "small-town" a name, (per America's Library). For this reason, it's hardly a surprise that the annual Stagecoach event is considered one of the world's biggest country music festivals. Stagecoach launched in 2007, per the San Diego Union-Tribune, and like many other events, it was suspended for two years due to Covid. On its return in 2022, the festival hosted a record-breaking 80,000 attendees.
The 2022 turnout seems to have created expectations for its return on April 28, 2023. So great is the anticipation that its line-up is already set with some of the biggest names in music. Some headliners include Luke Bryan, Chris Stapleton, Kane Brown, and ZZ Top. For music fans who love food, Fieri's Stagecoach Smokehouse will also be there.
What does Guy Fieri actually do at the Stagecoach festival?
Guy Fieri's appearance at the 2023 Stagecoach festival will not be his first rodeo. At Fieri's Stagecoach festival debut in 2018, he did what he does best — cooked and fed the masses (per E! Online). During his second year in 2019, the celebrity chef hosted musician Bret Michaels and demonstrated to spectators how to cook chicken (per the Daily Breeze).
The University of California's student newspaper, Daily Bruin, reported that Fieri hawked "fried chicken and cheesy meals in heavily branded boxes" at his third Stagecoach visit in 2022. Stagecoach tweeted a video of Fieri at the same event, handing out a gaudy Fieri-branded T-shirt as the barbecues sizzled with copious quantities of sauce-slathered ribs. Looking forward to 2023, the video's caption reads, "get ready to crank up the flavor with some of the nation's top pitmasters, cooking demos with artists from the line-up, and more." 
There is no indication of what is on the 2023 Stagecoach Smokehouse menu, but, according to Deadline, he will entertain from behind the grills once again as he demonstrates his cooking skills alongside attending artists.