What Happened To The Tons Of Food Left Behind By Queen Elizabeth Mourners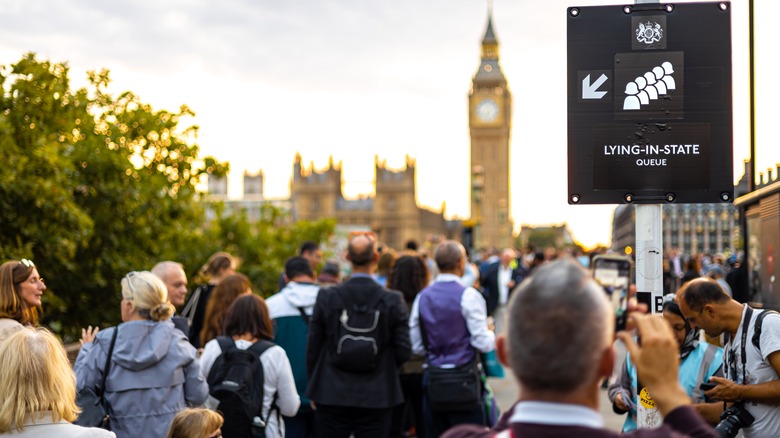 Alexey Fedorenko/Shutterstock
With lines that stretched out for hours, it was natural for those who wanted to pay their last respects to Queen Elizabeth II as she lay in state in the Palace of Westminster to pack a meal, or a snack. Unfortunately, the U.K. Government was clear about what it would, and wouldn't allow into the hall. People could only bring small bags and any food or beverages brought to provide sustenance had to be consumed before they entered the hall. Anything that wasn't eaten before it was time to enter the hall was meant to be thrown away.
But all that changed when the Scouts pitched in to help crowds prepare to enter the Palace. They said they had first begun to notice how many people were standing in line before discovering how much was being thrown away. They then decided to start collecting the food to share with others in the lines "but there was so much of it, we needed to do something a bit more," per Twitter.
The charity effort picked up two tonnes worth of food
According to a video on Twitter, the Scouts chose to reach out to Felix Project, a London-based charity project which looks to tackle food poverty and food waste by working with getting food that cannot be resold and would have been wasted, and diverting that to charities instead. As a result, the Scouts found a use for what ITV described as "hundreds of kilos of food" made up of snacks like chips, chocolates, and cookies. The charity even managed to pick up blankets that mourners might have brought but eventually wanted to discard. The BBC says the charity believed it would have collected more than two tonnes of food from the endeavor.
As Charlotte Hill, the Felix Project's chief executive put it, "We are [honored] to be here to play a small part in this hugely poignant event and to know that an extra layer of good is being done here. This food is a hugely unique donation and will help hundreds of people who are struggling to afford to eat" (per ITV). She added, "We need more food, so opportunities like this are truly wonderful." We can't help but think that the queen would have applauded the endeavor to help reduce food waste, too.