The Best Cold Brew Coffees Of 2022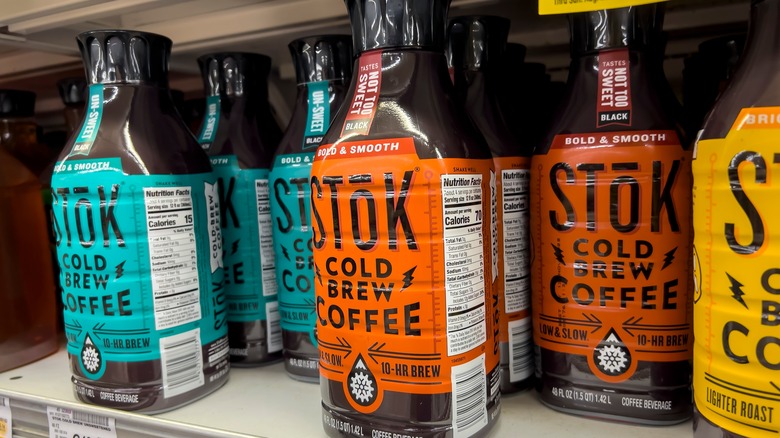 Colleen Michaels/Shutterstock
We may receive a commission on purchases made from links.
Cold brew coffee is pretty much the nectar of the gods, and has seen a surge in popularity over the past five or so years, as noted by the New York Times. How popular? Technavio states that between 2020 and 2025, it's estimated that the cold brew coffee industry will rake in $1.37 billion dollars. 
But what exactly is cold brew coffee? It's not just leftover coffee from the previous day, for starters, and it's markedly different from iced coffee. Instead, it's a unique way of crafting a coffee that's won many fans. Making cold brew is a much lengthier process, that can take anywhere from 12 to 24 hours. The result is a smooth, low-acidity coffee that many adore.
In today's cold brew coffee market, there are many different brands trying to become the next big thing in caffeine. You can find cold brew coffee in a brew-it-yourself form (that's ground coffee), in a bottle or can, on tap, and as coffee concentrate. Some of the grab n' go cold brew coffees are straight black, while others contain milk or come in different flavors. When it comes to coffee, it's never a bad thing to have too many options. 
How we chose products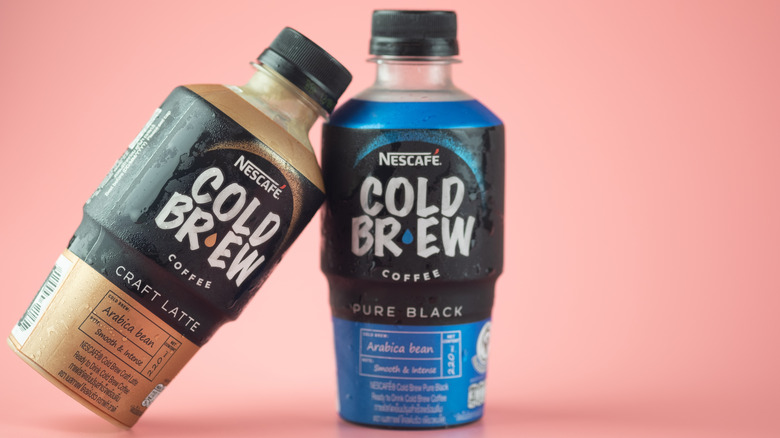 Dontree_M/Shutterstock
Today, it's clear that the cold brew coffee market is pretty ginormous, with brews ranging from nothing-added black coffee to sweet, sugary lattes in a convenient, portable can. It all adds up to quite a big lineup, which can most definitely get overwhelming — especially if you need some caffeine in the first place. Lucky for you, we've sourced the best of the best for this list, paring down a wide field into a more reasonable list of your best options.
What went into the selection process? We chose the following cold brew coffees based on not only the price and volume of each type, but also a given brew's unique ingredients, its flavor, and acidity. We also took a look at reputable consumer reviews from a variety of sites and sought out input from smaller but knowledgeable sources that are authorities in the wonderful world of coffee. With all that work, we feel confident in saying that these are some of the best cold brew coffees of 2022.
Best overall cold brew coffee
STōK coffee earns the title of best overall, but not just based on its taste (though that's quite delightful, too). The Colorado-based company is also part of the B Corp movement (via STōK), which means they follow responsible business and ecologically sustainable practices. To that end, STōK only brews with Rainforest Alliance Certified coffee beans, which means that when you purchase a bottle of their cold brew, you're supporting small farming communities and the planet.
In terms of flavor, cold brew coffee lovers on Influenster enjoy the brand's smooth and strong flavor, noting that there is no next to bitterness or acidity in the mix. Because of this, STōK cold brew coffee is well-suited to those with sensitive stomachs. STōK cold brew coffee is rated 4.8 out of 5 for overall satisfaction on Amazon, with 87% of iced coffee drinkers giving it 5 big gold stars. Be sure to note that this is straight coffee, not concentrate as offered by other brands. So if it seems a bit weak, as some claim, there's no easy way to give it an extra kick.
If you're looking for sustainable, eco-savvy cold brew that can be chugged straight from the bottle, head on over to Amazon to purchase STōK Cold Brew Coffee for $20.
Best introductory cold brew coffee
Blue Bottle Coffee has been roasting and selling coffee since the early 2000s, with its cold brew arriving on the market in the mid 2000s. What makes Blue Bottle's cold brew coffee so distinguishable is that it pride its on brewing smooth, well-balanced, and low-acid coffee. 
Coffee Review rates Blue Bottle's take on cold brew an impressive 93 out of 10, stating that this particular coffee is smooth and well-balanced. It also doesn't lose its complex flavor profile if you add dairy or plant-based milk, as one Amazon reviewer notes. Some Influenster reviewers found Blue Bottle's cold brew to be a bit on the acidic side, but said that the addition of oat milk helps to curb that.
The main issue most Amazon consumers have is with Blue Bottle's relatively hefty price tag. However, this company has been brewing for decades. We think that's a good sign you're paying for a premium product. If you're a beginner, don't be afraid. You're investing in what a true, clean cold brew coffee should really taste like.
Purchase an 8-ounce can of Blue Bottle Cold Brew Coffee on Amazon for $4.
Best cold brew coffee for a crowd
Wandering Bear prides itself in brewing 100% organic cold brew that not only gives you an extra punch of caffeine (thanks to an added two shots of espresso per serving), but also stays flavorful and potent for up to 30 days. Review blog The Quality Edit praises Wandering Bear's cold brew for its innovative and eco-conscious packaging, too. The box and bag are all 100% recyclable, and the cap — one of those troublesome pieces that typically ends up in a landfill (via Silgan Closures) — is made out of sugarcane. Each box is 96 ounces, which yields approximately 16 servings.
Duuude writes that this is coffee shop-quality cold brew is strong, bold, and refreshing, and has no trace of bitterness that some cold brew coffees sometimes carry. Amazon reviewers comment that while it's a bit pricey, the quality is unparalleled. Other Amazon reviewers also say that the convenience of having strong, flavorful cold brew at your disposal is a pretty big game changer.
If you're looking for highly caffeinated, flavorful, and convenient cold brew coffee that's also super eco-friendly, buy a 96-ounce box of Wandering Bear cold brew coffee on Amazon, starting at $40.
Best cold brew coffee concentrate
With over 21,450 ratings with 74% overall customer satisfaction on Amazon, the spot for best cold brew concentrate easily goes to Javy Coffee. Each 6-ounce bottle goes way beyond its small size, making up to 30 cups of cold brew java, with each serving coming in at 60 milligrams of caffeine. Convenience and flavor rank high among reviews on the Javy Coffee website. Some individuals also note that it's an affordable and money-saving cold brew option.
Honest Brand Reviews notes that Javy cold brew concentrate, which comes in a glass bottle, also has less of an environmental impact compared to competitors that use plastic containers. What's more, it sources coffee beans from organic and fair-trade certified farms. Amazon consumers appreciate its portability and note that it's not overwhelming or bitter, and that it has a nice, clean taste. Some reviewers claim that this particular cold brew concentrate tastes rather weak, but that could easily be a matter of getting the ratio of water to concentrate wrong.
If you're looking for a cost-effective, convenient, sustainable, and flavorful cold brew concentrate, purchase Javy cold brew concentrate on Amazon, starting at $20.
Best brew-it-yourself cold brew coffee
If snagging a grab n' go bottled cold brew isn't really your thing, then you may prefer to go the "brew it yourself" route. If that sounds like you, then check out Bizzy's Smooth & Sweet Organic Cold Brew. This company has only been in business since 2015, but it's already an Amazon bestseller in the iced coffee and cold brew category. It also ranks in the top 20 for the ground coffee division. With over 12,550 Amazon ratings, Bizzy's Smooth & Sweet Organic Cold Brew has 4.6 out of 5 stars with a 75% 5-star turn out.
Amazon cold brew commentators love that Bizzy's Smooth & Sweet Organic Cold Brew is sustainably produced and uses only organic, ethically-sourced coffee beans for all its products. Other reviewers note that it works incredibly well for making cold brew concentrate, and that it lives up to the "smooth and sweet" claim on its packaging. 
Some complain that Bizzy's Smooth & Sweet Organic Cold Brew is pretty weak. However, keep in mind that Bizzy states its cold brews have a lengthier steep time compared to the 12 to 24 hour standard for other cold brew setups.
If you're an eco-warrior who also likes to brew your own cold brew coffee, buy Bizzy Smooth & Sweet cold brew coffee on Amazon, starting at $15.
Best cold brew coffee latte
It's okay if you prefer your cold brew in a can for convenience's sake. Likewise, it's also perfectly fine if you want a bit of cream and sweetener to go along with that coffee flavor. If you're constantly wishing that your cold brew coffee was stronger, we also think that it's completely acceptable to toss in a few espresso shots. Ultimately, coffee is ab all-encompassing bevvie with literally something for everyone. This is why La Colombe's Triple Draft Latte might just be the answer to your coffee prayers.
This rich and creamy latte in a can contains 175 milligrams of caffeine (the equivalent of three shots of espresso), is made with reduced fat, lactose-free milk, and is sweetened with cane sugar. The fact that it's not overwhelmingly sweet is one aspect of La Colombe's Triple Draft Latte that Amazon reviewers wholeheartedly appreciate. Let's face it — finding a well-balanced, perfectly sweetened canned coffee is pretty tough in a world where sugar is king.
Other reviewers love the creamy, textured microfoam. The Coffee Concierge rates La Colombe's Triple Draft Latte a solid 8 out of 10 overall, giving it an 8/10 on taste (they say it's too sweet, meaning you can't taste the coffee), a 10/10 for its availability, and 7/10 for ingredients and pricing.
If you're looking for a foamy, caffeinated, and well-balanced latte in a can, purchase a 12-pack of La Colombe Triple Draft Latte on Amazon starting at $32.
Best low-acidity cold brew coffee
Cold brew coffee is up to 70% less acidic than normal hot-brewed coffee, largely because the cold water doesn't pull out the acidic oils that are contained within the coffee bean as readily as hot water does (via Insider). The result is a coffee that not only has a lower pH, but also a smoother, sweeter, taste.
High Brew Coffee's Mexican Vanilla is the perfect choice for those who need to refrain from highly acidic drinks but still really need their morning coffee. This Austin, Texas company sources only the highest-quality, Fair Trade Certified beans from sustainably-managed farms. For each can purchased, High Brew Coffee also donates a portion of its sales to support farmers (via High Brew Coffee). On Amazon, more than a few customers praise High Brew Coffee's smooth taste and well-balanced profile. Meanwhile, it's actually converted this Influenster reviewer so thoroughly that they say they no longer need Starbucks.
If you're looking for a flavorful, smooth, and well-balanced low-acid cold brew, purchase a 12-pack of High Brew Coffee's Mexican Vanilla on Amazon for $24.
Best black cold brew coffee
Made with 100% Direct Trade Arabica coffee beans, Califia Farms Unsweetened Cold Brew is pure, unadulterated java juice. Cold brew-loving Amazon reviewers note that it's flavorful and smooth, while it also makes a great-tasting mocha. Califia Farms Unsweetened Cold Brew is also less acidic than its hot coffee counterpart, which means those of you who have more sensitive stomachs should still be able to enjoy a glass or two.
Influenster reviewers note that this pure, black medium-roast cold brew is mellow and bold, while another cold brew-loving Influenster confirms that it's an incredibly strong cold brew that's also very smooth. Amazon coffee critics also mention that Califia Farms Unsweetened Cold Brew is pretty potent. We think that's nothing that a little creamer or flavored syrup can't fix if you're not up for a strong brew. Ultimately, although it may be stronger than the average bottled cold brew, this is a flavorful, clean, and rich-tasting coffee that has serious fans. 
If you're interested in very strong, dark, and highly caffeinated cold brew, Amazon carries Califia Farms Unsweetened Cold Brew Coffee starting at $6.30.
Best organic cold brew coffee
Elevated Coffee Brew notes that Jot focuses not only on using only the cleanest and most premium ingredients for its organic coffee concentrate, but that the company is also incredibly conscious of its environmental footprint. Jot's organic coffee concentrate also garnered points for its versatility and convenience. My Subscription Addiction added that this brew can also be used to flavor baked goods, frozen desserts, frostings, and other treats.
Jot's organic coffee concentrate is meant to be diluted with milk or water, given that the tiny bottle is 20 times stronger than a traditional cup of joe. It contains about 14 servings, so all you need is a single tablespoon to make the perfect cold brew. If it's too strong, simply adjust your ratio of concentrate to water, as one Amazon reviewer pointed out.
Amazon cold brew concentrate aficionados also note that Jot's Organic tastes stronger and cleaner than other generic brands currently on the market. However, a small number weren't impressed with the flavor and feel that it's over packaged and overpriced.
If you don't mind throwing down a few extra dollars for a premium-quality product, purchase a bottle of Jot Organic Coffee Concentrate on Amazon starting at $26.
Best cold brew coffee with nootropics
Nootropics are, generally speaking, a class of drugs and compounds that are believed to enhance your brain, as per TIME. Nootropic java is relatively new on the market, but science-focused blog Futurism predicts that it could be the next big thing in the world of smart drugs and coffee beans. Enter Pop & Bottle, the winner for best bottled nootropic cold brew coffee. This woman-founded company sources organic and Fair Trade Certified ingredients to create what are said to be cognition-enhancing grab n' go canned lattes. Currently, Pop & Bottle offers three different latte flavors: classic (with added cascara), vanilla (with collagen), and mocha (with adaptogens). In place of refined sugar, Pop & Bottle sweetens its non-dairy lattes with dates.
Eco-conscious Amazon reviewers love that Pop & Bottle is a purportedly healthier alternative to straight black coffee, especially given that these canned lattes also contain MCT oil. However, some did find that these small cans were on the pricier side. However, if you're a stickler for flavor, don't drop a ton of money on this brand right away. A few unhappy reviewers have warned that the taste leaves much to be desired, and a few individuals even found their Pop & Bottle Oat Milk Lattes to be a bit chunky.
Purchase a 12-pack of Pop & Bottle Oat Milk Cold Brew lattes on Amazon, starting at $50.
Best nitro cold brew coffee
Nitro cold brew came into existence around 2013 thanks to the work of food scientist Nate Armbrust, according to C&EN. Armbrust was working for Portland, Oregon's Stumptown Coffee Roasters at the time. Ultimately, nitro coffee is what it sounds like: cold brewed coffee that has been infused with nitrogen. This magical mixture gives the coffee an almost beer-like appearance when poured into a glass, either from a can or a draft tap. Stumptown Coffee was one of the first companies known to brew, bottle and sell nitro coffee in stores around the United States.
Hair Bender is one of Stumptown's more recent additions to its canned nitro lineup, which Amazon nitro cold brew coffee lovers claim is smooth and flavorful. Meanwhile, Imbibe praised this dark roast coffee, noting that the nitrogen infusion really brings out the dark chocolate and citrus undertones of the brew, which can be somewhat difficult to taste in normal hot or cold-brewed coffee.
Stumptown's Nitro Hair Bender cold brew is available on Amazon, starting at $4.50.
Best vegan cold brew coffee
If you've ever seen the herbivorous marsupial known as a quokka, then you know that they're pretty much the happiest, most zen little critters on the planet. We think it's safe to say that you'll also be smiling once you take a sip of Quokka Brew Jitter-less Coffee. That's because each can consists of a patent-pending cold brew coffee formula that will give you all the energy, but none of the jitters ... or the much-dreaded afternoon caffeine crash. Quokka Brew Jitter-less Cold Brew contains only 60 calories and 5 grams of sugar and it 100% vegan (via Quokka Brew).
What's even more delightful is the fact that Quokka Brew's Cereal Milk Latte tastes just like the milk left over after eating your favorite chocolate cereal. Each can contains 135 mg of caffeine, plus green tea-leaf extract to help calm nerves, L-theanine for focus, and ginseng to help clear your afternoon brain fog.
BevNet explains that the company uses organic, Fair Trade coffee that very chocolate-forward. They do feel it could be sweeter, but the addition of oat milk gives it a nice, medium creaminess to balance things out. Reviewers on Quokka Brew's website note that it's a great alternative for caffeine-sensitive individuals, as well as those following plant-based, low-sugar, and low-carb diets.
If you're looking for a flavorful, crash-free, low-sugar and plant-based cold brew, purchase a 12-pack of Quokka Brew Jitter-less coffee on Amazon starting at $40.