Trader Joe's Just Got A New Pasta Sauce And Instagram Is Freaking Out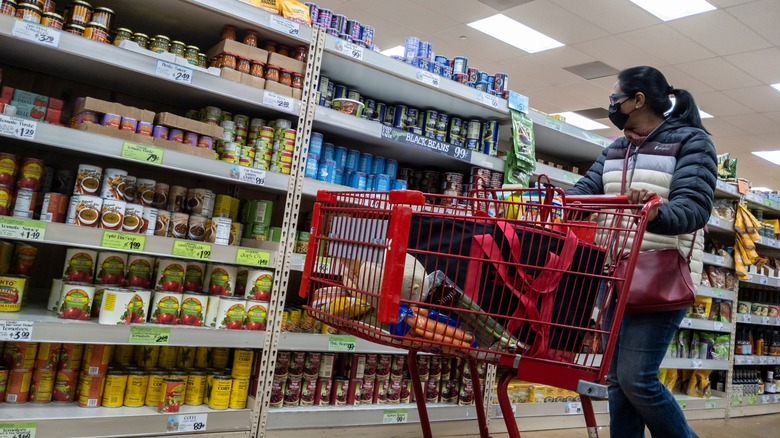 Colleen Michaels/Shutterstock
Don't be fooled by the tropical decor — Trader Joe's selection of Italian food would rival your Italian grandmother's pantry. One might say the inventory of options on the Trader Joe's website resembles a tour of Little Italy.
On a tour of the store itself, you will encounter a case full of different refrigerated pasta options, including classics like Spinach Tortellini and seasonal favorites like Honey Roasted Pumpkin Ravioli. The aisle of internationally-inspired grocery items is equally as diversified. You can find boxed pasta in any number of shapes, pizza crusts and an array of olive oils. Last but certainly not least, Trader Joe's offers sauce to complement whatever you're serving. From straightforward marinara to spicy arrabbiata, the grocer has an option that doesn't require hours of toiling over a hot stove.
The chain debuted a new sauce that customers are rushing to stores to buy, according to an Instagram post from yesterday by @traderjoeslist.
Artichokes shine in new jarred sauce
Trader Joe's jarred pasta sauce comes in a smorgasborg of varieties according to the store's website, but a new option is serving up a tangier Mediterranean flavor.  Organic Artichoke Pasta Sauce retails for $3.49, @traderjoeslist pointed out in an Instagram post. "It has a tangy artichoke flavor and the sauce itself is thick with a meaty like texture. It's like shredded artichoke hearts with undertones of citrus and pepper," the caption read. Trader Joe's provides more details, explaining that the sauce includes ingredients like ricotta cheese, Parm, and pieces of artichoke hearts.
Customers applauded the new sauce in the Instagram comment section. Some customers were already brainstorming what they would top with the jarred culinary creation. "Just made it with the Cauliflower Gnocchi & Sweet Italian Chicken Sausage!! So good!" said one commenter. Another thought beyond pasta. "I was thinking maybe on a pizza. Or mixed with tuna on a sandwich?" they mused.