Gordon Ramsay's All-Time Favorite Stew Is A Unique Take On A Classic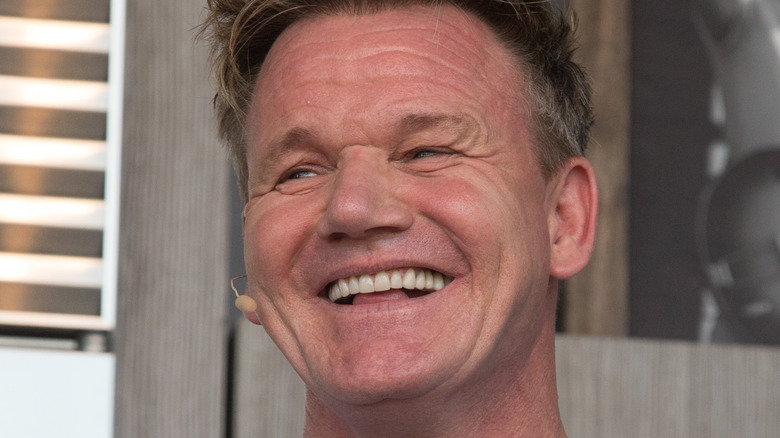 Sterling Munksgard/Shutterstock
Gordon Ramsay gets a lot of attention for the acerbic behavior he exhibits on his shows. Often, his cooking skills are eclipsed by his personality. Luckily, he also makes YouTube videos that are a far cry from the caustic raving that made him a household name on programs like "Kitchen Nightmares" and "Hell's Kitchen." On Ramsay's YouTube channel it's possible to see him interact with his family, make some fabulous food, and behave like a gentleman. This refreshing look helps bring the focus back to cooking and humanizes Ramsay until he's almost lovable. It's one of the many transformations Ramsay has undergone, and might just be the best one yet.
Without all the shrieking and telling people they are stupid donkeys, it's a lot easier to get good recipes and cooking advice out of the venomous chef. It's also possible to learn more about what Ramsay actually eats and to see how much he worships the food he makes. He really shines when he adores a dish and wants to explain how he makes it his own. In one such example, Ramsay discussed his favorite stew. It turns out that the stew he most cherishes is simple and traditional, made with patience and very little flash.
A beef and ale stew Ramsay says will 'stick to your ribs'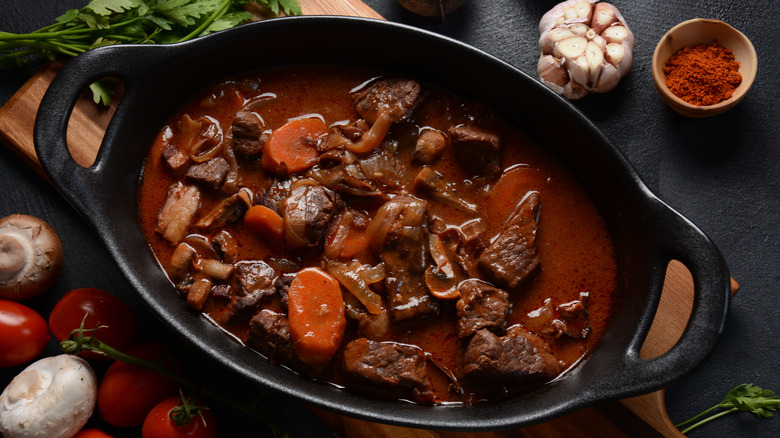 Natalia Hanin/Shutterstock
In a YouTube video entitled "Two Sunday Roast Dinners," Gordon Ramsay and his children cook up a whole arrangement of mouth-watering dishes. The video covers numerous items, from Eton Mess dessert to twice-baked potatoes. One of the meals they whip up far more easily than any mere human could is beef and ale stew complete with mustard dumplings. Ramsay says that this is "a dish that every home cook should have a recipe for." He's joined by his daughter Tilly, who does the lion's share of the actual work.
Many people make the same mistakes when cooking beef stew because it's a deceptively simple dish. To many, a stew is what you make when you have a load of stuff in your cupboard that you want to throw into a pot and forget about. This is possible, but Ramsay says, "Stews are easy to make, provided at the beginning you give it a little bit of love." The "love" to which he refers seems to be ensuring each ingredient in the stew is made about the same size as the chunks of meat for a more even cook. He also shows it's vital in the early stages of making a beef stew to carefully watch the meat as it browns so it doesn't sear before adding fluid to the mixture.