Creamy Corn Dip Recipe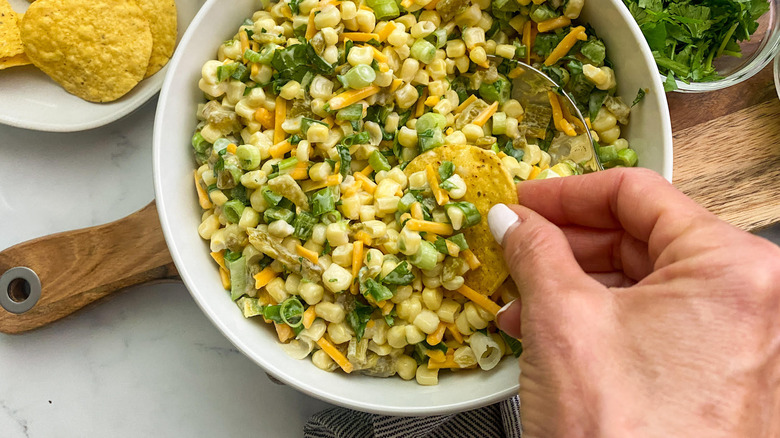 Miriam Hahn/Mashed
We are always in search of flavorful appetizer recipes that are a bit out of the box because we can get bored with the typical starter selections served over and over again. A perfect solution is this recipe for a creamy corn dip from recipe developer and health coach Miriam Hahn. Hahn says, "This makes a great appetizer for game day, a dinner party, a brunch or even just a midweek side. It is great to have in the fridge for a quick snack." With versatility like that, who wouldn't want to have this recipe on hand?
While you will most likely enjoy this creamy corn dip with tortilla chips, Hahn notes, "It is also great stuffed into pita bread, on a steamy hot baked potato, wrapped up in a tortilla ... I have even used it as a chili topper." This recipe is the gift that keeps on giving. Follow our step-by-step guide to make it at home.
Gather your ingredients for this creamy corn dip recipe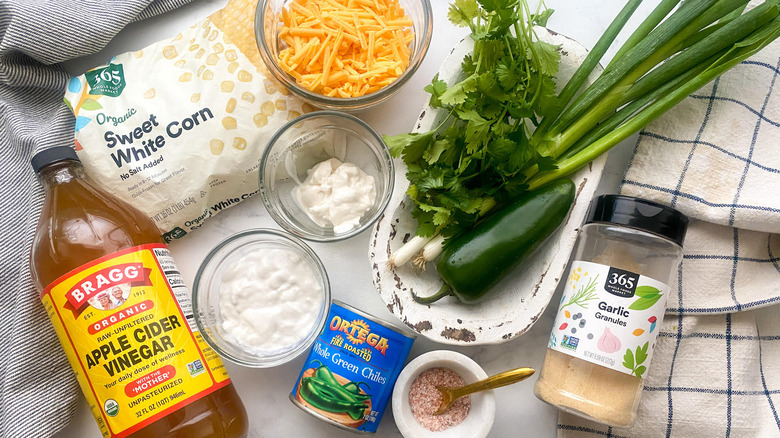 Miriam Hahn/Mashed
To make this creamy corn dip, you can start by gathering your ingredients. For this recipe, you will need frozen white corn, scallions, cilantro, jalapeño, green chiles, shredded cheddar cheese, sour cream, mayonnaise, apple cider vinegar, and coarse salt. Hahn swears by the addition of vinegar because "it adds some tang and kick to the creamy recipe and makes the flavors pop!"
Cook frozen white corn
Miriam Hahn/Mashed
If starting with frozen white corn, be sure to cook according to package directions. If you are wanting some variety, Hahn suggests using "fire-roasted corn to mix it up." Then drain and set it aside. While the corn is cooking, prepare the remaining ingredients. Chop the scallions and cilantro and dice the jalapeño. Alternatively, you can use canned white corn, just be sure to drain and rinse it before you move on.
Combine cooked corn with remaining ingredients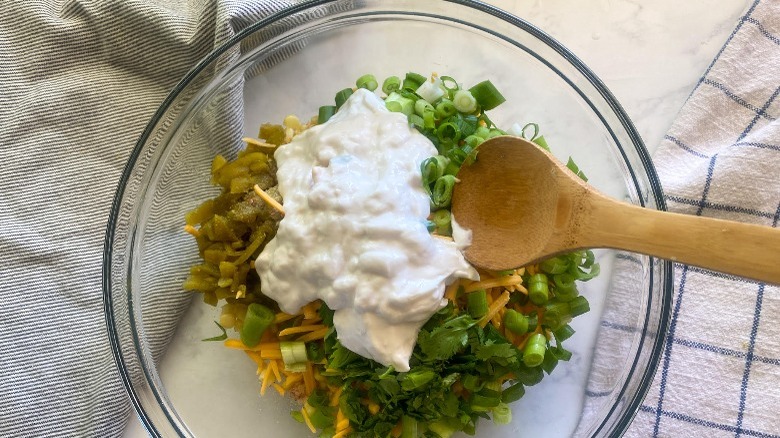 Miriam Hahn/Mashed
In a large bowl, add the cooked corn, scallions, cilantro, jalapeño, green chiles, shredded cheese, sour cream, mayonnaise, vinegar, and salt. Give the entire mixture a good stir to ensure that all the ingredients are fully incorporated. Hahn notes, "If there are dietary restrictions this can be made dairy free by using dairy-free sour cream and cheese. A vegan mayonnaise will also make it egg free."
Chill before serving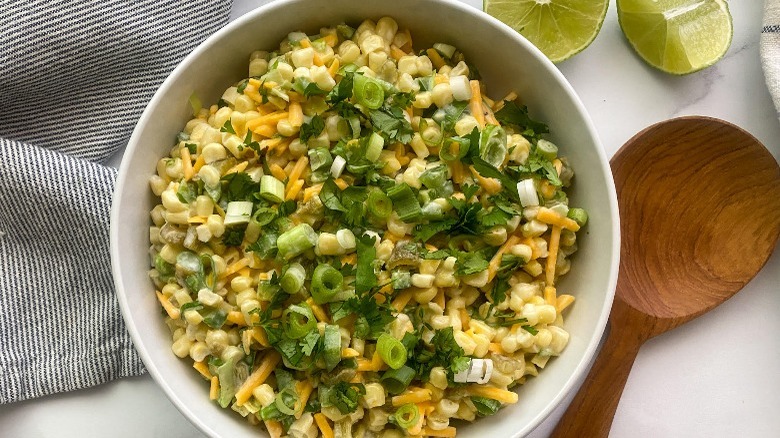 Miriam Hahn/Mashed
Lastly, you will want to cover the corn dip with a lid or plastic wrap. Place it in the fridge for at least an hour to chill. It's crucial to chill this dip before serving. It's worth the wait. Trust us! Serve alongside some chips for dipping. If you have any leftovers, Hahn notes that they "keep great for up to 4 days in the fridge."
Creamy Corn Dip Recipe
If you need an appetizer for game day or a family get-together, try making this creamy corn dip that is perfect to pair with tortilla chips.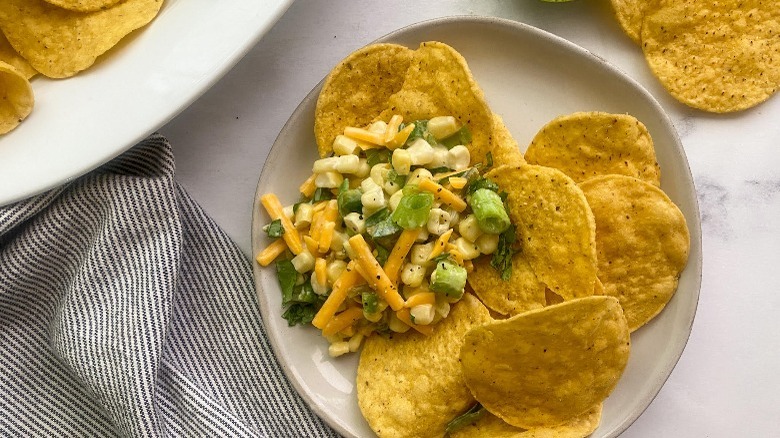 Ingredients
1 (1-pound) bag frozen white corn
3 scallions, chopped
¼ cup cilantro, chopped
1 jalapeño, diced
1 (7-ounce) can whole green chilis
1 cup shredded cheddar cheese
½ cup sour cream
¼ cup mayonnaise
1 teaspoon apple cider vinegar
1 teaspoon coarse salt
Directions
Cook corn according to package directions. This will take about 5 minutes.
While that is cooking chop the scallions and cilantro. Dice the jalapeño.
Drain the corn and combine it with the scallions, cilantro, jalapeño, green chilis, cheese, sour cream, mayonnaise, apple cider vinegar and salt. Mix well.
Chill for one hour before serving.
Nutrition
| | |
| --- | --- |
| Calories per Serving | 153 |
| Total Fat | 11.1 g |
| Saturated Fat | 4.3 g |
| Trans Fat | 0.1 g |
| Cholesterol | 19.8 mg |
| | |
| --- | --- |
| Total Carbohydrates | 10.5 g |
| Dietary Fiber | 1.7 g |
| Total Sugars | 2.0 g |
| Sodium | 233.9 mg |
| Protein | 4.7 g |