José Andrés Is Begging You To Close Your Eyes When You Eat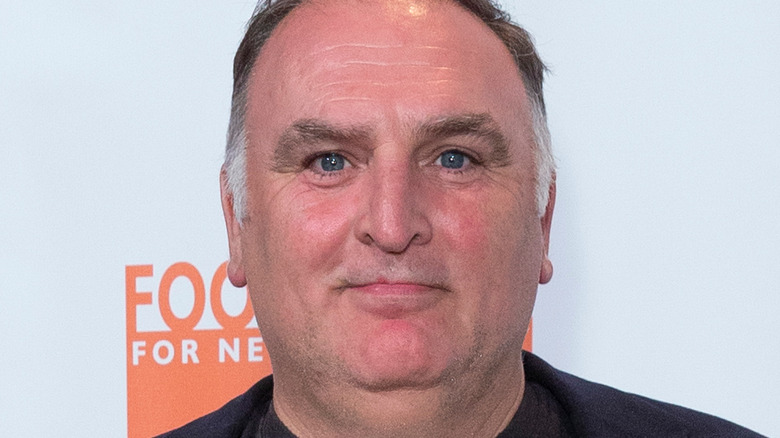 lev radin/Shutterstock
Chef José Andrés is known not only for his pioneering restaurants serving small plates surrounded by liquid nitrogen, but for his extensive philanthropic work feeding disaster zones victims. He's familiar to television viewers as a guest chef on a variety of shows, including "Top Chef" and "Anthony Bourdain: No Reservations." People may also remember his win over Bobby Flay on "Iron Chef America" back in 2007. So he's hoping that when he suggests you eat with your eyes closed, you consider it an expert recommendation.
The chef's philosophy is simple. He believes that food, "tells the story of who we are and where we're going. And it has the power to change the world. We are storytellers exploring the ways that food connects us all: our shared food history and food future" (via José Andrés' website). His range of restaurants is inspired by different cultures, and price points range from Michelin star restaurants to food halls. No matter the cuisine, the food should be an experience and not just sustenance, per the chef's website.
In light of that mantra, the chef had some words of wisdom on "The Tonight Show with Jimmy Fallon" (per Twitter). 
José André says Jimmy Fallon is doing it wrong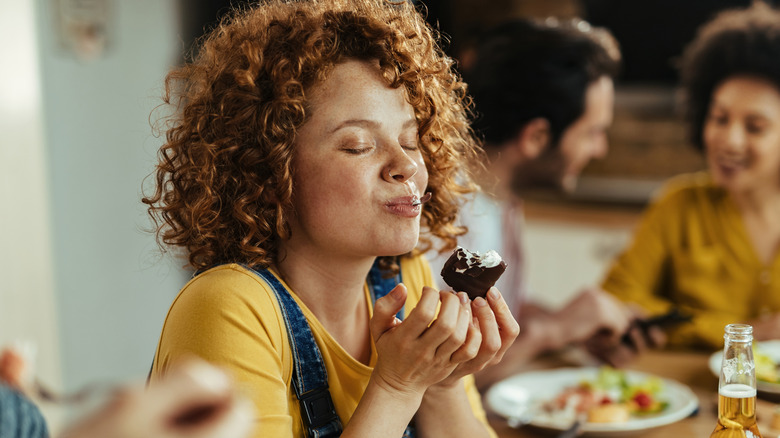 Drazen Zigic/Shutterstock
Following Hurricane Maria in 2017, Jimmy Fallon took a trip to Puerto Rico to witness the island's recovery efforts and honor the country in a special episode of "The Tonight Show" (per Discover Puerto Rico). While there, he met with Chef José Andrés and they both sampled local dishes. As Andrés handed food to Fallon, he stressed the importance of describing and smelling the food first (via YouTube). The TV host impatiently wants to take a bite of his alcapurria saying to the chef, "stop talking about it and let me eat!" However, Chef Andrés doesn't let up, saying that he needs to close his eyes before he takes a bite, per YouTube. 
The experience was memorable enough for the "Tonight Show" host to bring it up again when the chef was a guest on a recent show on Wednesday, September 21 (per Twitter). After reminding Andrés of the back and forth, the chef replied, "he was eating it with his open eyes, he looked like a shark. 'Jimmy can you show some emotion,' but you did great with the second try." 
During the episode, Chef Andrés talked about the current work of World Central Kitchen in areas currently impacted by Hurricane Fiona: "Big problems, actually, they have very simple solutions. Cooks, what do we do? We start cooking, and we start feeding. You see, we can do it when we all come together" (per YouTube).