The Comforting Dish That Ree Drummond Calls Her 'Life'
Ree Drummond has made many a delish dish in her time. According to Parade, the chef better known as The Pioneer Woman's cooking is inspired by her mother and mother-in-law. What started as a fun way to release stress via writing a food blog turned into a way to embrace her new status as an "accidental country girl," which she adopted when she started dating her now-husband Ladd (via The New Yorker). That venture led her to host an incredibly successful Food Network show, author cookbooks, and accomplish much more within the food world.
Since then, Drummond has honed her signature culinary craft, melding hearty Southern staples with tips and tricks to make cooking easy for novice chefs. Many of the stick-to-your-ribs recipes she shares with fans involve meat, cheese, and potatoes (sometimes all at once). However, one specific dish among The Pioneer Woman's many comfort food recipes is so rejuvenating, she has gone on record and labeled it her "life".
Drummond can't get enough broccoli cheddar soup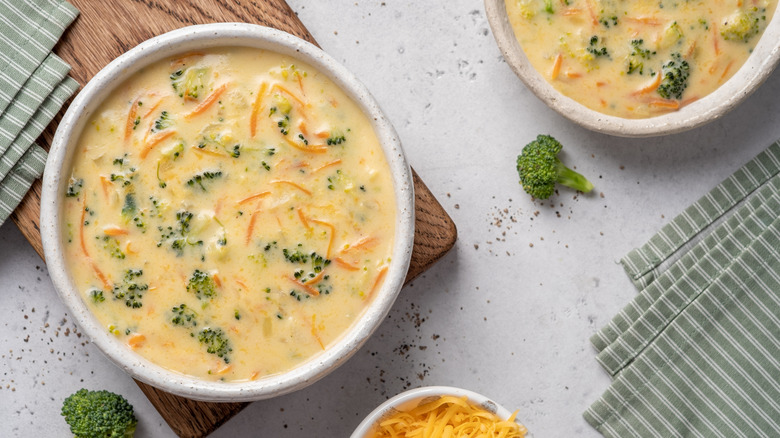 Elena Shashkina/Shutterstock
It's called comfort food for a reason. These are the dishes that are supremely nourishing, not necessarily for our bodies, but definitely for our souls. And Ree Drummond has a cozy favorite that not many fans would say no to: broccoli cheese soup. On her website, Drummond calls the dish her "life," explaining that there's "something about it that triggers a happy, peaceful memory" every time she eats it.
Drummond is not the only fan of broccoli cheese soup, although she may be more likely than most to make it from scratch. Fans and employees of Panera count the broccoli cheddar soup among its best menu items, with an associate telling Business Insider that they still enjoy eating it after working at the chain for three years. Restaurant Clicks likened the popular soup to a "restaurant mascot" due to its status as "one of the best Panera menu items, hands down." Quiznos' broccoli cheddar fares well at the chain, too, with Fast Food Nutrition finding it to be the fourth most popular order. It seems The Pioneer Woman might be onto something with her passion for the creamy, cheesy, green-speckled soup.