TikTok Is Losing It Over This Mashed Potato Bar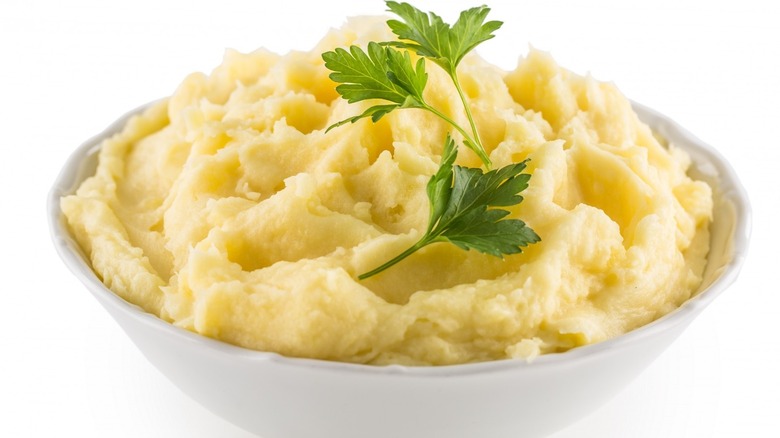 Marian Weyo/Shutterstock
Dainty hors d'oeuvres served buffet-style, like crab rangoons and miniature meatballs, aren't the only food option for newly married couples to serve on their special day. Especially since the start of the pandemic, pre-plated appetizers of things like doughnuts and charcuterie skewers have become popular reception items, per Wedding Bee, as has food truck catering (via Brides.com).
One couple even decided to cater Taco Bell at their wedding in 2017, as they had spent their first date at the establishment (via Taco Bell). Not only were their guests able to chow down on handheld burritos and tacos, but the bride and groom also got to share food that had a special place in their relationship.
Food clearly carries lots of meaning — for both newlyweds and those celebrating them. Recently, one wedding attendee showed off a cocktail-hour mashed potato dish that TikTok viewers went wild for. The concept, which came at the request of the bride's mother, was a huge hit.
Mashed potato bars are super popular at weddings
Food TikToker @cookinwithbooze shared in a recent video that they had attended a wedding with a mashed potato bar. In the clip, a server scoops silky, steaming hot spuds into individual glasses for guests to customize with their choice of toppings and enjoy. One attendee in the video decks theirs out with mushrooms and bell peppers. 
Several commenters complimented the idea, and many said they had served the same dish at their own weddings — but in martini glasses for a "mashed-tini bar." "It was a huge hit," confirmed one user who had experienced a wedding mashed potato bar before. "Everybody kept going back for more." 
A few users, though, expressed concern that the wedding guests in the video appear to be eating their spuds with a fork instead of a spoon. The creator later clarified this detail in the comments, stating, "They ran out of spoons, I'm not a monster!" Otherwise, many TikTok users really did seem to get behind the idea. So, is a wedding happy hour really all-inclusive if it doesn't feature unlimited mashed potatoes? This video clearly provides the answer to this question: absolutely not.