Why TikTok Thinks Olive Garden's Never-Ending Pasta Bowl Is Returning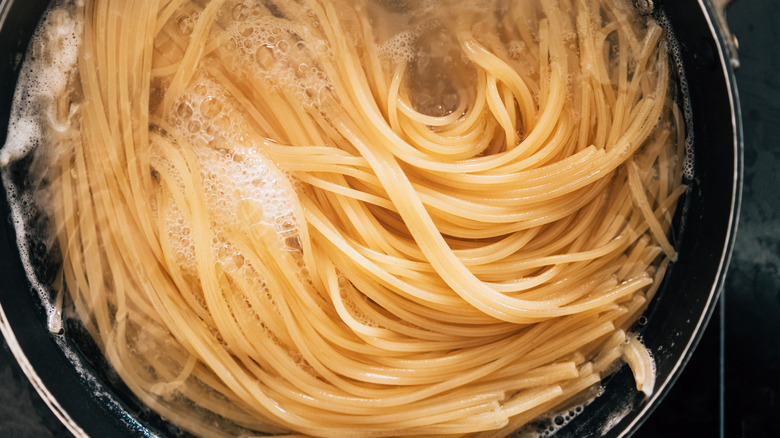 Artit Wongpradu/Shutterstock
For Olive Garden fans, the Never Ending Pasta Bowl was a bit of an annual treat (via Special Sales N' Deals). Typically held around September, the restaurant offered an assortment of unlimited pasta for just $10.99. But the pasta promotion from Olive Garden ended abruptly in 2019, with 2020 and 2021 both being no shows (via Fox 59). Rumor has it that the promo may be returning in 2022.
Olive Garden debuted the limited-time deal in 1995 when it debuted for a mere $6.95 (via The Takeout). In the years that followed, Olive Garden probably realized its potential for market adoption, and by 2014, it exerted more control over it. At this point, the company allowed the special to run for seven weeks but made it conditional upon clients buying season passes. The Olive Garden kept the pass method in 2015 but limited its sales to 2,000 passes countrywide. In 2016, the number of passes on sale increased dramatically to 21,000, and in 2017 and 2018, the quota hiked to 22,000 and 23,000, respectively, (via Today).
In 2019, Olive Garden upped its ante yet again. This time, it raised the number of passes on sale to 24,000 and allowed 50 lucky subscribers to purchase lifetime passes at $500 a piece (as opposed to the usual $100), according to MarketWatch. That was the last we heard of the Never Ending Pasta Bowl marketing campaign –- until a few days ago, that is.
Olive Garden has been has been throwing hints
The Olive Garden has taken to TikTok for the first time to show off a variety of cream and tomato-based pasta dishes. The Olive Garden social media team captioned the video with, "Something is coming." A few fans speculated on what the promotion could mean, with some calling for the return of the Steak Gorgonzola Alfredo. "We'll let our team know you're missing this," the Olive Garden team replied. Well, at least we know that's not what the establishment was teasing. 
The penny dropped soon enough when another obviously delighted Olive Garden fan spoke for many when they wrote, "It's the NEVER-ENDING PASTA BOWL!! I [have] been WAITING for this since 2020!!!" Olive Garden refused to reveal if the fan's guess was correct, playing coy. The establishment attempted a deflection, "What if it's something else?" Another fan wrote, "it better be Never Ending Pasta. That's my favorite thing ever." Olive Garden hinted as much, writing, "Good things come to those who wait. Keep tuning in." According to Business Insider, previous promotions sold thousands of Never Ending Pasta Bowl passes. The Italian-styled restaurant has fans eating out of its hands, so why won't they have a bit of fun with it?