Virtual Restaurant Regulars Have More Benefits Than You Might Think
buryakphoto/Shutterstock
The online food delivery market is worth an astonishing $23.4 billion in the U.S. alone, according to a report in Research and Markets, so who wouldn't want to get a slice of that enormous financial pie?
It's not difficult to appreciate why such a large boom in food delivery services has taken place. Customers are hungry for time-saving convenience, so being able to choose from a huge array of options at the touch of a finger makes online delivery very attractive, explains Business of Apps. Plus, takeout orders are also seen to be more hygienic than waiting in a physical restaurant, which placates some people's fears amid the pandemic. 
However, making an impact in such a big market is not an easy feat, which is where brand loyalty comes in. Business.com describes brand loyalty as a consumer's gradually built confidence in a specific company, so they want to repeatedly return to buy different products. There are several benefits for businesses in achieving brand loyalty, which is why many food delivery companies are incentivizing customers to come back again and again.
Small companies are thinking creatively to draw in customers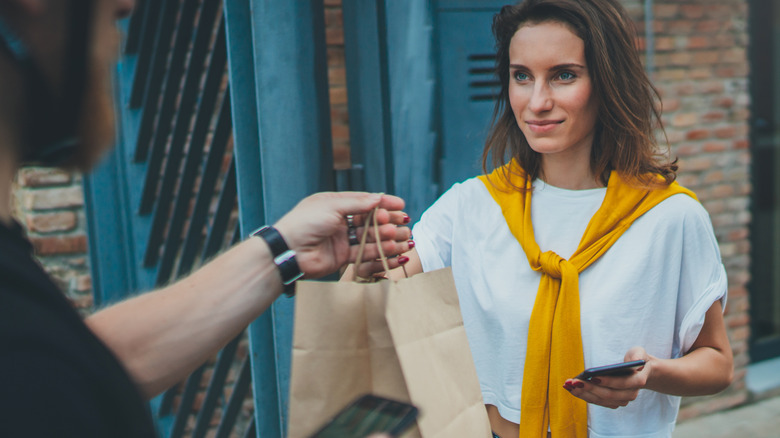 SFIO CRACHO/Shutterstock
Brand loyalty is an ultimate aim for businesses, with improved reviews, regular customers, and more money all given by Forbes as reasons to focus on it. Bigger restaurant chains tend to rely on loyalty programs in order to achieve this. Chipotle, Red Lobster, and Subway, for example, all offer points for money spent, with options to exchange gathered points for meal discounts. Major food delivery brands like Uber Eats and DoorDash, meanwhile, incentivize regular ordering with subscription programs that nix the delivery fee (via McKinsey and Company).
Smaller businesses are taking different approaches, using originality to enhance brand loyalty. To make sure their online customers keep coming back, virtual restaurants are adding thoughtful touches to orders, including complimentary snacks, thank you notes, and hand-drawn artwork, reports Bon Appétit. 
Companies participating in these more considerate engagement methods expect to see improved rapport with customers, even though they don't necessarily have to spend money on such niceties. It's working: Restaurant owners interviewed by Bon Appétit say the more often a customer places an order, the more the staff learns about them and the better they can show their appreciation for their business, whether it's by throwing a free side dish in the bag or writing a kind email. Customers are continuing to order and spend as a result, which perhaps shows that it really is the thought that counts — and ordering food virtually doesn't have to be impersonal.