The Wholesome Dunkin' Story That's Warming Reddit's Heart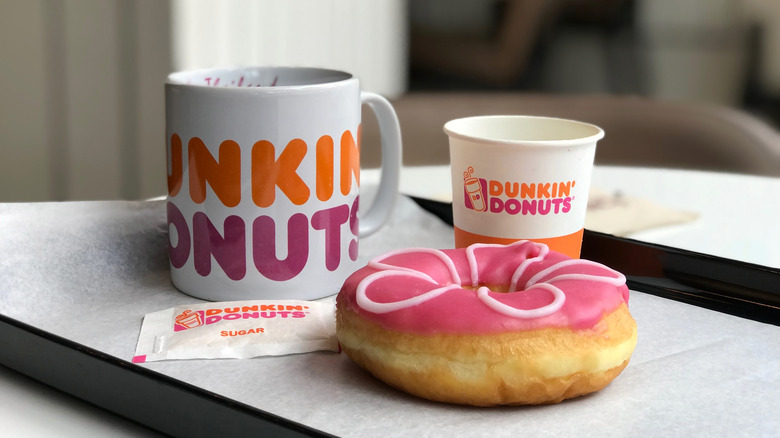 pancha.me/Shutterstock
We've all been there. Everything is going wrong throughout the day when all we want is any task to go smoothly for us. Bad days are a part of life, but sometimes we have to take matters into our own hands to turn them around. If you're out driving, then treating yourself to one of your favorite fast-food items might help turn your day around.
If you're looking for something to get while out running errands, you'll probably pass at least one of the 11,300 Dunkin' Donuts restaurants throughout the world (via Dunkin' Donuts). And sometimes, it's the taste of a freshly baked donut that can make us feel better. Who wouldn't want a classic Old Fashioned, Glazed, French Cruller, Glazed Blueberry, or Glazed Chocolate donut and a cup of fresh coffee to help turn their spirits around while having a bad day?
But sometimes that's not enough. Encouragement from others — even strangers — can really boost our mood when a donut and cup of coffee aren't enough. Dunkin' Donuts has shown us what a great impact their staff can make on others when the vibe just isn't right.
Dunkin' team loves you
When a Reddit user named Yara was having a bad day and feeling down, Dunkin' Donut employees apparently wrote her a note on her food bag to help bring her spirits up.
"OK so I was ordering Dunkin' and I told them that I was feeling down and to fill up my drink to the top. This is what they sent me. Dunkin saving lives," captioned the photo post. The photo shows Yara's food bag with a heartfelt, hand-written note, "Dear Yara, life is too short and precious. I hope this makes your day better. Dunkin' team loves you."
How sweet! More Reddit users ate up the thread's emotional sentiment, with others commenting they've had similar experiences. "I ordered long ago (2 years or so) and they left me a nice and similar note on the bag as well which I appreciated also their donuts are actually the best in town," said one user. "That's great We need this kind of energy," said another user.
Kudos to the staff at Dunkin' Donuts for bringing more joy to the world.