Customers Lined Up At McDonald's In The Middle Of Hurricane Ian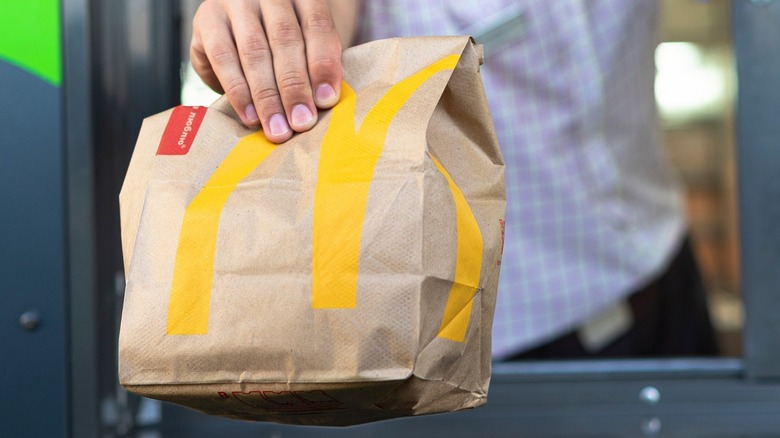 Gargantiopa/Shutterstock
McDonald's has been a staple of fast food in the United States and around the world for decades. The iconic spot known for slinging Big Macs and fries continues to have fans flocking to it on the regular. Maybe they think McDonald's burgers are delicious because they're made with 100% beef. More than 40% of people polled in a Mashed survey named McDonald's fries as the best in fast food, so maybe that explains it. Whatever the case, clearly, fans have a reason to flock, but some customers may be a bit too eager to visit their local fast food joint.
For instance, in 2021, a mother in Victoria, Australia once made her ambulance stop at a McDonald's on the way to giving birth to her twins because she had a terrible craving for an "iced cold coffee frappe" (via KidSpot). She even "burst into tears" when the medical team told her they may have to go directly to the hospital without stopping. The Mirror reported on a customer in the U.K. who once traveled 80 miles to get a Big Mac and another 80 to get back home. When questioned about his reasoning, simply stated "I'm a great Big Mac fan." And now the U.S. has a story of its own of fans who may have gone a bit too far for their fast food.
Big Mac attacks aren't bigger than hurricanes
Anyone following the news recently is likely aware that Hurricane Ian arrived in Florida as a Category 4 storm before losing strength. Government agencies, including the National Weather Service, said the state saw "historic" amounts of rain and flooding (via Orlando Sentinel). Ian left enormous destruction in its wake. According to WESH, in Fort Myers alone, there had already been somewhere around 1,100 rescues by 7 a.m. on Saturday with more on the way. There were also widespread power outages.
But the destructive storm wasn't enough to deter some hungry customers. TikToker @tricklamb posted a video of people trying to order from McDonald's during the hurricane. In the comments, the poster said it happened in Lakeland, Florida. Supposedly, workers forgot to turn off the automated greeting for the drive-thru. Customers were allegedly misled by the message and lined up in the drive-thru lane despite the location being closed.
The TikToker continued to document the scene, noting that people were still lining up hours later. No one had told them that the restaurant was closed. Some drivers appeared to catch on and take off. And @tricklamb said they attempted to inform would-be customers as well. Some TikTok commenters thought customers should have caught that "there isn't a single car parked in the parking lot" or assumed "everything is closed" due to the storm. However, a different commenter claimed that "this has happened to me multiple times mcd needs to get it together."