Jay-Z Is Tossing His Dough At A Unique Pizza Food Truck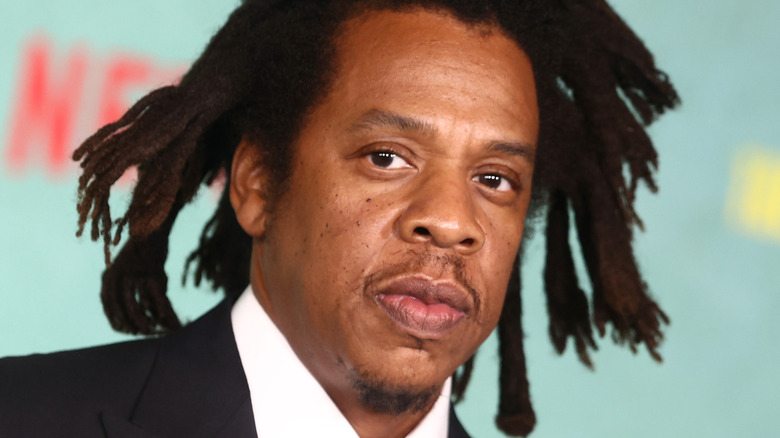 Rich Fury/Getty Images
Jay-Z is a mogul in his own right, regularly making investments in new companies through Marcy Venture Partners, his venture capital firm — but who would have thought he would take financial interest in a pizza food truck? 
Being "hip hop's first billionaire," per Forbes, Jay-Z's business interests have included a string of Black-owned companies like Rihanna's Savage X Fenty, Promise payment technology, and the Scratch loan service tool (via Afrotech). The Grammy winner even has a burgeoning portfolio of blockchain assets, per CoinDesk.
Jay-Z has also ventured into food brands, investing in a vegan cookie and baking brand called Partake in 2019 and taking part in a $50 million fundraiser for SIMULATE's plant-based meat in 2021, per VegNews. With a portfolio adhering to a socially, culturally, environmentally, and technologically consistent theme, the mogul seems to have a finger in every pie — or pizza, thanks to his latest investment.
What happens when rocket scientists make pizza?
The same ingenuity and skill sets that have rockets barreling into space are also driving the technology behind the food industry's latest innovation: pizza-making robots. Stellar Pizza has found a way to not only mobilize pizza-making via food trucks, but also automate it with an in-vehicle machine that completes a pizza in less than five minutes. The brains behind the project, launching in Los Angeles this season, are CEO Benson Tsai, Ted Cizma (former SpaceX executive chef), and about two dozen other ex-SpaceX employees, per Business Insider.
Other than a driver who mans the vehicle and serves the pizzas, the automated concept handles the entire pizza-making process, from dough-making to toppings to baking. Additionally, it can repeat the process 420 times before the vehicle needs a restock, reports Restaurant Business Online. Tsai's goals through this venture seem to extend beyond technological advancement; he told The Spoon that by lowering labor costs and selling directly to the consumer, Stellar Pizza can offset inflated food prices.
At this point, you are probably starting to see why Jay-Z found this venture so attractive. His firm, Marcy Venture Partners, dished out a whopping $16.5 million for the pizza company's first major round of funding, giving Stellar Pizza truly stellar potential.