Best Vegan Meal Delivery Services Of 2022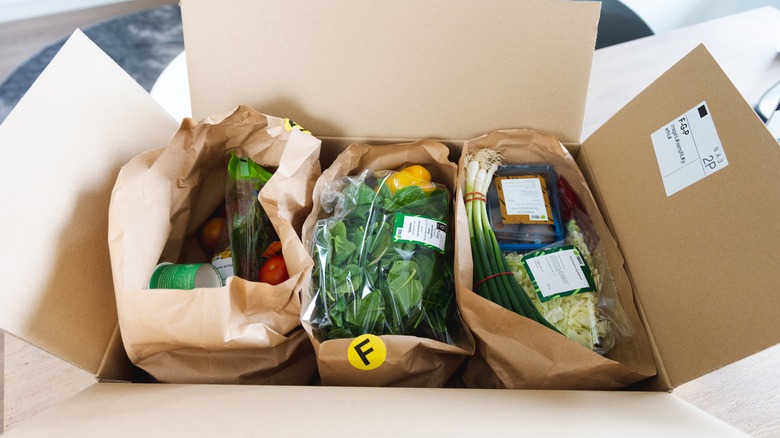 David Peperkamp/Shutterstock
So you're looking into trying out a vegan meal kit subscription service. Maybe it's out of curiosity, to better your diet, or to help the environment. Perhaps you already follow a plant-based diet, and you're just short on time. If you're already well-versed in the kitchen, maybe you're looking to test out your creative cooking skills in a solo-person rendition of Chopped. Whatever the reason, there's a vegan meal delivery kit with your name on it. And trust us: there is a lot to choose from.
Most meal delivery kits follow the same structure: you create your perfect kit online, then pay a price that may or may not include shipping. You're typically in charge of what food items you'd like to receive, the portions, and also the delivery frequency (though not all services offer control for these in tandem). Using a vegan meal delivery service is a great way to expose yourself to different food cultures, as well as learn a few things about what vegan food is and isn't.
According to Adroit Market Research, by 2029, the vegan meal kit industry is expected to be worth $62.3 billion worldwide. That's a forecasted growth of 16.6% over the next seven years. We think that means vegan meal kit delivery services are here to stay, so why not give them a try?
How we chose meal delivery services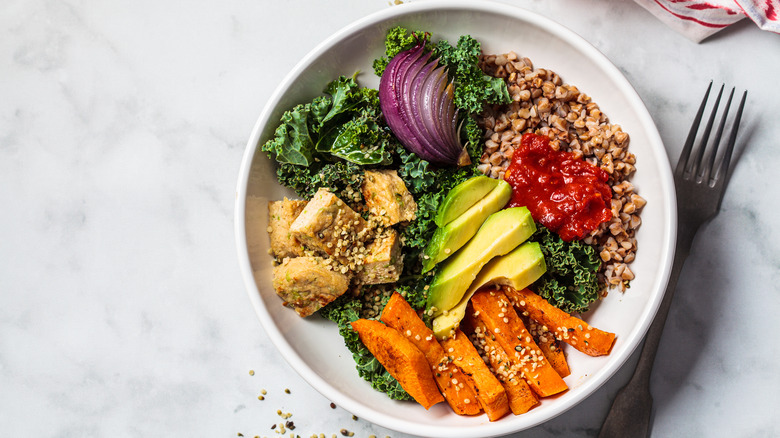 Nina Firsova/Shutterstock
When it comes to any meal delivery service, no two are quite the same. Some companies cater to all diets, while others are strictly plant-based. Some deliver fresh food, while others provide flash-frozen ingredients. Others offer heat-and-eat meals, partially-prepped provisions, or even ingredients with the recipe so you can be the chef. And that's just the tip of the iceberg (lettuce).
To help you decide, we've scoured the web for the best vegan meal delivery services available. We focused on cost, reviews, and delivery methods, such as whether food arrives fresh or frozen. We also considered a delivery service's variety, portion sizes, and versatility. Sustainability was also a significant factor in our decision-making process. 
All told, we'd like to think we picked a little something for everyone. Just be sure that your favorite service delivers to your state, as we weren't able to find any that delivers to all 50 US states as of publishing. Here are the best vegan meal delivery services of 2022.
Best overall vegan meal delivery service
Purple Carrot takes the carrot cake for best overall, for multiple reasons. First off, it's 100% vegan. So if you're just a bit apprehensive about what each meal delivery service considers to be "plant-based", then you have nothing to fear. While there's no customization available, as noted by The Spruce Eats, Purple Carrot does offer something for every meal of the day, including snacks (via Healthline).
Real Simple rates Purple Carrot 9.2 out of 10, with a few minor deductions for not being able to choose your delivery day, the sometimes more advanced recipes (which can take more than 30 minutes to cook), and the fact that Hawai'i and Alaska aren't part of the Purple Carrot delivery circuit. But if you're in the continental U.S., Purple Carrot has one other financially tasty morsel for you to nosh on — free shipping. That's pretty much unheard of in this industry.
Purple Carrot pricing starts between $11 and $14 per serving.
Best budget vegan meal delivery service
Fresh and Easy has perfected the art of healthy, nutritious, and prep-free plant-based smoothies, bowls, and soups. CNET rates it a 7.8 out of 10, most likely docking some points due to what they deem not-so-filling and a bit on the pricier side. That being said, one of the things you're paying for is convenience, and Fresh and Easy stands tall in this category. While there is a minor shipping fee — anywhere from $6.99 to $13.99 —  Delivery Rank totes Fresh and Easy as the least-expensive plant-based meal delivery service on the market. 
Fresh and Easy is not a fully vegan company, so if you're worried about cross-contamination or follow a somewhat niche diet, then this might not be your first choice. However, besides being wallet-friendly, Fresh and Easy also excels at simplicity. Everything you order is portioned out for you, pre-cooked, and delivered every week, as per The Meal Kit Comparison. Meanwhile, Carnivore Style also laments that there might not be enough plant-based noms to choose from and that some dishes are rather high in sodium and saturated fat, depending on what you're ordering.
Fresh and Easy starts between $6.99 and $8.99 per serving, with a two-person minimum.
Best organic vegan meal delivery service
If you're a stickler for completely organic, plant-based meals delivered straight to your door, Sakara is the one to call — or, well, email. Since this brand uses only 100% organic ingredients, you may have already guessed that it's not going to be the most budget-friendly meal delivery service on this list, but its price may well be worth it to you.
Sakara only offers single-serve meals, and some reviewers claim that they're not especially filling as a result. In the plus column, the company also caters to specialized diets that promise to give you results within a specific time frame, according to Women's Health. So if you're planning on getting married and are looking for a healthy glow on the big day, need to detox after dealing with work burnout, or are even revving up for a marathon, Sakara might be just the vegan meal delivery service for you. 
CNET gives Sakara a 7.6 out of 10 and says that the food not only tastes amazingly delicious but is also presented and packaged with an aesthetic eye. However, this is not the meal delivery service for individuals who are looking for super-filling meals, or for those who want a budget-conscious vegan option. Though Sakura meals are not customizable, shipping is free.
Sakura starts at $54 to $80 per day
Best convenient vegan meal delivery service
If you're really rushed for time, then there is a vegan meal box out there that's poised to have your name on it. With a strong 7.8 out of 10 rating by CNET, Splendid Spoon is an all-vegan meal delivery service that specializes in a variety of no-prep, easy-to-eat meals. In addition to eliminating almost all prep work, around 95% of the ingredients within the box are organic, and all are GMO-free. Honest Brand Reviews gives the subscription services a big thumbs up when it comes to variety, with a wide range of items that fall under one of four categories: smoothies, light soups, grain bowls, and noodle bowls.
Glam Vegan gives Splendid Spoon a 4.7 out of 5 for its menu options, However, if you're looking for bigger portions that are more like dinner, CNET does not recommend this particular subscription service.
Splendid Spoon is the vegan meal delivery service you should choose if you like smoothies, soups, and no prep work. Splendid Spoon prices start at $70.
Best fast vegan meal delivery service
In today's world. time is not always a luxury that one can afford. Real Simple notes that this is where Factor shines because the company wholeheartedly embraces the concept of simplicity via "heat and eat" cooking. Meals prepared in Factor's gluten-free facilities take a mere two or three minutes to cook. On top of that, Healthline notes that its menu items are incredibly flavorful, healthy, and gluten-free. Customers have the option to add juices and wellness shots, shakes, and snacks.
One minor issue is that Factor is a bit pricier than its competition. Medical News Today also mentions that when it comes to plant-based menu items, Factor's vegan options are somewhat limited, though it does have quite a few items that are suitable for vegetarians.
If time never seems to be on your side, consider Factor, which starts at $11 to $15 per meal.
Best vegan meal delivery service to avoid groceries
Hungryroot does a great job of covering most of the trending dietary niches known to man, like keto, gluten-free, and vegan diets, though it doesn't use such labels on its website. Instead, the brand lists every ingredient, so you won't be surprised about what you're ordering unless you fail to read the whole thing.
MindBodyGreen loves that this is a fully personalized and customizable delivery service. You pick the food, portions, serving size, and delivery date. You'll still have to engage in a little bit of kitchen slice and dice time. Delish also claims that the meal service's dishes can sometimes be lacking in flavor, but that its sauces are top-notch. 
Hungryroot is praised by Food & Wine not only for offering high-quality, nutritious, and personalized meal plans but also for its commitment to sustainability. While some items are still housed in single-use plastics, Hungryroot is making an effort to eliminate as much packaging waste as possible.
If you're willing to engage in a little prep time and are looking for a fully customizable meal delivery service, Hungryroot starts at $69 a week.
Best vegan meal delivery service for a reboot
With only two options for meal plans — a 7-day Quick-start plan and a 28-day Reboot plan, Plantable is not your typical subscription service. Plantable's main goals are to help motivate, educate, and ultimately change the way America eats, according to Biohmhealth. Both meal plans focus on whole food nutrition as a way to heal the body and mind. Customers also have access to their wellness coach to answer questions, keep them motivated, and help them reprogram their minds and eating habits. According to TODAY, these support coaches are available day or night by email, text, or phone.
Biohmhealth does warn that you'll need to supplement your own complex carbs because the meals by themselves are not incredibly filling. Plantable's packaging is also 100% recyclable, biodegradable, and compostable. It's even embedded with seeds!
The Plantable 7-day Reboot meal kit starts at $225 for two meals a day.
Best customizable vegan meal delivery service
No one wants to stick with the same old food routine, which is why Sunbasket earns the title of best customizable vegan meal delivery service. Sunbasket rates 4.7 out of 5 on Trustpilot, in part for its extensive, international menu. Self also loves that Sunbasket makes ordering incredibly simple and painless. When signing up for the service, you check off your food preferences and any other diets you might follow, then choose whether you'd prefer a cook-it-yourself or heat-and-eat option.
Sunbasket also boasts eco-friendly packaging and plentiful organic options, though some reviewers mention that a few menu items can be lacking in the flavor department. Unlike other delivery kit companies, Sunbasket follows a super simple pricing methodology. That is, you pay depending on what you're ordering and the food within the kit (many of its vegan and vegetarian options tend to be less expensive).
Sunbasket starts at $9.99 per serving and your first order ships free.
Best sustainable vegan meal service
Green Chef uses primarily organic ingredients and is filled to the brim with different plant-based options. Real Simple gives kudos to this meal delivery service because its recipes are easy to follow and draw on premium organic ingredients (unless otherwise noted). Green Chef also caters to different dietary regimes like keto, gluten-free, and paleo diets.
However, Healthline warns that while Green Chef provides customers with plenty of options, you're not allowed to pick recipes from other meal plans. According to Real Simple, there are three meal plans to choose from, but the weekly menu offerings are also a bit limited. Repeat ingredients are also relatively common with Green Chef meal plans, which may irk home cooks looking for more variety. It's also not a good fit for individuals who are short of time or don't like cooking or waiting for the food to cook. CNET rates it 7.6 out of 10, noting that Green Chef has somewhat peculiar pricing and is a bit expensive, especially given that shipping is not included.
Green Chef pricing is based on the number of servings and delivery frequency, starting at $81 for the first week's box.
Best gluten-free vegan meal delivery service
Freshly is not only relatively affordable when compared to other vegan meal delivery services, but Healthline says this company boasts a large rotating menu of gluten-free offerings with at least 30 creative plant-based dishes for you to choose from. It's geared more towards lunch and dinner, and some of the menu items are more on the lighter side, especially when compared to standard American serving sizes. Freshly does not place much of an emphasis on organic items, though that does help cut costs for the budget-conscious consumer.
All the food included in Freshly meal kits is prepared in certified gluten-free kitchens, as per Healthline. So if you happen to have a wheat intolerance or a gluten allergy, Freshly is likely to be your best and safest bet. In terms of sustainability, Freshly also included eco-friendly compostable packaging that's safe for the microwave. Even the ice packs are recyclable, according to CNET.
If you and gluten don't have the best relationship, Freshly meals start at $10.
Best vegan meal delivery service for variety
While Daily Harvest does ask you to put in some prep time in this kitchen, this vegan meal delivery service makes up for the imposition with its plentiful menu options. While most subscription plans only allow you to order based on a certain number of servings per week, Daily Harvest allows you to choose individual items, as Self notes. Options run the gamut and include about 80 permanent choices and some rotating meals, too. No meal time is off limits, either, as Daily Harvest lets you order just about everything from breakfast to snacks, smoothies, lattes, desserts, and pretty much anything else in between.
Forbes gives a nod to the Daily Harvest smoothies (there are around 27 combinations), but what's truly worth mentioning is the fact that the company is committed to environmentally friendly packaging. The delivery box, food packing materials, dry ice, and box liner are completely recyclable or compostable. Forbes also mentions that Daily Harvest helps non-organic farms transition to using organic and sustainable practices. Health likewise applauds the company for its commitment to organic farmers. However, it notes that Daily Harvest offerings aren't always filling, so you might need to add in some additional grains if you're really hungry.
Daily Harvest prices begin at $6 per serving and shipping is free.